This refreshing peppermint vodka cocktail is made with only 2 ingredients, including a homemade candy cane vodka! It's perfect for the holidays!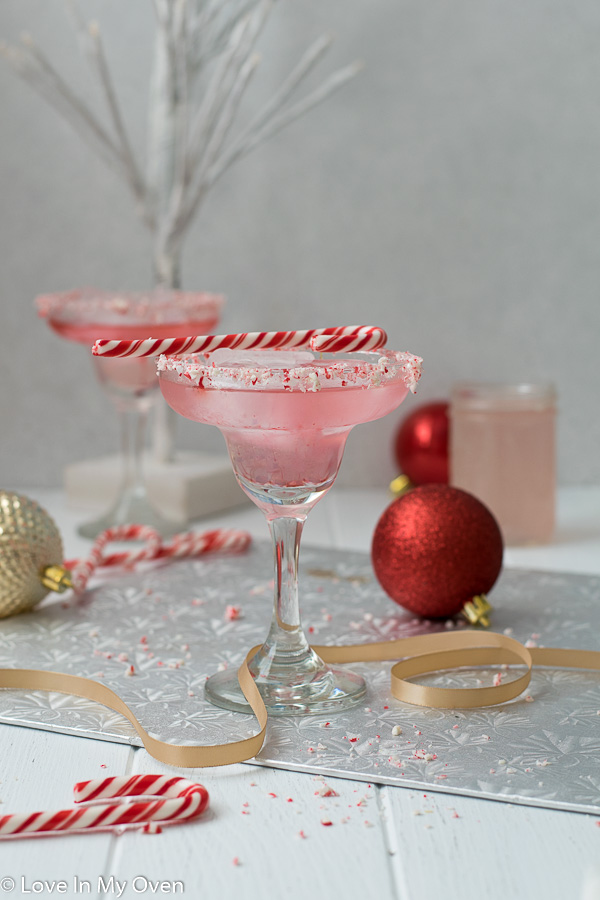 Merry Christmas Eve!!
I didn't think I was going to get this one out to you before Christmas but I'm sneaking it in before the wire. Are you all ready for Christmas!? Food prepped, presents wrapped, games planned?!
For once I actually feel pretty prepared, and I think it's mostly due to the fact that we aren't going anywhere and we're not having anyone over this year. It'll just be a small family Christmas and so there is really no pressure! I am making a Christmas dessert for my in-laws that we'll drop off later today (peppermint white chocolate cheesecake). YUM!
This week I've also been partaking in my fair share of festive cheer in the form of some cocktails. Last week I made this candy cane vodka and have been using it in a few fun cocktails throughout the week, including the peppermint vodka cocktail. It is the EASIEST thing to make and you should definitely do it!!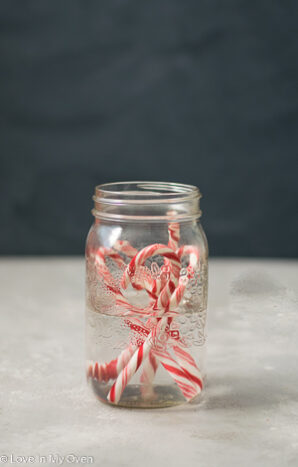 How do you make candy cane vodka?
As is my usual style, this recipe is SO EASY. Just dissolve some candy canes in some vodka. Voila! Candy cane vodka is born. The candy canes give it a nice pink hue, and you can even add a bit of food coloring if you want it to be extra pink!
A few notes:
You definitely want to use only red and white striped candy canes for this. The candy canes with the green turn the color of the vodka a murky brown – not very appealing (but still tasty)!
The candy canes should be submerged in the vodka. In this picture they're not, but after snapping the photo I pushed them down into the vodka.
After dissolving the candy canes there will be a few particles in the vodka; if this bothers you, you can strain it out with a fine mesh strainer.
Let the vodka sit for at least 1 day in a dark space to really develop and intensify the peppermint flavors!
The candy cane vodka is ingredient #1 to my 2 ingredient peppermint vodka cocktail!
How do you make a peppermint vodka cocktail?
This cocktail only requires 2 ingredients:
candy cane vodka
creme de cacao
If you don't want to make your own peppermint vodka, there's a few brands out there that make it too! When you're buying the crème de cacao, make sure you look for the clear version or you'll end up with a muddied cocktail. This is the one I like.
All you have to do for this drink is mix together the candy cane vodka with the crème de cacao in a cocktail shaker with some ice, give it a shake and strain it into a glass. Add some ice and there you have it!
The candy cane rim is a nice detail plus it's super tasty. All I did was crush up some candy canes (very finely), moisten the rim of my cocktail glass and dip it into the crushed candy canes.
If you're serving this to a few people, you could have the rimmed glasses prepared ahead of time.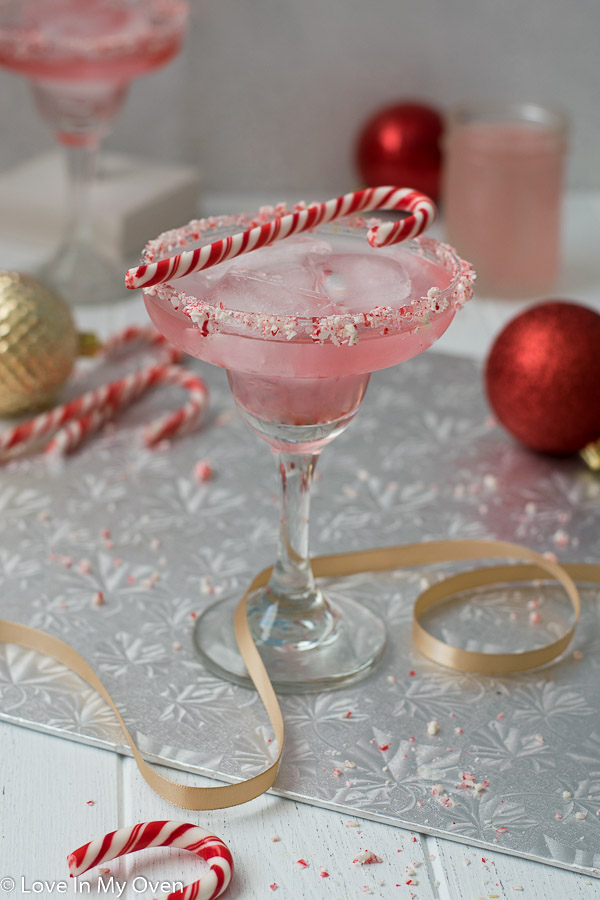 And that's the peppermint vodka cocktail! Easy, right!?
I've also made this drink into a bit of a peppermint White Russian by adding a splash of cream. It's really good!!
How long does the peppermint vodka keep?
The vodka keeps for quite a long time, as long as you store it in a dark place (or in the freezer)!
I hope you all have a WONDERFUL Christmas Eve and Day and that 2021 is filled with all good things. And delicious things!
PS – we got a HUGE dump of snow so we'll definitely be having ourselves a white Christmas!!
Cheers!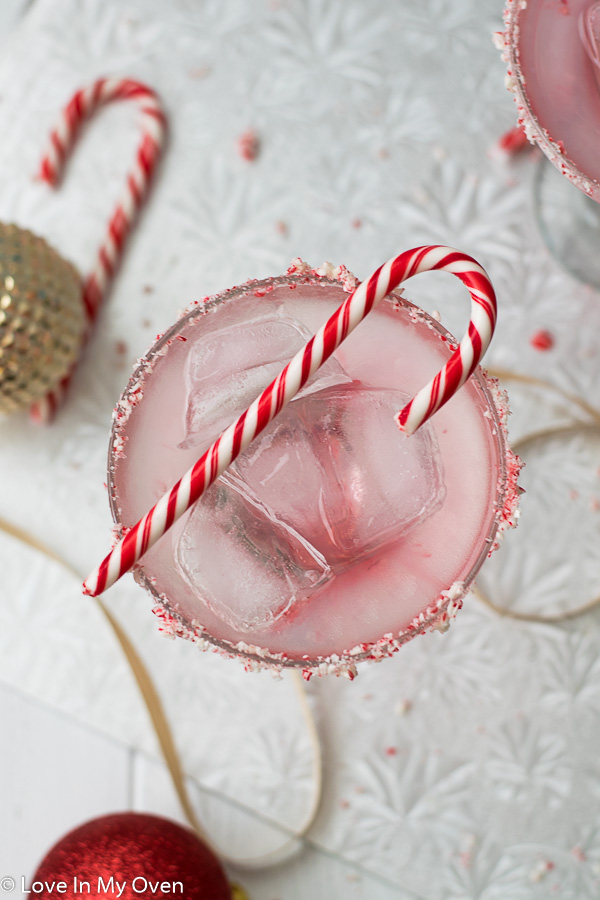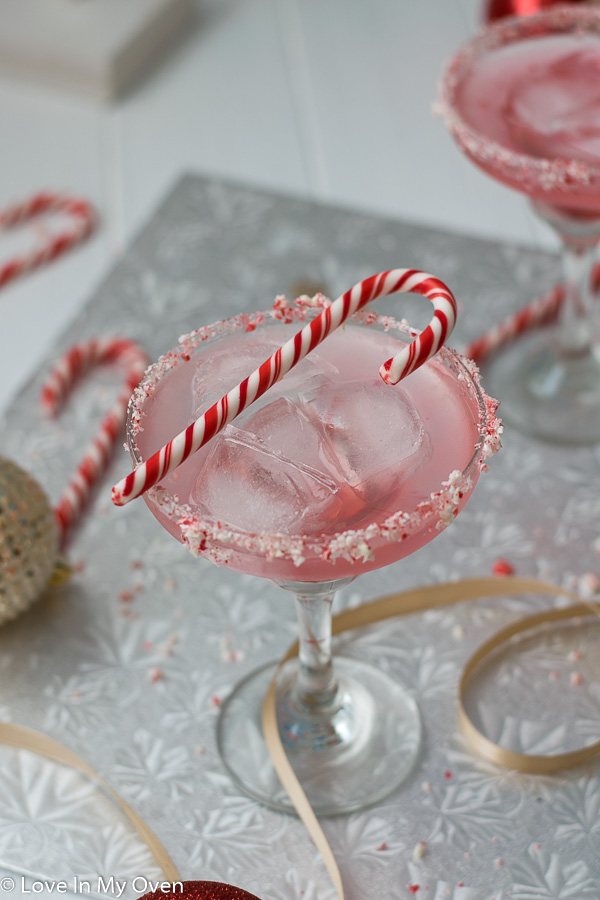 Other delicious cocktails from the blog:
Print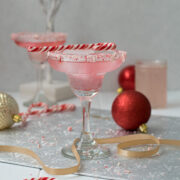 Peppermint Vodka Cocktail
---
Author:

Total Time:

15 minutes

Yield:

2

cocktails

1

x
Description
This refreshing peppermint vodka cocktail is made with only 2 ingredients, including a homemade candy cane vodka! It's perfect for the holidays!
---
Candy Cane Vodka
2 cups

plain vodka

5

whole peppermint candy canes*
optional: one drop red food coloring
Peppermint Vodka Cocktail
4 oz

peppermint vodka**

2 oz

crème de cacao***
ice, for serving
optional: finely crushed candy canes to rim the glass
---
Instructions
Make the candy cane vodka. In a large mason jar or airtight container, combine the vodka with the candy canes. The canes should be fully submerged. Let the candy canes sit in the vodka until dissolved, 3-4 hours. Keep the vodka sealed, in a dark place for 1-3 days before using in a cocktail. If you wish, you may pour the vodka through a fine mesh sieve to get rid of any remaining candy cane particles. Add 1 drop of red food coloring, if desired, for a prettier pink hue.
Make the peppermint vodka. If rimming the glasses with crushed candy cane, moisten the edge of the cocktail glasses before dipping them in the finely crushed candy cane.
In a cocktail shaker, combine the peppermint vodka and crème de cacao with 2 cubes of ice. Shake vigorously for 20 seconds, then strain the mixture into 2 different cocktail glasses filled with 2-3 cubes of ice. Serve immediately.
Notes
*Be sure to use the red and white striped candy canes, not the ones with green or you'll end up with an undesirable color!
**If you did not happen to make any candy cane vodka, you can also use a peppermint vodka found at the liquor store.
***The crème de cacao needs to be the clear kind.
Prep Time:

15 minutes

Category:

cocktails

Method:

stir

Cuisine:

american
Keywords: peppermint vodka cocktail // homemade candy cane vodka // peppermint martini // peppermint alcoholic drinks
Recipe Card powered by