Mix it up this winter with this Christmas slush, a fruity vodka slush recipe with pineapple juice! This holiday slush will make everything a little brighter this year!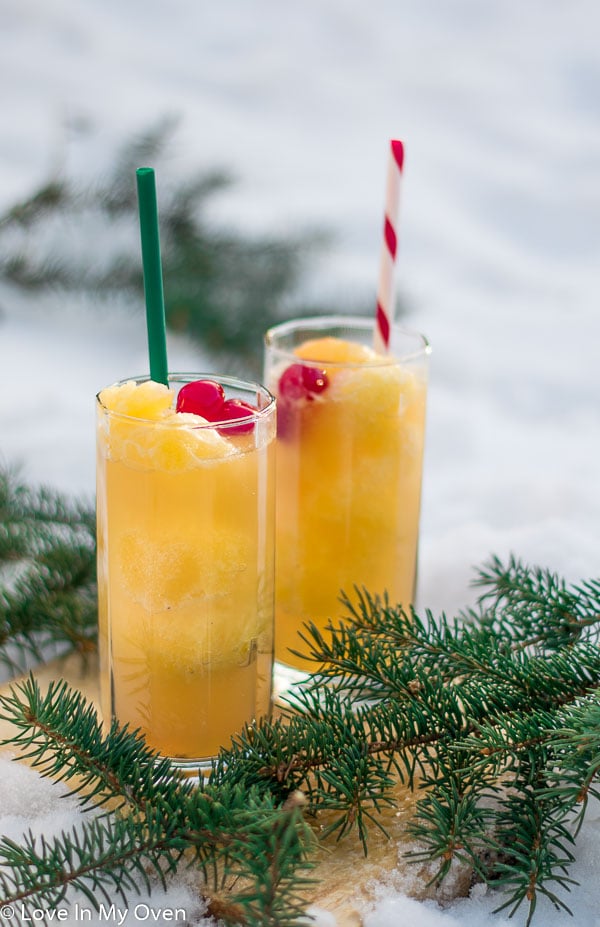 *Please note* this post was originally published in 2018. I've added a video but the recipe remains the same.
I really should have named this post "Dad's Christmas Slush", because it is without a doubt, my Dad's recipe. I'm not sure where this Christmas slush originated from – I think from one of the men he worked with, but it kind of became a tradition, at least since I was old enough to drink it! 🙂 Christmas usually goes hand in hand (literally) with hot cocoa and hot toddies, not freezing cold drinks, but trust me, when you're all heated up from playing a wicked game of crib or Monopoly, a cool drink is just what the doctor ordered.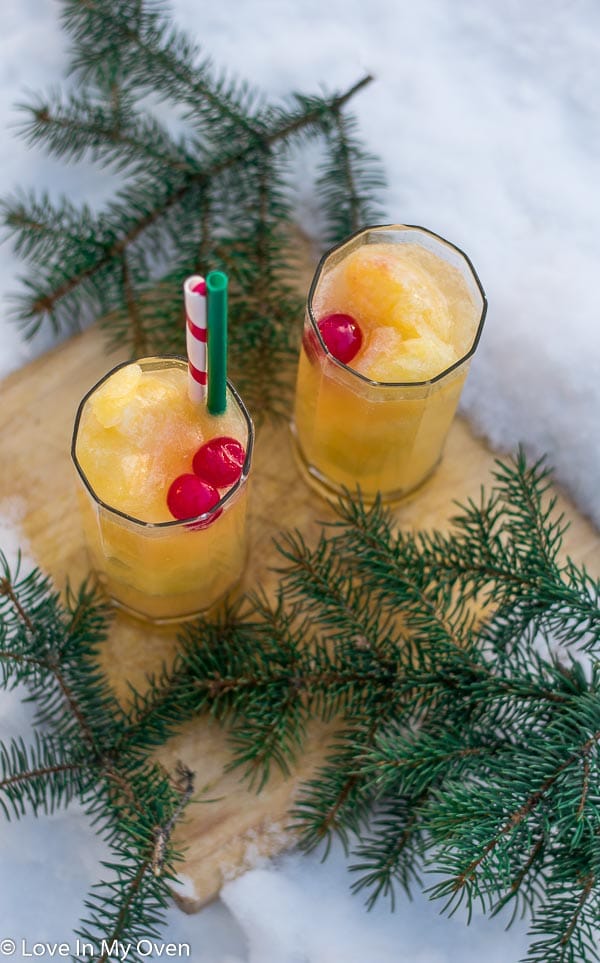 So, have you finished all of your Christmas shopping?! I have only a few stocking stuffers left to get, but for the most part all that's left is the wrapping. I'm notorious for leaving some of my shopping until a day or two before Christmas, so I'm feeling pretty good about this year! I even have enough time left to have some fun baking with the kids – messy business, I tell you. The boys helped me with some spritz cookies this year, using my cookie press for the first time ever! You might have seen it on my IG stories. Turns out I've got some practicing to do before they turn out as pretty as the ones I've been seeing pop up on social media!
Next up, gingerbread men. 🙂
But first, this slush.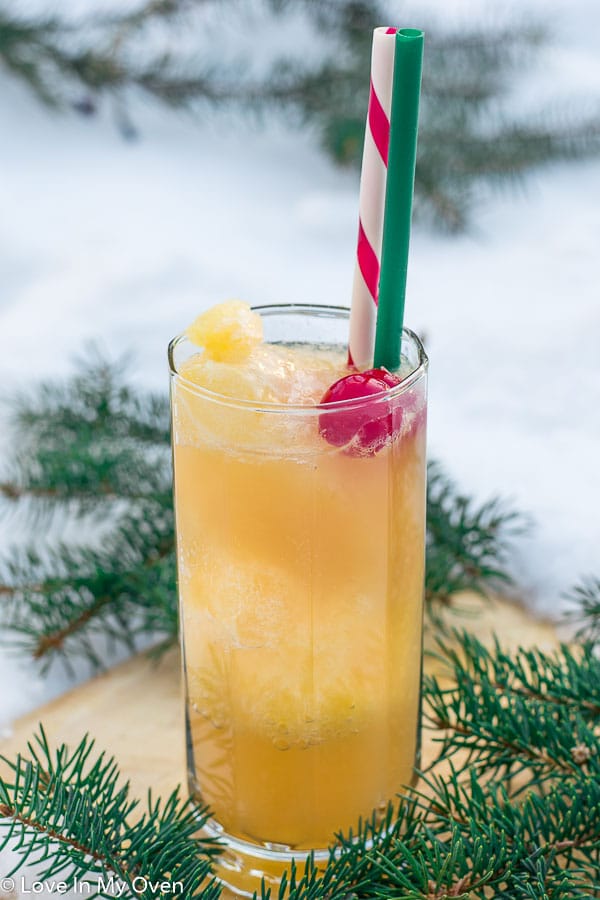 How do you make Christmas slush?
EASY recipe. If you can operate a spoon and a blender, you can make this slush. The only thing you need to blend is a banana – and as I always say – the browner the better!
Along with the banana, you'll need:
lemons
orange juice
pineapple juice
vodka
simple syrup
How do make the simple syrup?
The simple syrup is easy. Stir together some sugar and water, boiling the mixture for a few minutes on the stove. Once the sugar is melted, you have your syrup.
Blend up your banana, then add it, along with all of the other ingredients (DO NOT forget the vodka 🙂 ) into a freezable container and pop it into the freezer for at least 8 hours, or overnight. I like to take it out and give it a stir every now and then as well.
How long will Christmas slush last in the freezer?
Honestly, I can't give you a solid answer beyond a couple of weeks. We've always had it finished off by then! I would think that it would freeze very well, however, likely for up to 2 months!
How do you serve Christmas slush?
What you choose to mix it with is up to you! I usually just put a few scoops of slush into a glass and add some club soda and a maraschino cherry, along with a little of the cherry juice. This also makes for a pretty effect!
I love this slush for a number of reasons, not just its taste! It can be made well in advance, which saves time on the big day, and you can double or triple the recipe easily to feed a crowd. It requires no fancy ingredients or tools to make, and you can make all sorts of additions or substitutions to it based on personal preference.
As much as I would love to post a million other Christmas recipes before the big day, I think this will be my last for 2018! I hope you have a VERY merry Christmas and Santa is good to you! Keep an eye on my Instagram to see what Etienne and I got the boys this year – I can't wait for them to see it on Christmas morning!!
♥♥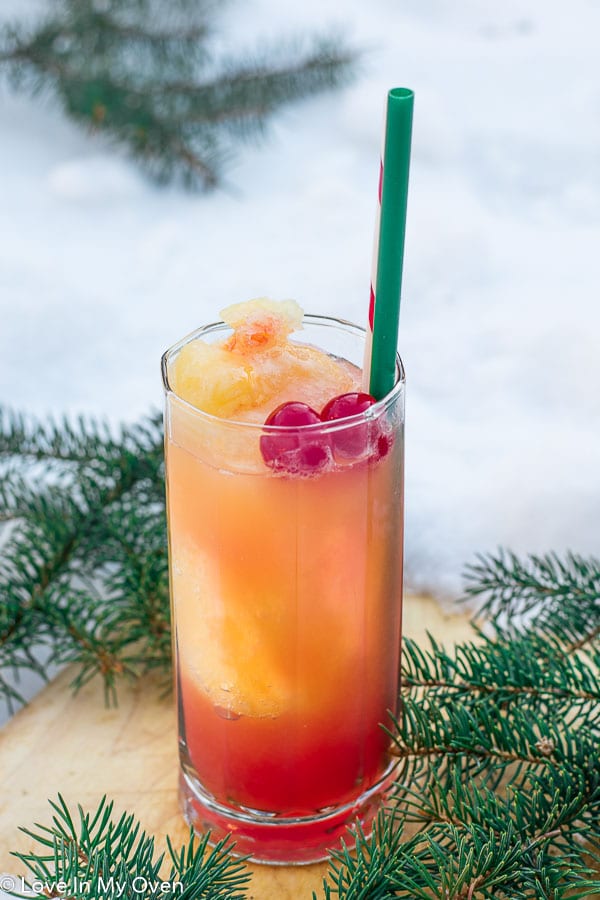 Some other cocktails for the holiday season:
Or try this Christmas punch from Sugar and Soul! You can even make it non-alcoholic!
And some holiday treats to go with it:
Print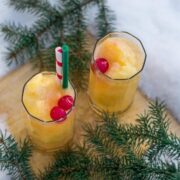 Boozy Christmas Slush
---
Author:

Total Time:

8 hours 15 minutes

Yield:

4

litres

1

x
Description
Mix it up this winter with this easy, fruity vodka Christmas slush mixed with bubbles of your choice! Top it off with a cherry and you've got yourself a fantastic holiday cocktail!
---
4 cups

water

3/4 cup

granulated sugar

1

ripe banana

2

lemons, juiced

1

can frozen orange juice, slightly thawed

3 cups

pineapple juice*

1

mickey of vodka (

13oz

)*

7

-up, club soda, or gingerale (for serving)
maraschino cherries, for serving (optional)
---
Instructions
In a medium saucepan over medium-high heat, stir together the water and sugar. Bring the mixture to a boil, and allow it to cook for about 5 minutes. Remove the saucepan from the heat.
Blend the banana in a blender until liquified. In a 4 litre sized freezer-safe container, mix together the water/sugar, banana, juice of both lemons, frozen orange juice, pineapple juice and the vodka. Use a large wooden spoon and stir until the frozen orange juice is fully incorporated. Place the lid on the container and put the slush in the freezer. Freeze the slush for at least 8 hours, or overnight. I like to give the slush a bit of a stir every few hours.
To serve: Use an ice cream scoop to fill a tall glass 3/4 full of frozen slush. Top off the glass with club soda, 7-up or gingerale. Add a maraschino cherry, and a little splash of the juice. Serve immediately!
Slush will keep well in the freezer for up to 2 months! Note, it will get more frozen over time.
Notes
Pineapple juice can be substituted with another juice of choice
If you're not a fan of vodka, try white rum. Flavoured vodka is also REALLY good in this recipe. We like it with grapefruit flavoured vodka! Do not omit the alcohol, or the consistency of the slush will not be right.
Prep Time:

15 minutes

Cook Time:

5 minutes

Category:

cocktails

Method:

freezing

Cuisine:

holiday
Keywords: Christmas slush // vodka slush recipes // alcoholic slush recipes with vodka // Christmas slush punch
Recipe Card powered by