You will agree that these mint Nanaimo bars are the BEST Nanaimo bar recipe once you try them! These mint chocolate Nanaimo bars are a family favorite and a fun twist on a traditional Canadian dessert!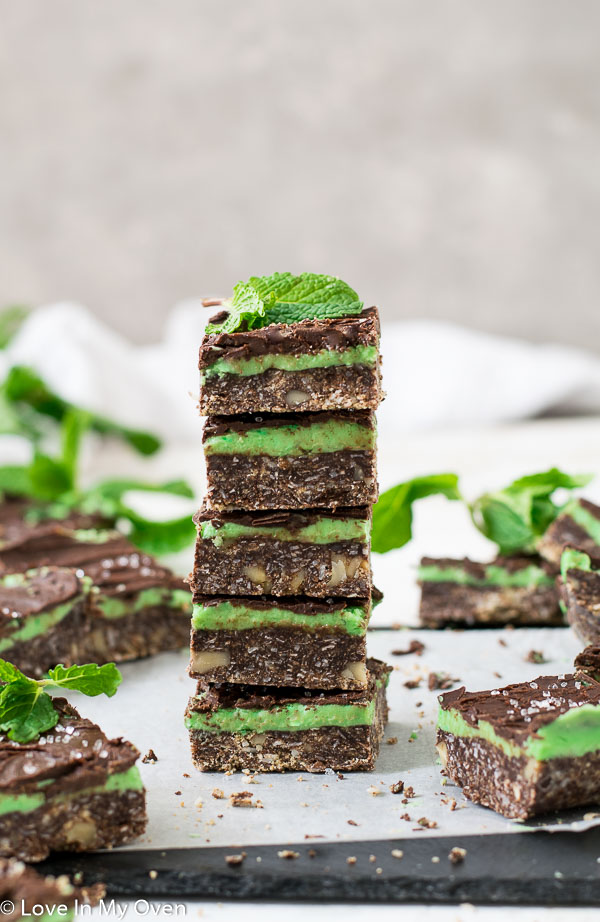 *Please note, this post was originally published in March 2017. I've updated the text and photos slightly and added headings but the recipe remains the same.
St. Patrick's Day is fast approaching, and although I can already check the box for creating a token green recipe – I'm talking about you, Green Monster Donuts – I thought what the heck, let's throw something else green up there just for fun!
The first thing that came to mind was these mint Nanaimo bars.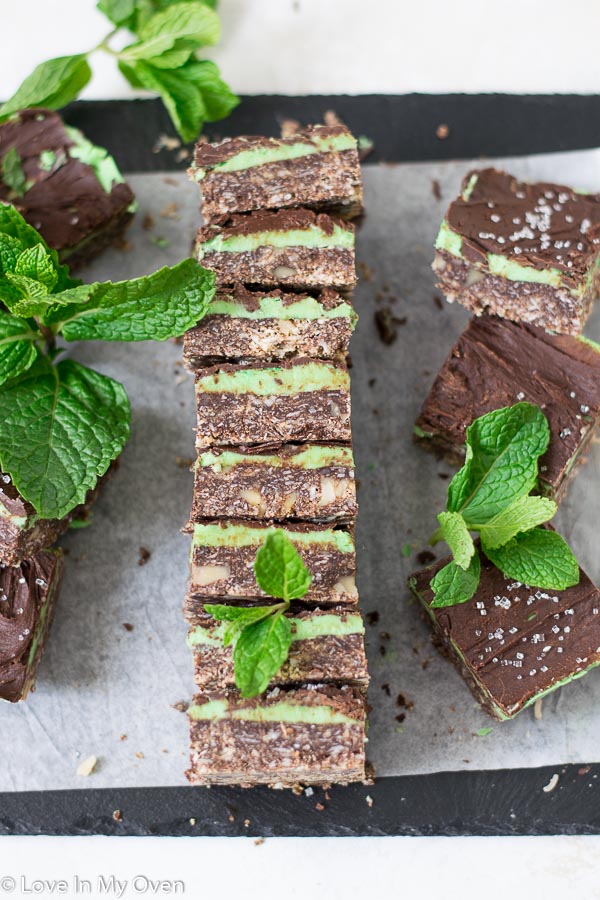 Have you ever actually been to Nanaimo? I have! I've even been to the Nanaimo Musuem. We went last year – wait – was it last year? Yes, 2016. Last year. You'll have to excuse my brain, as most of last year is one sleep-deprived fog (thanks Wally). Sorry, back on track. We went to the Nanaimo Museum last year when we were out on the lovely Vancouver Island for a little family vacay before the new baby came. It was a great trip by the way, even though it was fairly cold and windy. We even made it to the Tofino beach….excuse the slightly grainy photos taken with my cell phone!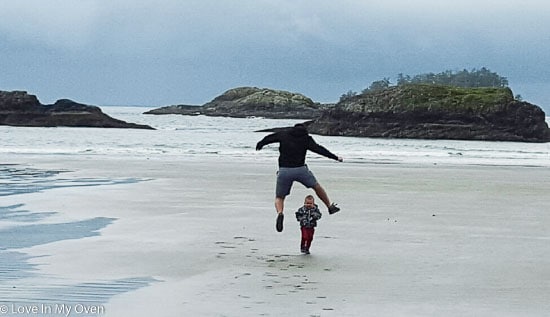 Anyway, one day it was raining hard and we needed something to do! Etienne LOVES museums, so we googled the first one close to us and landed at this little gem. Although most of my time was spent chasing a toddler who had discovered the joy of automatic doors, I did take some of it in and I do remember reading about the original Nanaimo bar and how it actually did originate in Nanaimo. Leave it to me to only remember the section of the museum that involved food. Anyway, I took a picture: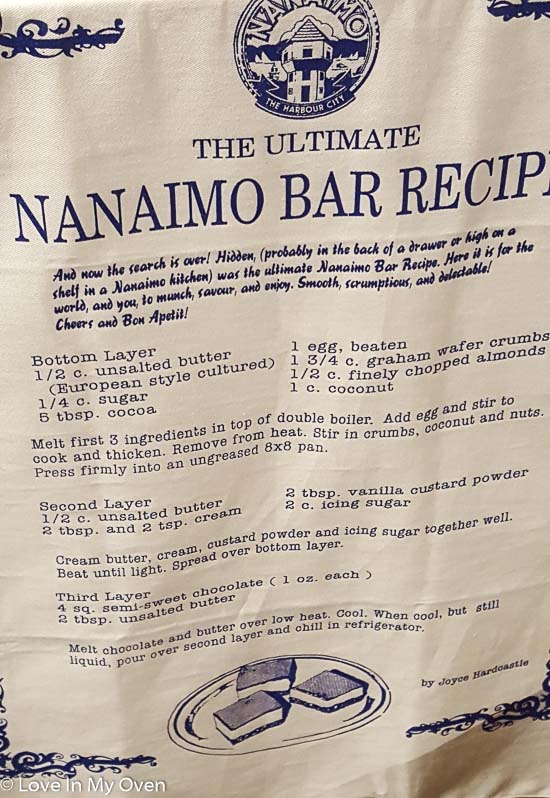 What's different about mint Nanaimo bars?
These mint Nanaimo bars are fairly close to the original, other than the obvious fact they're green and have a peppermint flavor. We use chopped walnuts on the bottom instead of almonds, but that's really the most glaring difference.
These bars have long been a family favorite, and by family I mean the family I grew up with. My Mom would make these almost every year at Christmas, and they were always a hit. I mean, it's fun already that they've got green icing, but then you throw the mint in there and whoa – it's definitely not just your average Nanaimo bar anymore!!
How do you make mint Nanaimo bars?
Start with making the bottom layer of these bars, which is composed of chopped walnuts, shredded coconut and crushed graham crackers, mixed with melted butter, sugar, vanilla and cocoa.
This layer gets pressed into a well greased 8×8 pan and refrigerated for 30 minutes; you could also use parchment paper in the pan.
The second layer is the fluffy, smooth peppermint filling. Mmm peppermint. The filling includes custard powder, an ingredient that not everyone has handy in their pantry, but one that you will want to include for these bars. Custard powder is very similar to instant vanilla pudding mix; it thickens the filling and gives it the right texture.
The green color in my bars comes from a spinach puree. I don't love using artificial colors, so I have an easy way to make natural green icings. Puree a handful of spinach with 1/4 cup of water to get a bright green colorant you can add to any frosting. I promise, you won't be able to taste the spinach!
If this weirds you out, feel free to just add green coloring to the frosting 😉
Add the spinach puree in small amounts at a time to the creamed butter, icing sugar, custard powder and milk until you get your desired shade of green. I use about a teaspoon of peppermint extract for flavor, but you could use less if you want a very subtle mint taste. I love chocolate and mint!
Spread the filling onto the hardened base and place in the fridge for another 30 minutes, or until hardened.
The last wonderful layer is melted chocolate and a teaspoon of butter. Spread the chocolate all over the top of the bars, and place in the fridge one last time.
Once the topping is hardened, about 30 minutes, cut into squares and serve.
How long do mint Nanaimo bars stay fresh?
These Nanaimo bars will keep in the fridge for up to a week, or in the freezer in a sealed container for up to 2 months. If you're serving them as part of a holiday tray or you have them out at an event, they'll be fine at room temperature for the day.
A few other brownies and bars that might interest you:
Print
Mint Nanaimo Bars
---
Author:

Total Time:

1 hours 30 minutes

Yield:

16

bars

1

x
Description
You will agree that these mint Nanaimo bars are the BEST Nanaimo bar recipe once you try them! These mint chocolate Nanaimo bars are a family favorite and a fun twist on a traditional Canadian dessert!
---
Bottom Layer
1/2 cup

chopped walnuts

1 cup

shredded coconut

2 cups

graham cracker crumbs

1/2 cup

unsalted butter

1/4 cup

coconut palm sugar*

3 tbsp

cocoa powder

1

egg, beaten

1 tsp

vanilla extract
Middle Layer – Filling
1/4 cup

unsalted butter, softened

2 1/2 cups

icing sugar *see notes

2 tbsp

custard powder

2 tbsp

milk, room temperature

2 tbsp

spinach puree* or

2

–

3

drops green food coloring

1 tsp

pure peppermint extract
Top Layer
4 oz

chocolate, chopped

1 tsp

unsalted butter
---
Instructions
Generously grease an 8×8 pan or line with parchment paper. In a medium sized bowl, mix together the walnuts, coconut and graham cracker crumbs. Set aside.
In a medium sized saucepan, melt the butter, sugar and cocoa powder together. Stir until the mixture is smoothed, and then set aside to cool for 5 minutes before adding the vanilla and beaten egg.
Mix the liquid ingredients with the walnut and coconut mixture and stir until completely coated. Press the mixture firmly into the bottom of the 8×8 pan and place in the refrigerator to set for 30 minutes.
Cream together softened butter, icing sugar, custard powder and milk. If using spinach puree, add 1 tbsp at a time or until desired green color is reached. You may need to add more icing sugar to thicken the filling. Add in 1/2 to 1 tsp of peppermint extract.
Spread the filling evenly over the top of the hardened bottom layer and  place into the refrigerator for another 30 minutes. In a microwaveable bowl, melt together the chopped chocolate and butter. Heat in 30 second increments in order to avoid seizing. Spread the melted chocolate evenly over the pan and refrigerate once more, about 30 minutes. Cut into 16 bars and serve.
Bars will keep in the fridge in an airtight container for up to 1 week, and in the freezer for up to 2 months.
Notes
You may substitute regular granulated sugar for the coconut palm sugar.
If you are not using the spinach puree to color your filling, you will need less powdered sugar. Start with 2 cups.
Spinach puree: blend a handful of spinach with 1/4 of water until completely blended and there are no small bits visible. Use sparingly in the filling until the appropriate green color is reached.
Prep Time:

1 hour

Cook Time:

30 minutes

Category:

desserts

Method:

oven

Cuisine:

canadian
Keywords: mint chocolate nanaimo bars // mint chocolate squares // Christmas nanaimo bars
Recipe Card powered by