Try these chocolate caramel shortbread bars for your next sweet treat. They're like a homemade Twix bar! Jazz them up with sprinkles for a delicious holiday dessert.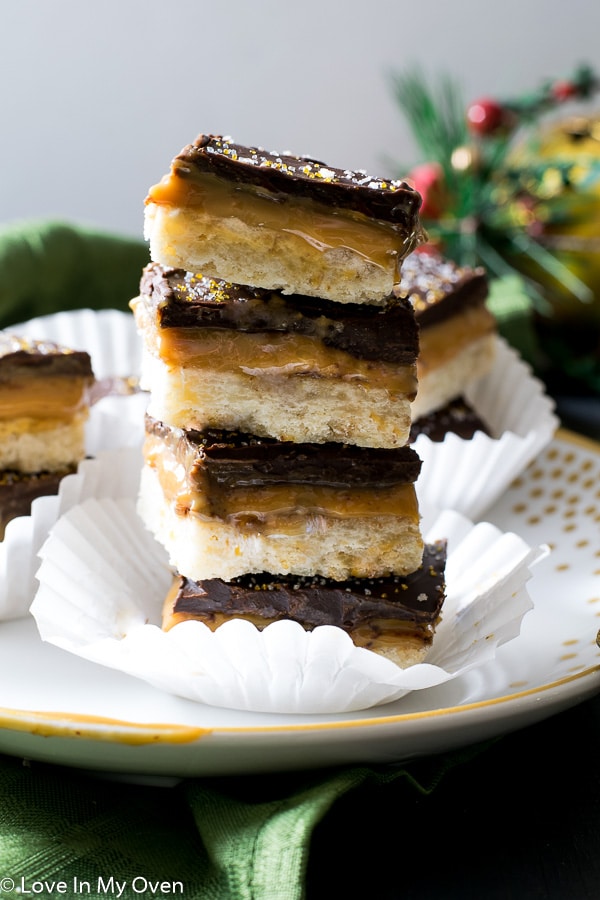 This post was originally published in 2017. I've since redone the text of the post but the recipe remains the same
I'm bringing you a whole lotta yum today!! I have officially kicked off my holiday cookie baking, and the first star of the show are these homemade chocolate caramel shortbread bars. Shortbread, caramel, and chocolate. Is there really anything else you need in life!?
I made these bars this past weekend for an upcoming Christmas cookie exchange with some girlfriends. We've been doing this fun little holiday event every year for the past 3 years, and it's always a fun night filled with a lot of sugary sweets, and obviously a whole lot of laughter. I wanted to do something a little different than a traditional cookie this year, so these chocolate caramel shortbread bars came to be!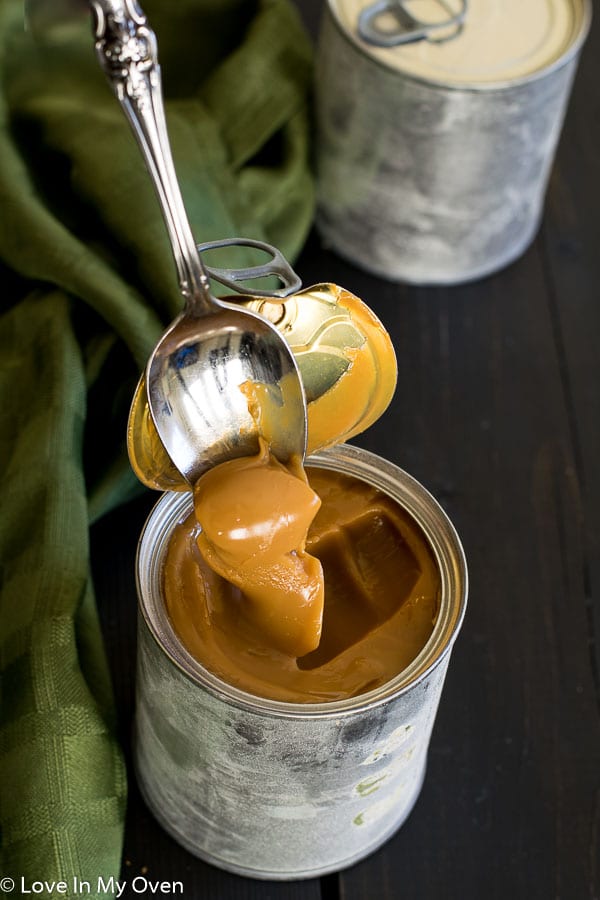 So, how do you make caramel from condensed milk?
YOU GUYS. Have you ever made caramel in a can!? It's the easiest (and most mess free) way to make the most delicious, thick, creamy caramel. Heating the closed can of condensed milk prevents the milk from evaporating as it cooks, creating that super soft, creamy, dulce de leche style of caramel we all love – which is perfect for the middle of a cookie bar!
The only limiting factor in making the caramel filling this way is that it does take 3 hours or so to heat the condensed milk, so you'll want to leave enough time for this! Apparently you can speed up this process by doing it in a pressure cooker, but I'm way too scared to try it…the pressure cooker scares me enough already – I don't need an exploding can on my hands!
Alternatively, you can make a caramel filling by combining some store-bought caramels, cutting them into chunks, and heating them up over the stove with a few tablespoons of cream. OR to make things even easier, just buy the can of dulce de leche next to the cans of condensed milk!
Either way, you want to make sure your caramel is fairly thick and not runny.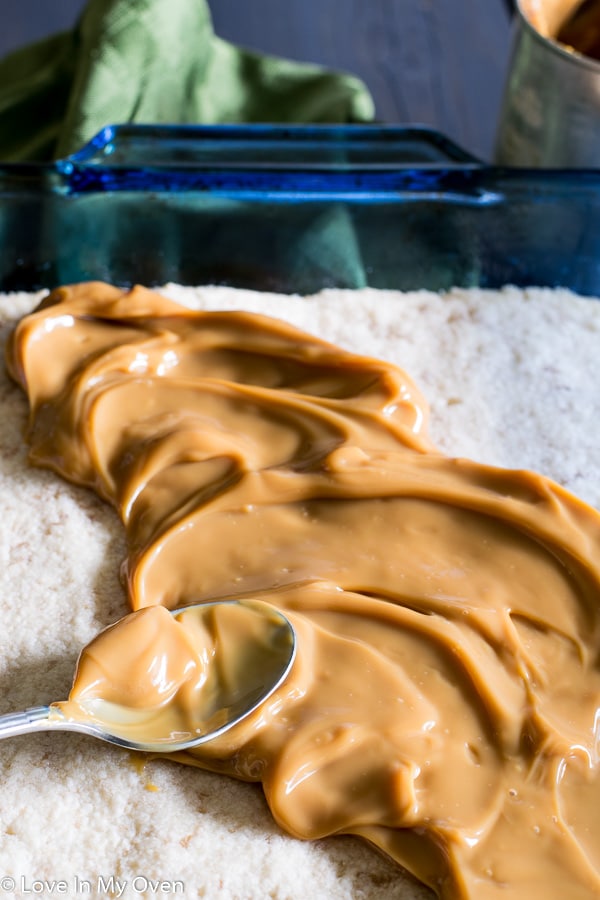 How long does it take to make chocolate caramel shortbread bars?
As I stated above, if you're making the caramel from a can of condensed milk, this will take you about 3 hours from start to finish.
Along with the long time allowed for the caramel, you'll need to leave time for each layer of the bars to firm up in the fridge. I would leave yourself a full afternoon to make these, or you could put it together over a couple of days in stages.
The base of these cookies is a basic shortbread recipe – no mixer required! It'll take you about 40 minutes, including the bake time.
What kind of chocolate do you use for the topping?
For the topping, you can use any high quality chocolate, or you can just use simple semi-sweet chocolate chips. It'll be delicious either way. I like to use a dark chocolate, at least 70%.
'Because it's the holidays, I've decorated my bars with some silver and gold sanding sugar. You could also just leave the sparkle out altogether or have some fun with other sprinkles and toppings. I think crushed nuts would also be delightful!!
As you can see, I'm ramping up the holiday spirit big time here at LIMO. The tree has been trimmed, zoo lights have been seen, and hot chocolate has been drank. Now, what's next? 🙂
More cookies, of course. Stay tuned!
I LOVE chocolate and caramel, but I do love other combinations too! Check out my brownies and bars section for other great bars for the holidays:
You would also really enjoy these chocolate chai spiced crumble bars from Crumb Top Baking!
Print
Holiday Twix Bars
---
Author:

Total Time:

6 hours 60 minutes

Yield:

40

bars

1

x
Description
Buttery shortbread layered with a thick, creamy dulce de leche filling and a smooth chocolate topping. The ultimate sweet tooth satisfier! 
---
Shortbread Layer
1 cup

unsalted butter, room temperature

1 cup

powdered sugar

2 cups

all-purpose flour

2 tsp

pure vanilla extract

1/2 tsp

salt
Caramel Filling
2

cans (330 mL) sweetened condensed milk*
Chocolate Topping
2 1/2 cups

dark chocolate, chopped (or semi-sweet chocolate chips)

1 tbsp

coconut oil
---
Instructions
Prepare the caramel by filling a large pot with water, and bringing to a boil. Once boiling, add the cans, placing them on their side to ensure they are fully submerged into the water. Reduce the heat to a simmer, and "cook" the cans for 2.5-3 hours. Be sure that the cans are fully covered in water, adding more water as necessary. Do not allow the cans to cook without enough water to cover them. Remove the cans from the water, and allow to cool completely (at least 1 hour) before opening and using.
Prepare the shortbread. Preheat the oven to 300 F and spray a 9×13 casserole dish with cooking spray or line with parchment paper. In a large mixing bowl, add the butter, powdered sugar, flour, vanilla extract and salt. Using a pastry cutter or a fork, combine the ingredients until thoroughly mixed. Empty the mixture into the casserole dish and pack it in firmly. Bake the shortbread for 30-32 minutes or until the edges are lightly browned. Remove from the oven and allow to cool completely.
Open the cans of caramel and empty the entire can onto the cooled shortbread. Spread the caramel evenly over the entire dish and place in the fridge to set, about 1 hour.
Place the chopped chocolate and coconut oil in a microwave-safe bowl and heat the chocolate in 30 second increments, stirring in between until the chocolate is smooth and melted. Pour the melted chocolate over the caramel layer and spread evenly. Top with sanding sugar or sprinkles, as desired. Refrigerate for 1 hour before cutting into squares to serve.
Bars can be kept at room temperature, but the caramel will be soft. The bars keep best in the fridge, for up to 2 weeks in an airtight container. Bars also freeze well, up to 2 months.
Notes
You can also make the caramel process easier by purchasing the premade cans of dulce de leche next to the cans of sweetened condensed milk at the store!
The easiest way to cut the bars is by heating a large knife with hot water, and wiping dry before carefully cutting. Continue to reheat the knife and wipe dry for continual cutting.
Prep Time:

30 minutes

Cook Time:

3 hours 30 minutes

Category:

desserts

Method:

bake and refrigerate
Keywords: chocolate caramel shortbread bars // copycat Twix bars // caramel chocolate squares // Twix bars recipe
Recipe Card powered by