These easy mini M&M granola bars will be your new favorite lunchbox snacks. It's an easy granola bar recipe that's nut-free so it's also safe for school!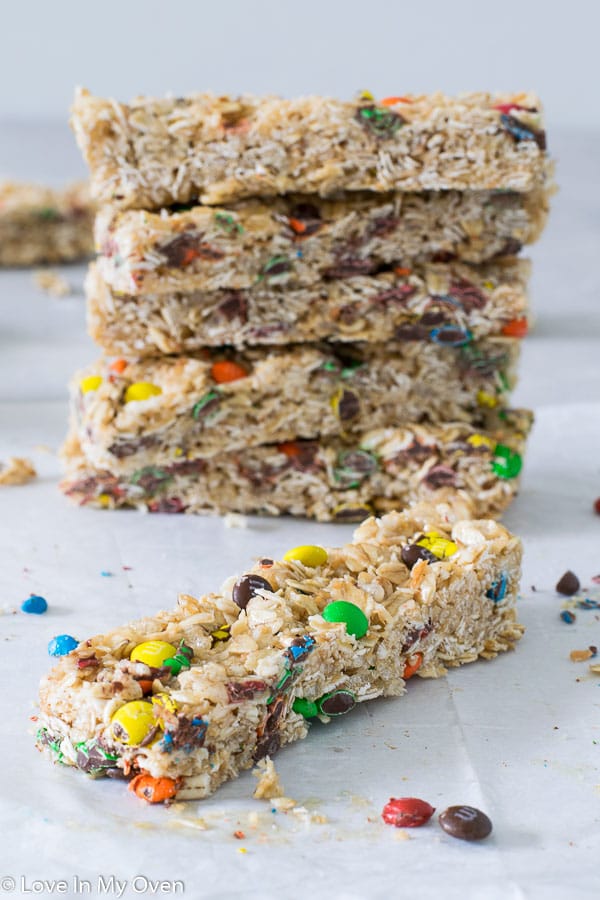 Guyyyyys it's just about back to school for us! One boy starting kindergarten and one boy starting pre-k. How!? My kiddos are growing so fast and I wish I could slow it down a little bit. And on the same note about time, it's also nearly the end of summer. THIS in particular makes me want to cry because it feels we barely even had a summer!
Anyway, enough whining and more celebrating. Celebrating these M&M granola bars!!
I have to admit I have been trying to publish this recipe for over a year now. I tested and re-tested granola bars last year and then when none of them checked all the boxes I was trying to tick (most ended up as crumbled granola – delicious but not the point), I kind of abandoned the project.
THEN I decided this summer to revisit the idea.
This time I nailed it. NAILED IT!
What goes into a homemade granola bar?
My M&M granola bars are made with simple ingredients, and while I don't dare call these "healthy" granola bars, I can guarantee that they're better for you than their store-bought counterparts!
I normally like to keep refined sugars out of my kiddos' treats, but my previous failed granola bar attempts were largely due to that desire. SO, brown sugar for the win! I really wanted to capture that same sweet, store-bought flavour and texture and there just isn't a good subsitute for good old brown sugar!
So, other than brown sugar, these bars have honey, butter, rolled oats, coconut and vanilla. Oh, and the star of the show, M&M's. Mini ones, to be exact.
One thing to mention, I toasted the oats and coconut together before combining them into the mixture. It's not 100% necessary but it's totally recommended!

Do you have to keep these M&M granola bars refrigerated?
The bars hold up pretty well if you wrap them tightly in plastic wrap to send to school or out on an outing, but they're definitely more firm when cold. I usually store mine in the fridge until it's time to transport them somewhere.
Also, make sure that when you put the bars into the pan, you press down very, very firmly to make sure everything keeps together. I like to top the bars with mini M&Ms after pressing them into the pan for visual, since after all that pressing a lot of the M&Ms are broken!
Keep the bars in the fridge for at least 2-3 hours before removing and slicing into them!
I cut my granola bars into 12, but you cut them into whatever size works best for you and your family!
I'm counting down my last few days of summer holidays now, until the busyness and mayhem of school starts up! I'm going to need a million snacks like this to get us through. Stacks of snacks!
Pssst – if you haven't subscribed to the blog yet, you should do it now! I'm giving new subscribers a free e-book that has a couple of exclusive recipes inside, one of which is another snack bar that you won't want to miss out on!
My favorite kind of snacks are portable, healthy and full of goodies. I've got a few other gems on the blog that you might like too.
Print
M&M Granola Bars
---
Author:

Total Time:

30 minutes

Yield:

12

bars

1

x
Description
These easy mini M&M granola bars will be your new favorite lunchbox snacks. It's an easy granola bar recipe that's nut-free so it's also safe for school!
---
2 cups

large flake oats

1 cup

shredded coconut, unsweetened

1 cup

rice krispies

1/2 tsp

cinnamon

1/4 cup

unsalted butter

1/4 cup

brown sugar

1/3 cup

honey

1 tsp

pure vanilla extract

1 cup

mini (or regular) M&Ms
---
Instructions
Preheat the oven to 350 F. Line an 8×8 baking dish with parchment paper, leaving a bit of overhang. Spread the oats and coconut out onto a large baking tray. When the oven is heated, place the baking tray in the oven for 4 minutes, then rotate the pan and toast for another 2 minutes. Remove and let cool.
In a large mixing bowl, combine the oats and coconut, rice krispies and cinnamon. In a medium saucepan over medium-high heat, melt the butter, brown sugar and honey together. Once the mixture starts simmering, remove it from heat and stir in the vanilla extract. Pour the honey mixture over the bowl of oats and use a wooden spoon to stir it all together. Allow it to cool for 10 minutes before adding in the M&M's (or they'll melt). Stir them in gently.
Empty the granola mixture into the baking dish and press down evenly. Use your hands to press down firmly, putting some weight into it. Press in a few reserved M&Ms on top for visual effect. Place the baking dish into the refrigerator for 3-4 hours before removing. Hold the ends of the parchment paper to lift the bars out of the pan and onto a large cutting board. Use a large knife to cut the bars into 12 (or whatever size you prefer). Wrap each individually in plastic wrap, or place the bars into a container. Store the bars in the refrigerator (or freezer).
Bars can be kept in the fridge for 1-2 weeks, or in the freezer (wrapped tightly) for up to 2 months.
Prep Time:

20 minutes

Cook Time:

5 minutes
Keywords: m&m granola bar recipe // easy granola bar recipe // lunchbox snacks
Recipe Card powered by