These completely sugar-free banana muffins will become your new favorite recipe! These healthy baby muffins are soft, completely naturally sweetened and great for your kids AND you. The perfect baby led weaning muffins!

*Recipe updated February 2019* I've updated the recipe to include unsweetened applesauce. The original recipe remains the same other than this addition. The applesauce adds a bit more moisture and sweetness to the muffins, but feel free to omit it!
Well, Mother's Day is over! I have to say it was a pretty great day. Etienne let me sleep in, and had breakfast waiting for me when I got up, along with an adorable card featuring the footprints and handprints of my tiny little loves. Oh – and a gift card to this wonderful little kitchen store, Zest Kitchenware, that I discovered a few weeks ago and was raving to him about.
The rest of the day was spent visiting my Mom. Unfortunately, Wally decided to cry (more like scream) for most of the 1 hour and 20 minute drive to my Mom's…it couldn't be a totally picture perfect day, right!?
I hope you had a great weekend, Mother's Day celebrations or not. Can you believe it is the middle of May already!?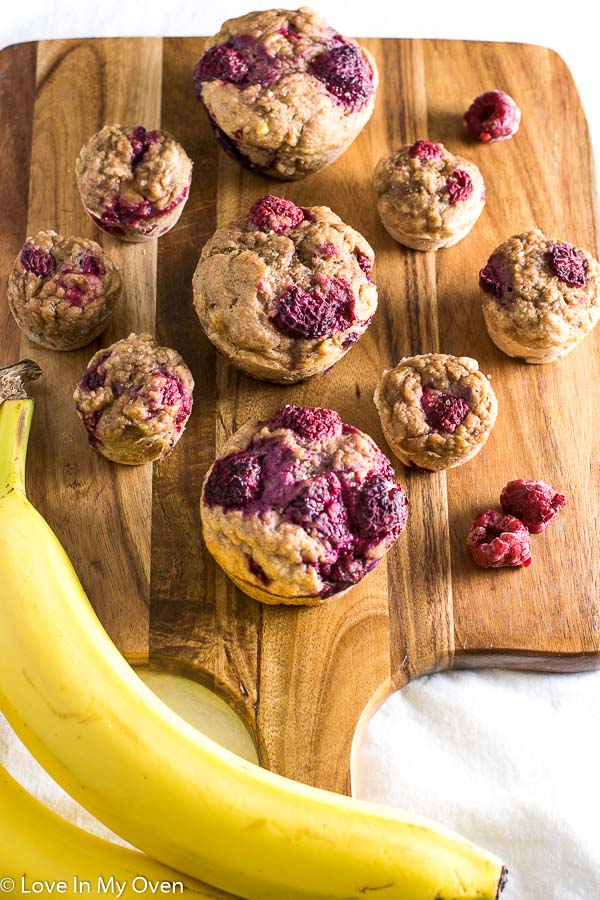 If you've been following along on the blog, you will have noticed that I'm a pretty big fan of raspberries; particularly, raspberries in baked goods. Have you tried my healthier raspberry chocolate chip banana bread yet!? Today's muffin recipe also combines ripened bananas with raspberries, but it's geared towards babies and toddlers and those watching their sugar intake as they contain NO added sugar. None! How great is that? Along with a bit of unsweetened applesauce, the bananas add all of the sweetness to the muffin, so you'll want to make sure you're using realllllly ripe bananas. Like, grossly ripe. More brown than yellow. Fruit flies should be wanting these bananas. They're awful to peel and handle, but they're really, really sweet!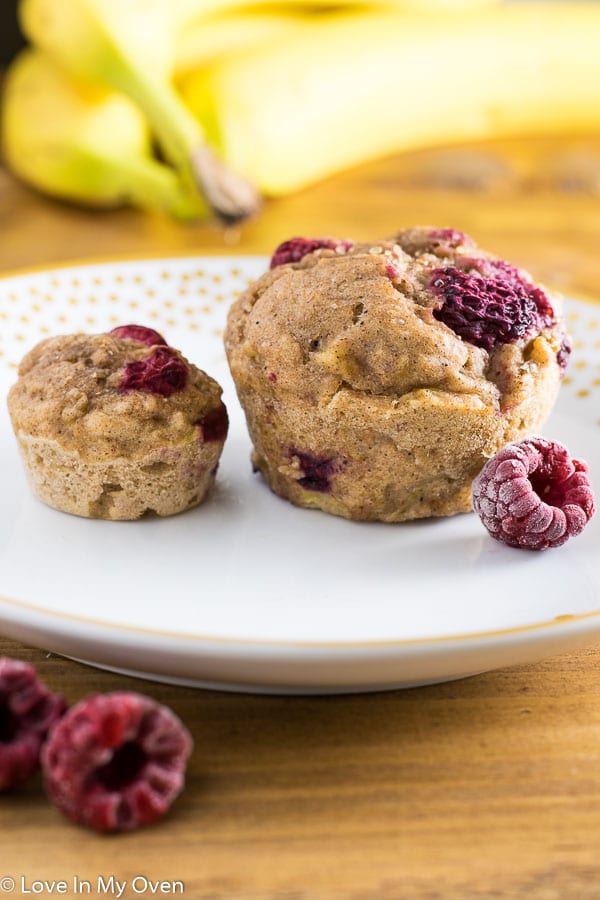 Although sugar-free, these little banana bombs do contain a teeny bit of fat. I've used a little bit of avocado oil, along with Greek yogurt for added moisture. I had experimented a few times making these muffins, and I tried replacing the oil completely with applesauce a few times. While the muffins were just as tasty, I found that without the oil the texture was a bit too rubbery for my liking. The oil and yogurt keeps the muffin fluffy and moist. My boys can confirm.
I've added raspberries to these particular muffins, but you can easily swap it for blueberries (as shown above), blackberries or diced strawberries, or leave the fruit out altogether! As I mentioned, I have a weakness for raspberries in my baked goods. Plus, I find that the tartness of the raspberry adds so much extra flavor to a muffin that contains no added sugar. I used up the last of my frozen raspberries for this batch below; I kind of like how they exploded a bit with juice! Very dramatic, don't you think?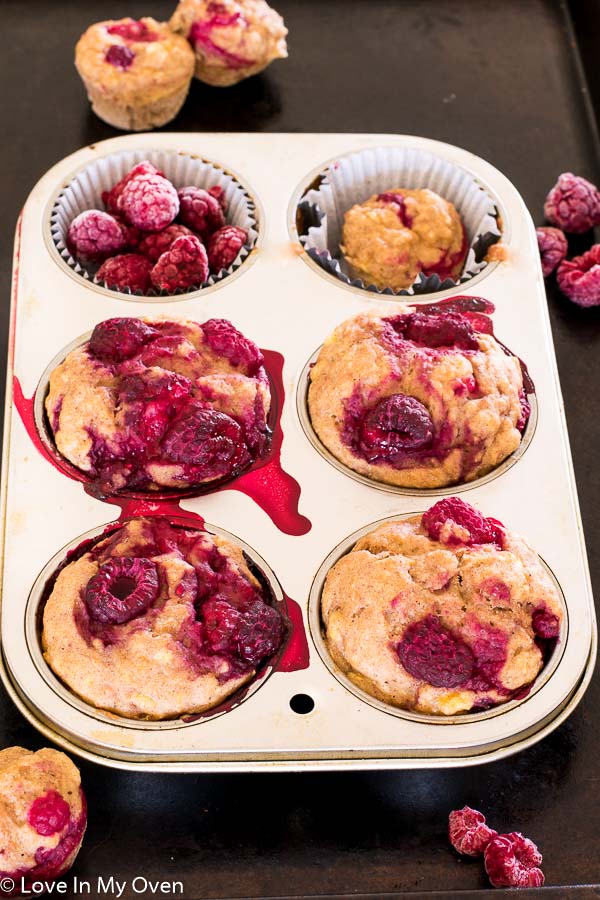 These guys come together SO quickly. Whisk all of your dry ingredients together, then mash your banana in a separate bowl along with the yogurt, egg, oil and vanilla. The mini muffins are ready in only 12 minutes or so, while the larger muffins take about 22 minutes.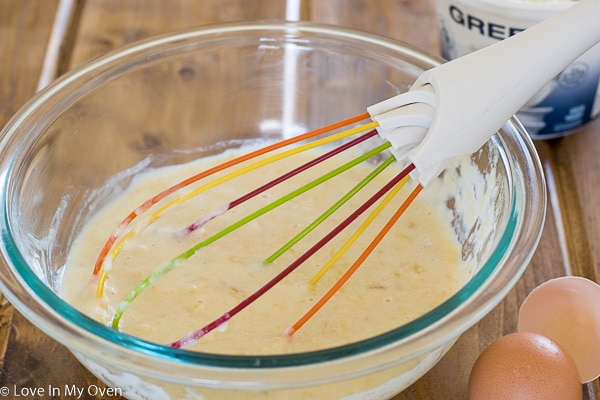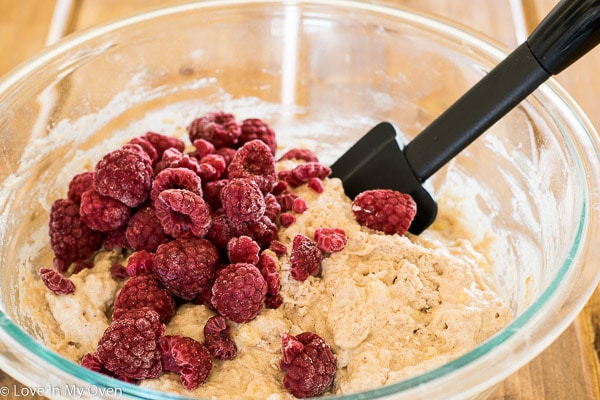 These baby banana muffins are a great breakfast or easy snack for the boys – they're perfect for little hands! If you're doing baby-led-weaning these are a perfect idea for breakfast. The larger sized muffins are great for adults looking for a healthier muffin option or for bigger kids.
The next time you have some ripe bananas, keep these muffins in mind and let the bananas get even riper. And then even riper. It's worth it, trust me! Experiment with different mix-ins. I have a feeling this could be your new go-to for kid-friendly muffins!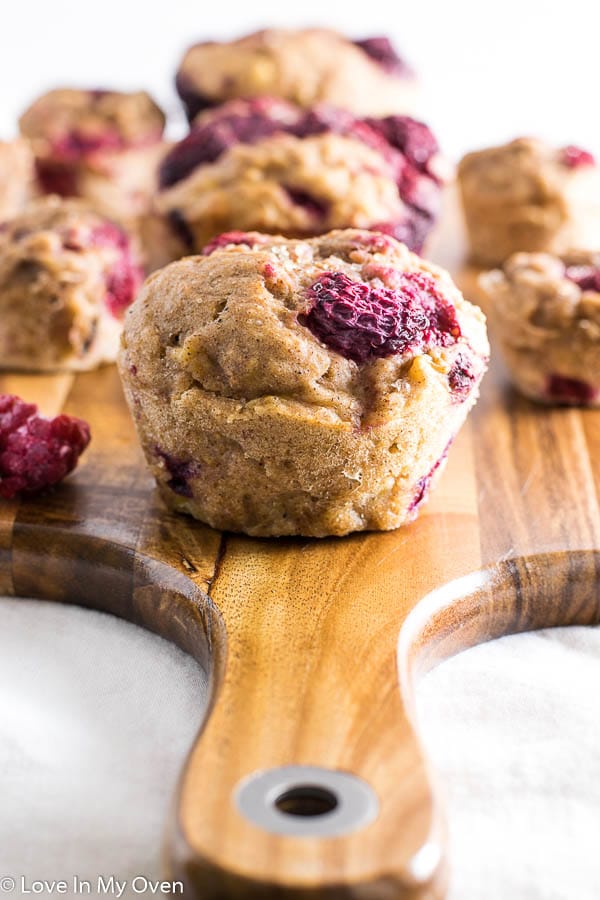 So, if you're looking for more healthy recipes for your baby or toddler, be sure to check out my Wee Ones page! It includes these awesome sugar-free treasures:
And if your little one is about to have their first birthday, be sure to make them THE BEST healthy smash cake!
Print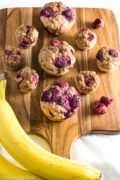 Baby-and-Me Banana Muffins
---
Author:

Total Time:

35 minutes

Yield:

6

-

24

muffins

1

x
Description
100% naturally sweetened baby banana muffins. Make them mini for your wee ones' breakfast or snack, or make them bigger for you! The perfect baby led weaning muffin.
---
1/2 cup

whole wheat flour

1/2 cup

all-purpose flour

1 tsp

baking powder

1/4 tsp

baking soda

1 tsp

cinnamon

1/2 tsp

nutmeg

2

very ripe, large bananas

2 tbsp

avocado or vegetable oil

1/4 cup

 Greek yogurt, room temperature

1/4 cup

unsweetened applesauce, room temperature

1

egg, lightly beaten, room temperature

1 tsp

vanilla extract

1 cup

raspberries*
---
Instructions
Preheat the oven to 350 F and spray or line a mini or standard sized muffin pan with muffin liners. Set aside.
In a large bowl, whisk together both flours, baking powder, baking soda, cinnamon and nutmeg.
In a medium sized bowl, mash bananas until no large lumps remain. Stir in the oil, Greek yogurt and applesauce until combined. Whisk in the egg and vanilla extract.
Carefully add the wet ingredients to the dry, stirring until just combined. Do not overmix! Gently fold in the raspberries, if using.
Divide the batter evenly among the muffin pan: about 24 mini, or 6 standard-sized. Bake 12-14 minutes for the mini muffins, or 22-25 minutes for the standard-sized, or until a toothpick inserted in the center comes out clean.
Allow the muffins to cool for 5 minutes in the pan before removing to a wire rack to cool completely.
Muffins stay fresh at room temperature, in a sealed container for up to 1 week. Muffins freeze very well, up to 2 months.
Notes
Replace raspberries with any other mix-in. Try blueberries, blackberries, diced strawberries, raisins or chocolate chips. Fresh or frozen fruit will work; if using frozen, do not thaw first.
*Recipe updated February 2019* I've updated the recipe to include unsweetened applesauce. The original recipe remains the same other than this addition. The applesauce adds a bit more moisture and sweetness to the muffins, but feel free to omit it!
Prep Time:

10 minutes

Cook Time:

25 minutes
Recipe Card powered by
Pin this recipe for later!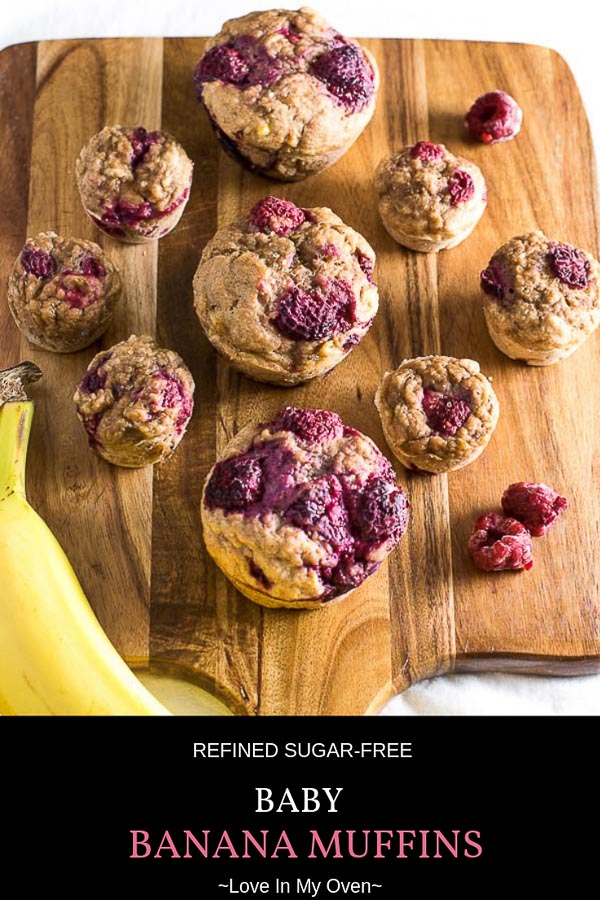 Shop today's recipe