This easy healthy smash cake recipe is the perfect compromise for your baby's first birthday cake. Your little one will be all smiles with their very own healthy smash cake, naturally sweetened and perfectly sized just for the birthday baby!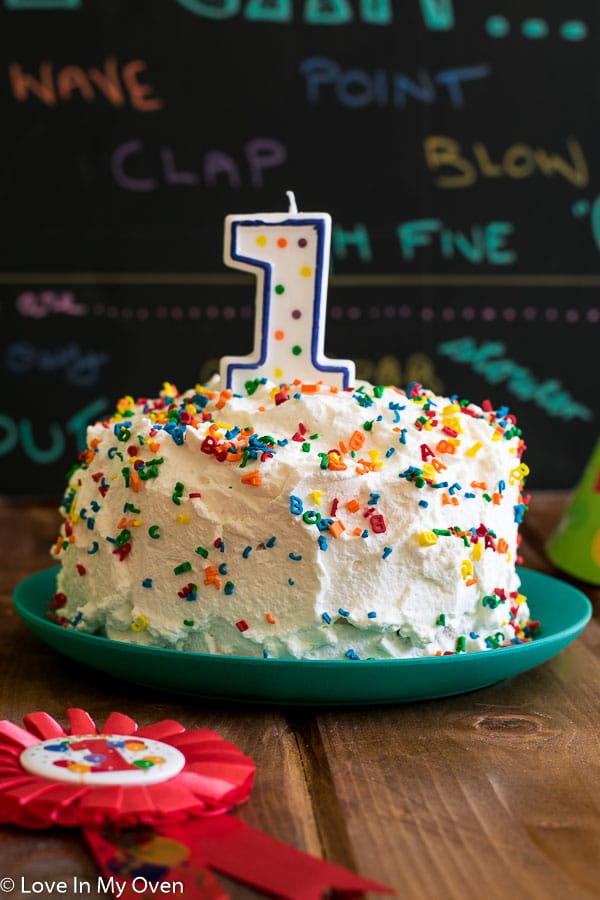 *Please note* this post has been updated as of June, 2021. The recipe remains the same, but the post has been updated to include a video at the bottom of the post to show you how easy these are to make!
This post may contain affiliate links, which earn me a small commission at no extra cost to you.
SMASH cake!! What every 1 year old needs for their birthday. Both hands in, face covered in icing, cake everywhere. Babies go from not being able to eat ANY solid food for the first 4-6 months of their life, to sloooowly adjusting to the tastes and textures of real food, to solely surviving on solids.
For most babies, I assume these first few solids are super-duper healthy and full of nutrients, carefully purchased and cooked by their loving caregivers. I love the idea of presenting a little baby with a giant cake, covered in sweet stuff, for them to enjoy all on their own. I'm pretty sure 99% of babies short-circuit when suddenly faced with the reality of their very own cake.
My second child, Walter, just turned 1 on Tuesday and I served him this healthy smash cake (read more about my year with Wally here). Wally took one look at the cake and thought, "challenge accepted". Evidence below.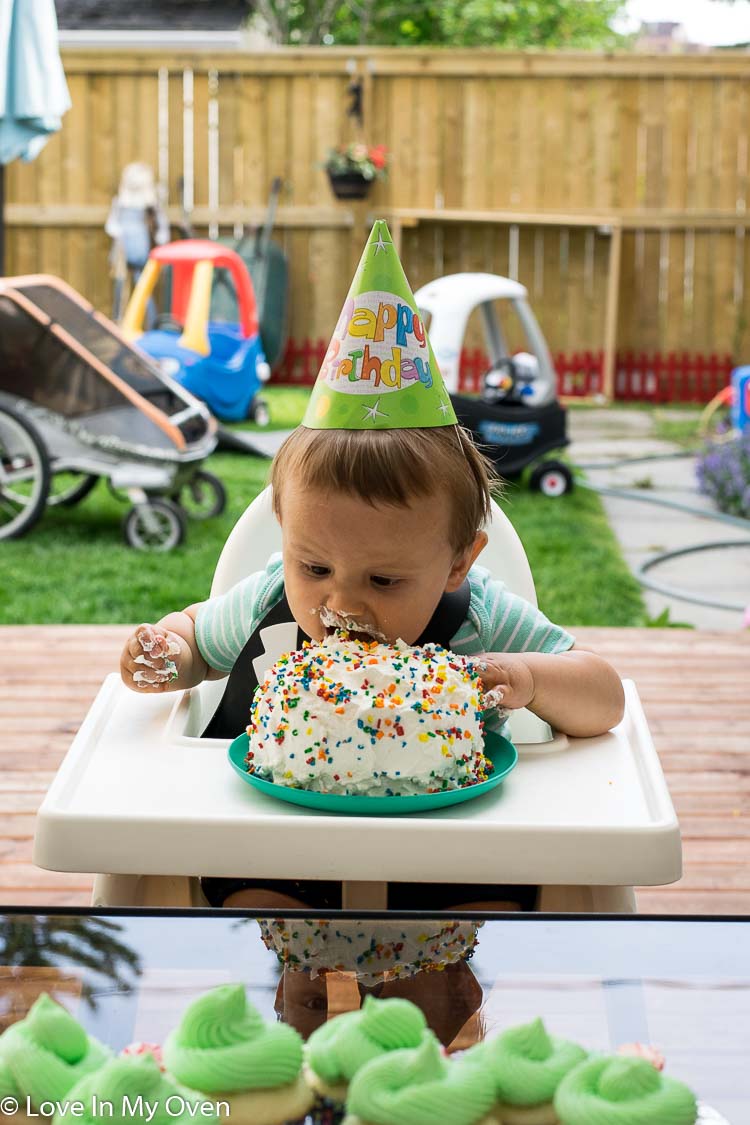 What is a smash cake?
Smash cakes are a relatively new concept. They're typically a small frosted cake made just for the birthday baby. As much fun as it is to watch a baby go bonkers over a cake, a lot of parents I know don't want their 1 year old child filling up on loads of sugar and fat (pssst – I'm one of them). I totally believe in moderation, and a sweet treat now and then, but there's just something about letting a 1 year old have free rein on a super sugary cake.
SO, I created this much healthier version that I could feel good about watching Wally devour. I made something similar for Oscar on his 1st birthday, but Oscar has never been quite the enthusiastic eater that Wally is, so I probably could have given him the real McCoy and still been safe. (Mini orange carrot cake)?!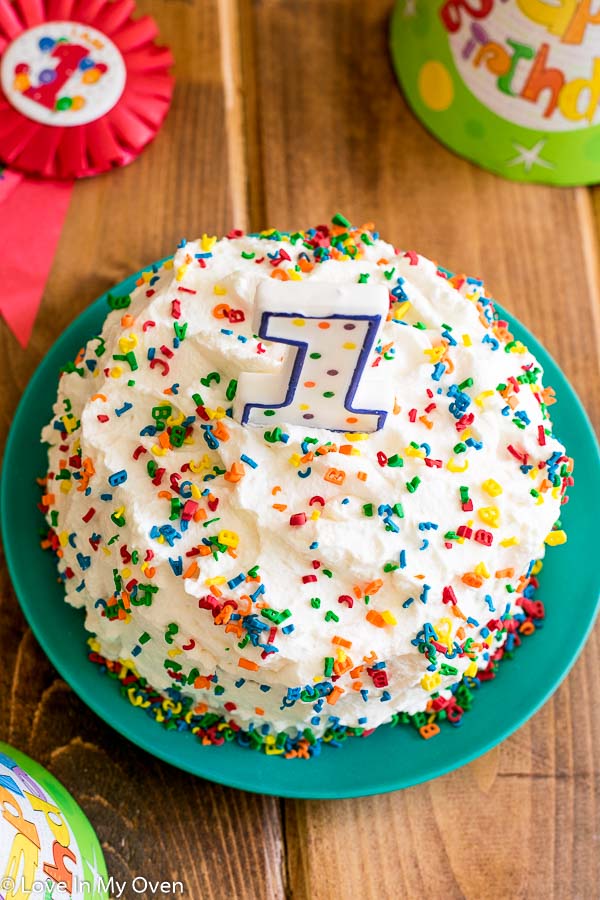 What flavor cake is best for a 1st birthday?
When you think of cake, you usually think of chocolate or vanilla, but this healthy smash cake recipe creates more of a big healthy strawberry-banana muffin than a cake. It's made with whole wheat flour, whole milk, and a homemade fruit puree of banana, strawberry and unsweetened applesauce. I told you – healthy! You will want to choose a very ripe banana to ensure it adds enough sweetness, so there's no added sugar.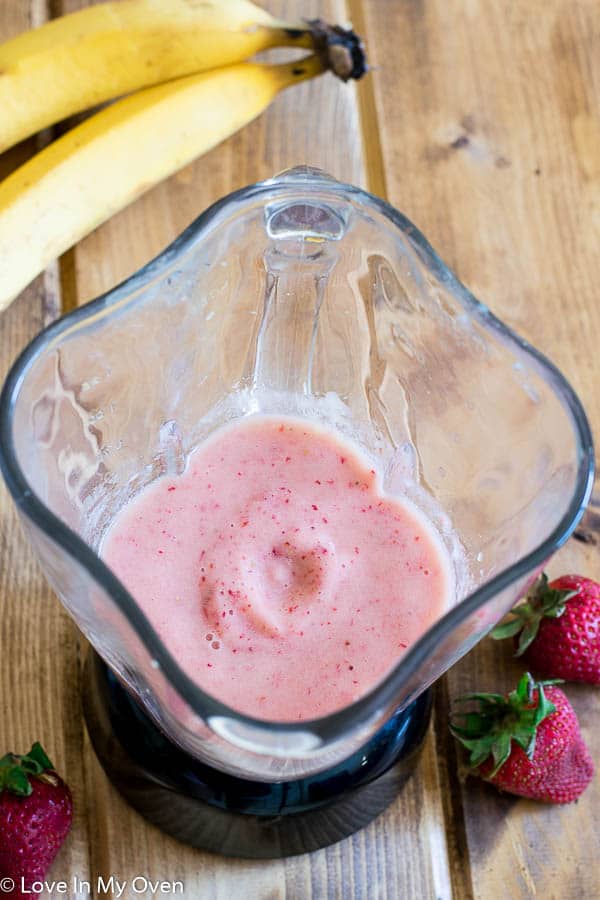 How do you make a healthy smash cake?
After you prepare the fruit puree, combine it with the milk, egg and vanilla extract, and then gently combine it with the dry ingredients. Pour the cake into your prepared pan and bake for about 25-30 minutes, or until a toothpick comes out clean. I made my cake using this adorable little 6″ springform pan I found at Zest Kitchenware. You can also get one from Amazon
.
Once the cake was cool, I used dental floss to create 2 layers. You could also use two 4 1/2″ pans and have an automatic double layer. There is probably a more sophisticated way to create layers, but I love using dental floss. It works so well!! Hold both ends of the floss taught in your hands and just pull through the whole way.
The "icing" for the healthy smash cake is simply unsweetened whipping cream with a tablespoon of maple syrup. You could also add a little of the leftover fruit puree for some color and extra flavor. I liked the idea of a bright white cake. Prepare the whipped cream no longer than a few hours before you're going to frost and serve the cake, to ensure it holds its shape.
If you've got a baby approaching the big "1" you'll be happy to know that you can have all the fun of a smash cake without all the junk! I can confirm that my little buddy had no complaints about his very own healthy smash cake!
Happy birthday Walter!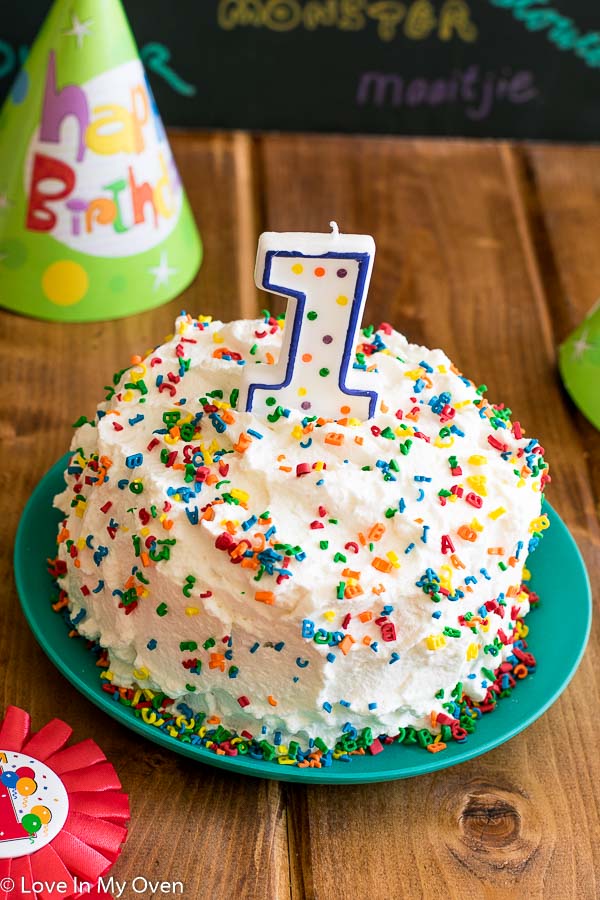 Since you've arrived at this page, I'm guessing you're into all of the healthy recipes for your kiddo. I've got some other amazing kid-friendly recipes that you need to check out. Most of them don't contain any added sugar!
And be sure to PIN this recipe for later!!
Print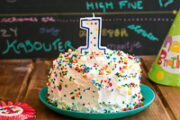 Healthy Smash Cake
---
Author:

Total Time:

60 minutes

Yield:

1

smash cake

1

x
Description
Let your baby have all the fun of their very own healthy smash cake, free of refined sugars and unhealthy fats. This easy healthy smash cake recipe is the perfect compromise for your baby's first birthday cake.
---
Cake
1 1/4 cup

whole wheat flour

1 tsp

baking powder

1/2 tsp

baking soda

1/4 tsp

salt

1

banana, very ripe

3

strawberries

1/4 cup

unsweetened applesauce

1/4 cup

whole milk

1

egg

1 tsp

pure vanilla extract
Frosting
1 cup

whipping cream

1 tbsp

maple syrup
---
Instructions
Preheat the oven to 350F and butter and flour a 6″ springform pan*
In a large mixing bowl, sift together the flour, baking powder, baking soda and salt. Set aside.
Place the banana, strawberries and applesauce together in a blender and mix on high until completely pureed.
In another small bowl, whisk together 1 cup of the fruit puree, the milk, egg and vanilla extract. Add the wet ingredients to the dry ingredients and carefully stir with a large wooden spoon until just combined.
Pour the batter into the prepared pan, and bake for 25-30 minutes, or until a toothpick comes out clean.
Allow the cake to cool for 10 minutes in the pan before running a knife along the edge of the pan and removing to a wire rack to cool completely.
If wanting to create 2 layers, use a long piece of dental floss to cut the cake through the middle. Wrap the cooled cake in saran wrap until ready to place on a plate and frost.
Whipped Cream Frosting
Place a mixing bowl and beater in the fridge for at least 3-4 hours before you are about to prepare the whipped cream. Pour the whipped cream into the chilled bowl, and beat on high with an electric mixer until the cream is the consistency you prefer.
Frost the bottom layer of the cake first, then follow with the top layer. Keep refrigerated until ready to serve*
Notes
You could also use two 4 1/2″ pans. Reduce cooking time to about 20-23 minutes.
I recommend frosting the cake no more than 3-4 hours before serving to ensure the whipped cream maintains its shape.
Prep Time:

30 minutes

Cook Time:

30 minutes
Keywords: healthy smash cake, healthy smash cake recipe, easy healthy smash cake, healthy 1st birthday cake alternatives
Recipe Card powered by
Update: June 2019
So, my 3rd baby, Hattie, turned 1 earlier this year and I made her the same cake, but added a bit of cream cheese to the whipped cream icing to stabilize it enough to pipe the icing on. I used a bit of beet juice to color half of it pink, for pretty rosettes!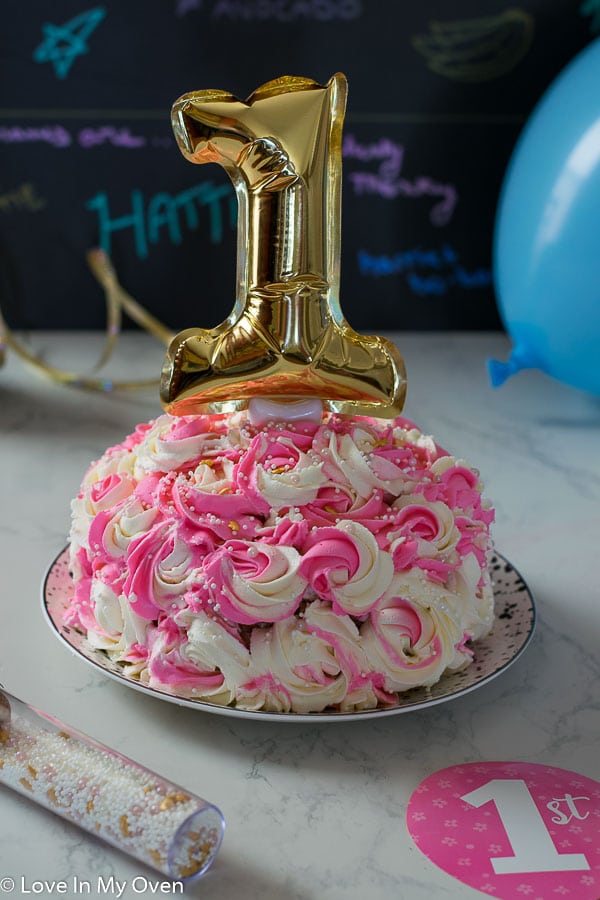 Shop today's recipe