Save time and whip up these turkey and cheese quesadillas in your air fryer! Flavorful taco turkey meat makes the best air fryer turkey quesadillas!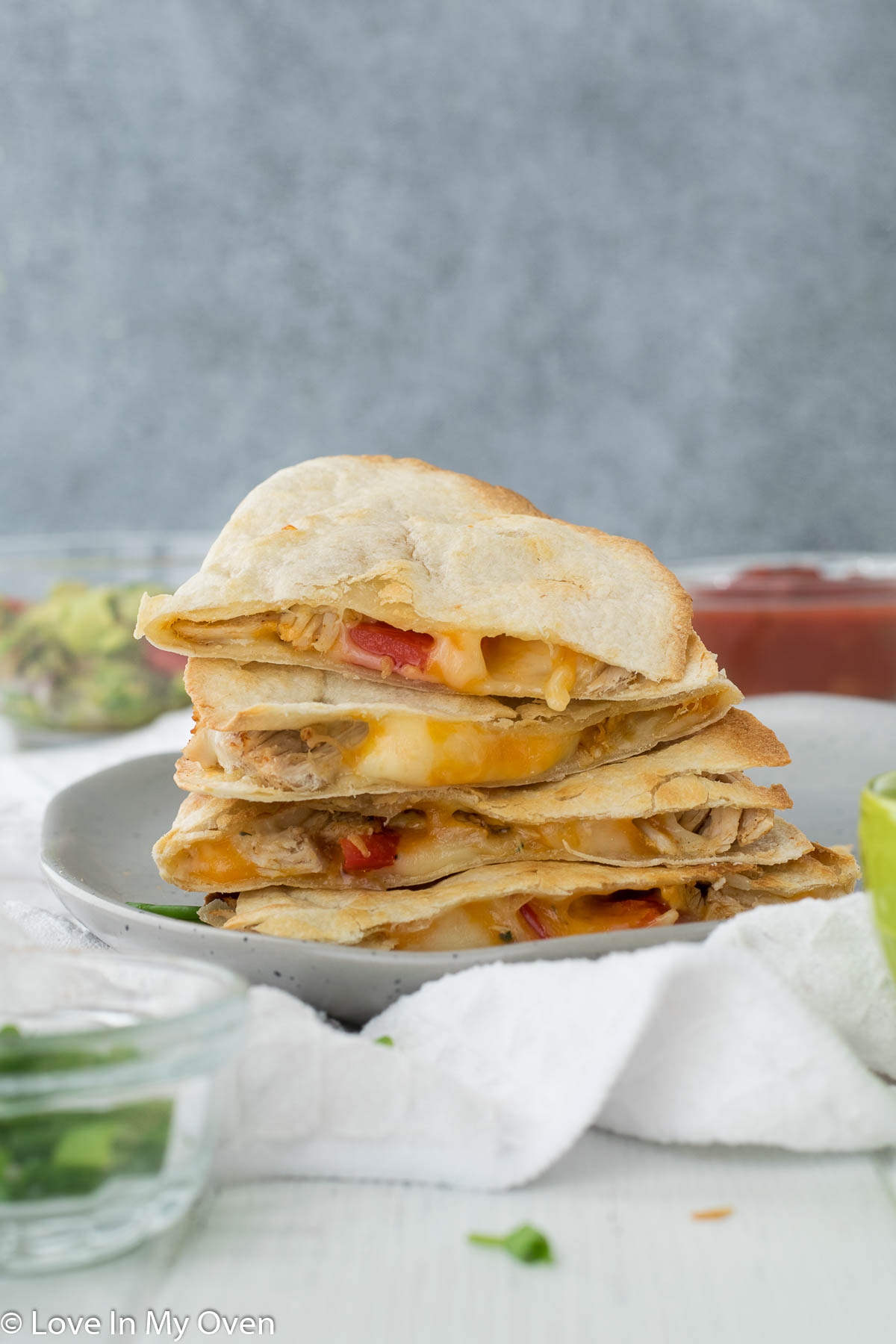 This post is sponsored by Alberta Turkey. All thoughts and opinions expressed in this post are my own. Thank you for supporting the brands and products that make Love In My Oven possible.
Happy first few (official) days of fall! It has felt like fall for a few weeks here now, and I'm just reallllllly hoping it lasts at least a few more weeks for us before the cold dark winter sets in! You all know how I feel about winter!
Anyway, with fall comes back to school and the need for quick and easy things. I don't know why I didn't think through my schedule very well, but I REALLY set myself up for a crazy Monday. I'm back and forth to the house and different schools and programming ALL DAY. It's nuts. Needless to say dinner needs to be quick! These air fryer turkey quesadillas are perfect for these days.
I have to honestly say, I had never QUITE fully jumped on the air fryer train, at least until we moved to the new house. Now I finally have a permanent spot for the air fryer and it makes it way easier to use!
How do you make air fryer turkey quesadillas?
These turkey quesadillas couldn't be simpler to make! Start by cooking the turkey meat. You will need a boneless, skinless turkey breast.
Drizzle a bit of olive oil in a pan, and once its warmed up, add the turkey breast to the pan and put the lid on.
After cooking the breast for about 10-12 minutes, flip it over and cook for an additional 10 minutes, or until the turkey reaches and internal temperature of 165 F when checked with a meat thermometer.
Remove the turkey to a cutting board, then use 2 forks to shred the meat into pieces. Place the shredded meat back into the pan, along with the taco seasoning. Cook on low for a minute or two, stirring to combine the turkey with the seasoning!
Set the meat aside while you prepare the rest of the quesadilla fillings.
Along with the turkey meat, you'll need:
diced red bell pepper (optional)
shredded cheddar and mozzarella cheese
Preheat the air fryer to 325 F. On one half of a large flour tortilla, scatter some of the shredded cheese, then top with diced peppers and seasoned turkey meat. Add some additional cheese on top of the turkey meat, then fold the quesadilla over in half.
Since the air fryer works by circulating air inside, you will need to secure the quesadilla with a toothpick or two inserted through it, to hold the top down!
Lightly spray the top of the quesadilla with nonstick spray, then close the lid and cook for 3 minutes, before opening the lid, flipping the quesadilla over and cooking for an additional minute or two, or until the cheese is melty and the top is lightly browned and crispy!
Repeat the process with remaining flour tortillas. Remove the quesadillas to a cutting board, slice them in half and serve!
What do you serve air fryer turkey quesadillas with?
We love serving up our quesadillas with sour cream, salsa and guacamole. The other day when I made this I also made a quick pineapple avocado salsa to go with it too! Extra jalapeno for Etienne and I.
You can use your favorite toppings or dips for this meal. Whatever you like!
Although we love eating them when they're gooey and cheesy, these quesadillas are actually great cold too, as a perfect little lunchbox alternative to a sandwich. Oscar loves them in his!
Also, if you're looking for a recipe to use up all of that leftover turkey meat after Thanksgiving or Christmas, these air fryer quesadillas are a great way to do it! Just cook the leftover meat for a few minutes with the taco seasoning before using it.
Think Turkey and try these air fryer turkey quesadillas!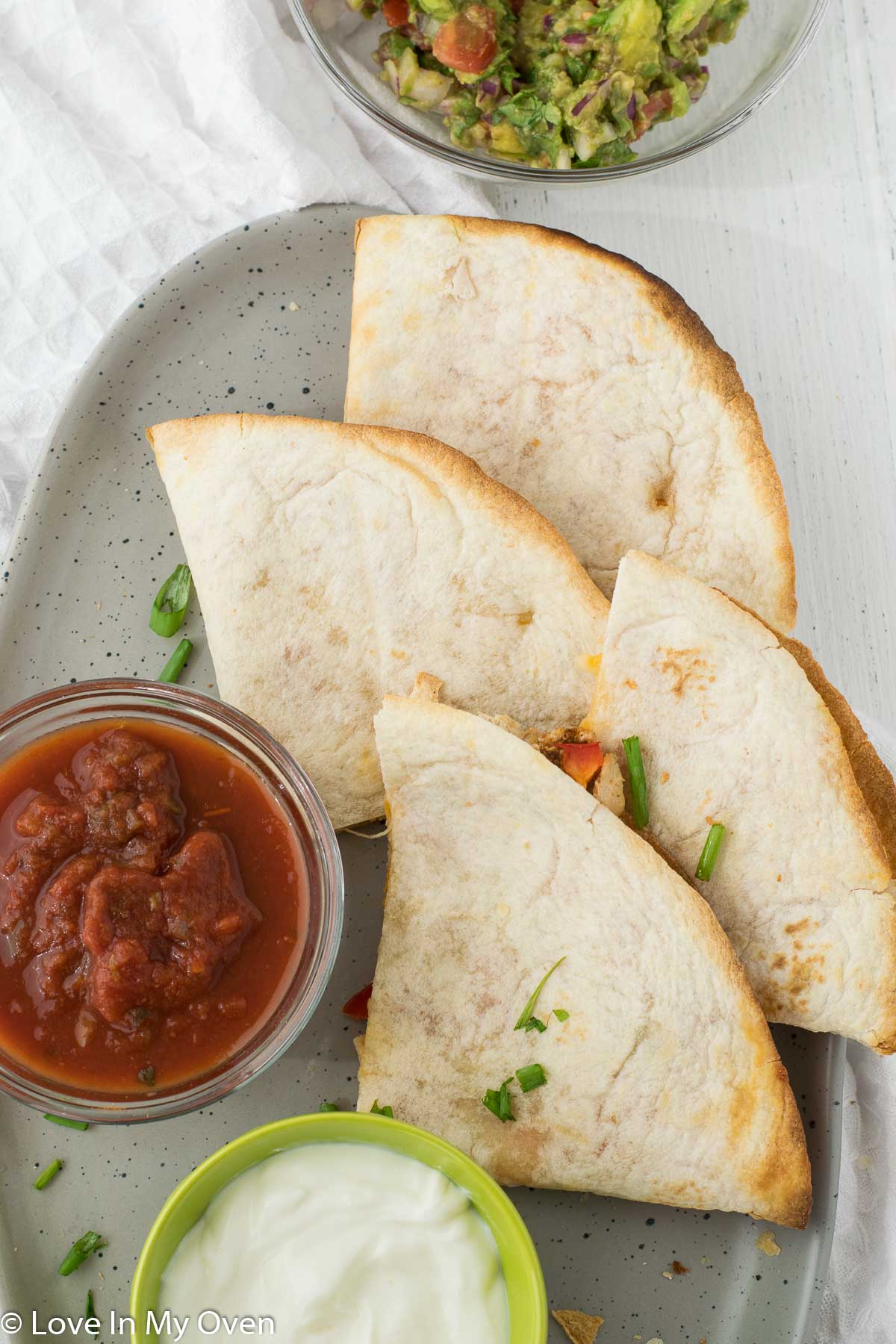 Some of my other favorite easy dinners from the blog:
Print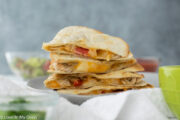 Air Fryer Turkey Quesadillas
---
Author:

Total Time:

40 minutes

Yield:

4

servings

1

x
Description
Save time and whip up these turkey and cheese quesadillas in your air fryer! Flavorful taco turkey meat and cheesy goodness makes the best air fryer turkey quesadillas!
---
2 tsp

olive oil

1

boneless, skinless turkey breast (1lb)

2 tbsp

taco seasoning (homemade or store-bought)*

4

large flour tortillas

1 cup

shredded cheddar cheese

½ cup

shredded mozzarella cheese

½

red bell pepper, diced

optional:

sour cream, salsa, guacamole, for dipping
---
Instructions
Heat the olive oil over medium heat in a medium-sized frying pan for a couple of minutes. Add the turkey breast and place the lid on the pan, cooking for 10 minutes, before flipping to the other side and cooking for another 10 minutes, or until a thermometer inserted in the center of the breast registers 165 F.

Remove the cooked breast to a cutting board, and using 2 forks, shred the meat into pieces. Return the meat to the frying pan and stir in the taco seasoning, cooking over low heat for 2-3 minutes. Remove from heat.

Turn the air fryer to 325 F. On one half of a tortilla, sprinkle 2 tbsp of cheddar cheese and 1 tbsp of mozzarella. Add ¼ cup of the cooked turkey meat, followed by 1 tbsp of diced red pepper, then another 2 tbsp of cheddar and 1 tbsp of mozzarella cheese. Fold the tortilla in half and secure it with a toothpick through both sides. Lightly spray the tortilla with non-stick cooking spray then place into the preheated air fryer.

Cook the quesadilla for 3 minutes on one side, before flipping it to the other side and cooking for another 1-2 minutes. Remove to a plate and repeat steps 3-4 with the remaining tortillas. Slice the cooked quesadillas in half, then serve. Optional: Dip the quesadillas in sour cream, salsa or guacamole, as desired.
Quesadillas will keep in the fridge, in an airtight container, for up to 3 days. They can be reheated in a microwave or eaten cold!
Notes
*Homemade Taco Seasoning
Mix together the following, then use in the recipe as directed:
2 tsp chili powder
1/2 tsp garlic powder
1/4 tsp onion powder
1/2 tsp dried oregano
1/4 tsp paprika
1 tsp ground cumin
1 tsp salt
1/2 tsp ground pepper
**You can also use leftover turkey meat in this recipe!
Prep Time:

10 minutes

Cook Time:

30 minuts

Category:

sandwiches

Method:

air fryer

Cuisine:

mexican
Keywords: air fryer quesadillas // turkey and cheese quesadillas // turkey quesadillas
Recipe Card powered by