These no-bake nut-free granola bars are chewy, healthy and delicious. They're a nut-free snack bar that tastes as good as the store-bought granola bars, without all the junk. Try this simple granola bar recipe for school lunches this year!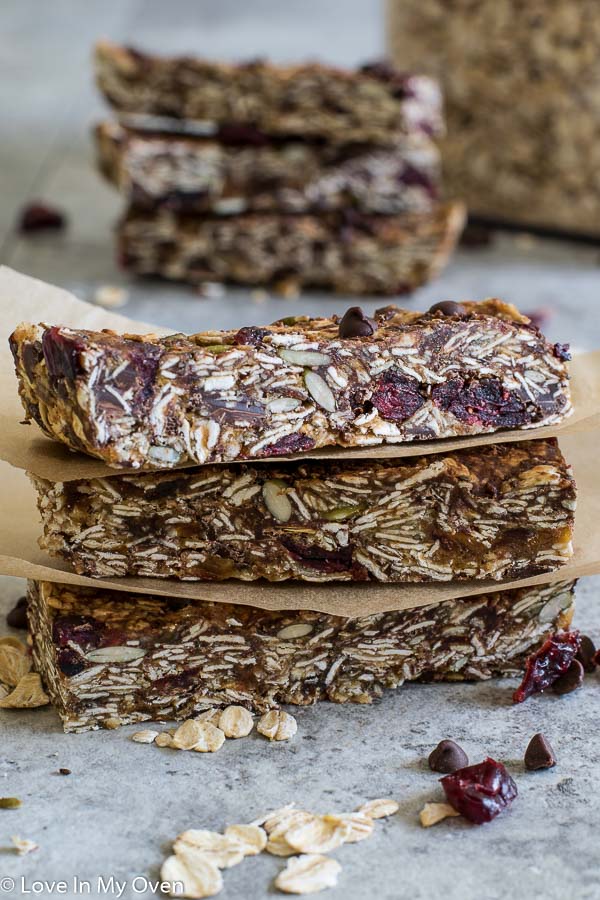 *Please note* this post was originally posted in 2018. I've since redone the text but the recipe remains the same.
The kids are back in school! I mostly mean your kids, since I only have one kid that is school-age, and by school-age I really mean pre-kindergarten age 😉 Anyway, it's September and that means people are looking for back-to-school snacks that are easy to make, nutritious, and won't end up in the garbage can at school (not that I EVER did that….I'm talking to you, bologna sandwich).
I know a lot of schools have nut-free policies, which makes the homemade treat game a bit trickier. Most of the granola bar recipes I've come to know and love incorporate some sort of nut butter as a binding agent, or else they're loaded with tons of butter and sugar. It has taken me quite a few crumbly messes in the kitchen and a LOT of granola-bar-fail-turned-granola eating to nail down a recipe that fits all of my criteria. I'm happy to report I've got a winner. These no-bake NUT-free granola bars check all of the boxes!
Why do I love these granola bars so much?
They are:
-nut-free
-free of refined sugars (if you don't count the chocolate chips)
-no-bake and EASY to make
-they stay together and don't crumble apart
-chewy!!!
-freezer friendly
-delicious and totally customizable
-my kids eat them!!
I'm so happy with these bars! They have the texture of a store-bought granola bar, but without all of the junk. I'm already imagining all sorts of mix-ins I can add to switch these up to keep them interesting for the boys.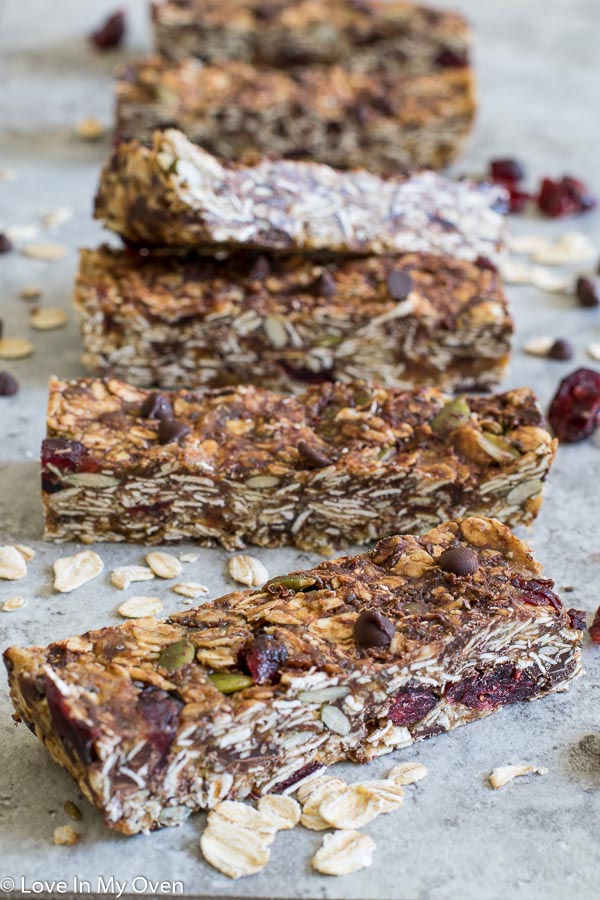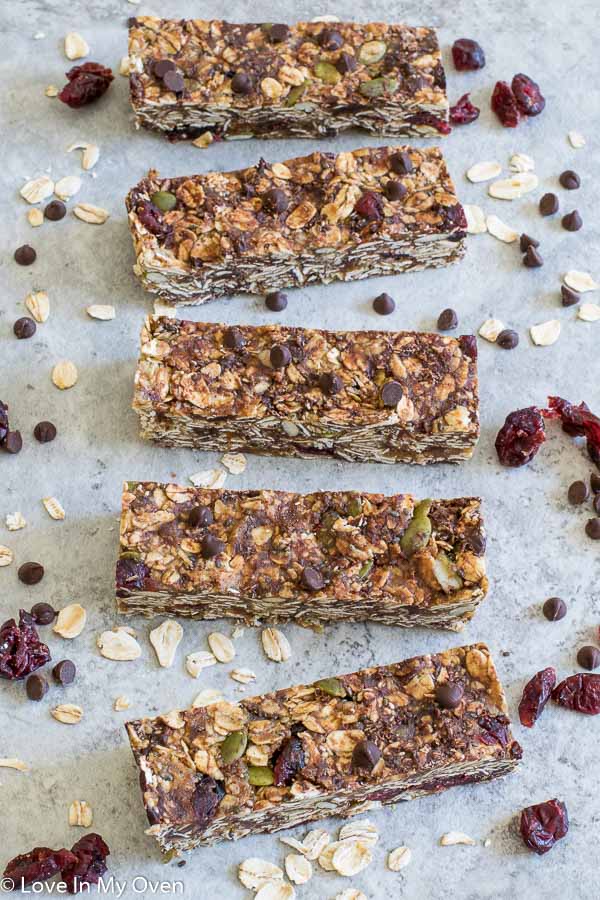 What makes the granola bars chewy?
The magic of medjool dates is what keeps these bars soft and chewy, and a mixture of pumpkin seed butter with honey creates a nice, sweet binding agent. Pumpkin seed butter on its own isn't my favourite, but mixed with honey it's delicious!
One tip for you, after mixing all of the ingredients together, you will need to use a fair bit of muscle to disperse the dates into the granola. I use a large wooden spoon! When you pack the mixture into the baking pan, pack it WELL. I use a lot of force to press it all down! This will ensure the bars keep together.
Do you have to use pumpkin seed butter?
You can absolutely use a different seed or nut butter for this recipe, but obviously using a nut-butter will make them nutty! Personally, I find the pumpkin seed butter to be the best nut-free binder, but I've definitely used peanut butter when I'm not concerned about the nuts.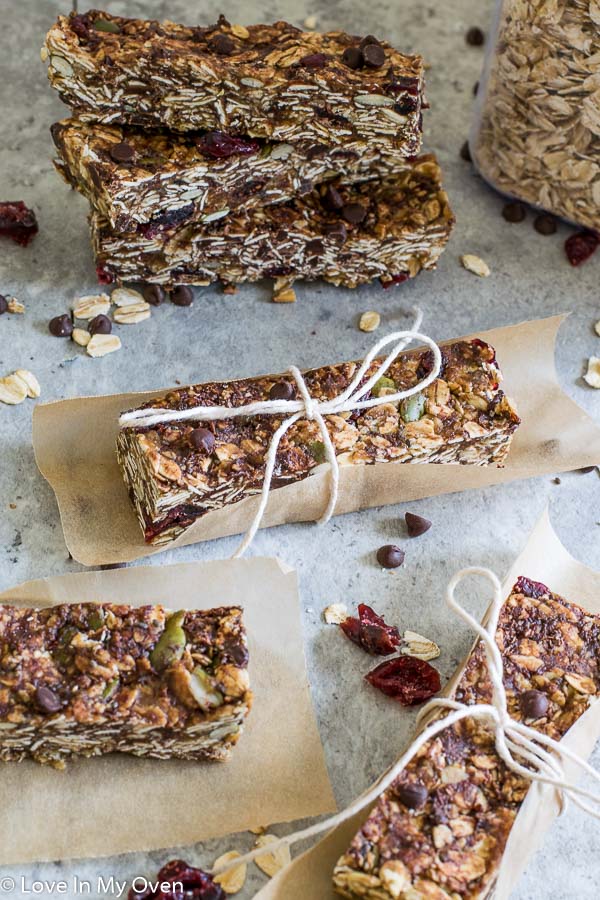 I don't know how it is where you live, but here it is COLD and rainy. It's been gloomy for what feels like forever and I'm missing the sun and summer! I feel like we're getting cheated out of one of my favourite times of year!
I'm looking forward to feeling the sun on my face again, and the crunch of the leaves under my feet. I see some warmer days in the forecast for next week, so for now I'll hunker down with another cup of coffee and one of these no-bake nut-free granola bars!
LOVE granola bars and snack foods?
You'll love these other snacks from the blog!
Print
No-Bake Nut-Free Granola Bars
---
Author:

Total Time:

25 minutes

Yield:

12

bars

1

x
Description
These no-bake nut-free granola bars are chewy, healthy and delicious. They're a nut-free snack bar that tastes as good as the store-bought granola bars, without all the junk. Try this simple granola bar recipe for school lunches this year!
---
2 cups

rolled oats

2 tbsp

. wheat germ (or ground flaxseed)

1 cup

packed medjool dates, pitted (

8

or 9)

2 tbsp

. chia seeds

1 tsp

cinnamon

1/4 cup

honey (or agave)

1/4 cup

pumpkin seed butter

1/4 cup

raw pumpkin seeds

1/2 cup

dried cranberries

1/2 cup

mini chocolate chips
---
Instructions
Preheat the oven to 325 F and line a large baking sheet with parchment paper. Spread out the rolled oats and wheat germ. Place in the oven for 15 minutes to lightly toast the oats.
While the oats are toasting, place the dates in a food processor and pulse until a soft ball is formed.
In a large bowl, mix together the chia seeds, cinnamon and oats/wheat germ. In another bowl, add the honey and pumpkin seed butter and microwave for 30 seconds, stirring until smooth.
Use a large wooden spoon to mix the dates into the dry ingredients, then add the honey/pumpkin seed butter. Stir together until everything is mixed together and then add the pumpkin seeds, dried cranberries and chocolate chips.
Line an 8×8 baking dish with parchment paper, then empty the granola mixture into it. Using a spatula or wet hands, pack the mixture down firmly into the dish. Make sure you use a lot of force to pack it all down, as this will keep the bars together. Place the dish in the refrigerator for at least 6 hours before removing the bars from the pan and cutting into 12 equal pieces.
Keep the bars in an airtight container on the counter for 1 week, or in the fridge for up to 2 weeks The bars can also be stored in the freezer for up to 2 months.
Keywords: nut free snack bars // healthy chewy granola bar recipe // nut free granola bars
Recipe Card powered by