Even the most fierce of zucchini-haters will love this gluten-free zucchini pizza with it's light and chewy texture and mild flavour. This zucchini pizza crust is perfect for all of your favorite toppings!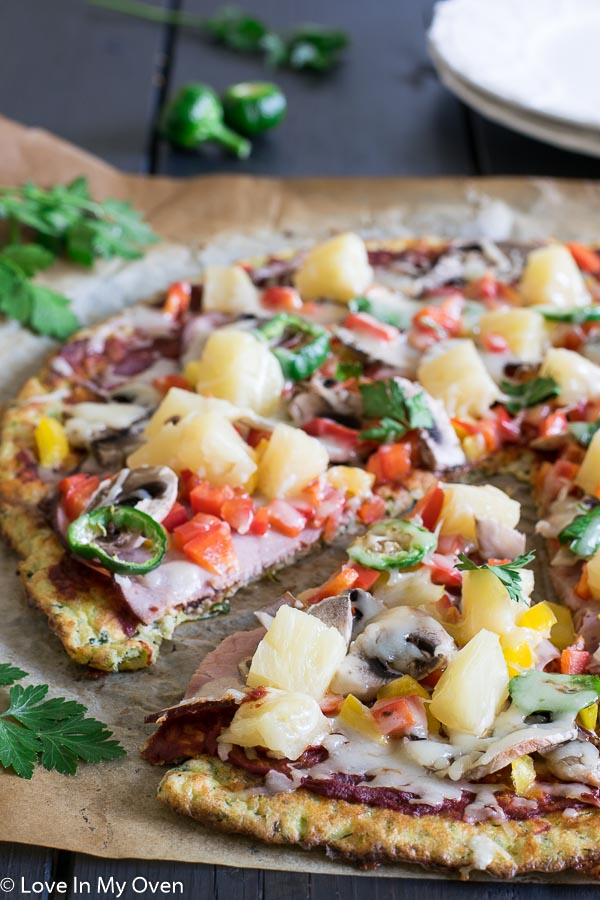 *Note* this post has been updated as of July 2020. The original recipe remains the same
*This post contains affiliate links that earn me a small commission, at no extra cost to you
When I started the blog, I aspired to share all of my favourite go-to recipes and staples with the world. I've gotten a few of them out so far, like my creamy vegetable casserole, my favourite side dish of prosciutto-wrapped asparagus, my every day breakfast cookies, and of course – the star of the show – my salted caramel sauce.
Today's recipe for a gluten-free zucchini pizza crust is another one of my darling treasured recipes, but I've kept it from you until now because of the seasons we've been in. This is not to say you can't make it during the winter months, but somehow it just seemed wrong to post a recipe in March with zucchini as the star ingredient when I knew an abundance of zucchini was coming my way!
An ABUNDANCE. Plethora, myriad, bounty… however you want to say it, I've got a LOT of zucchini. Every year we plant 3 zucchini plants along our house, and for whatever reason they just flourish there. I'm picking 4-5 zucchini a week. It's awesome!! As I mentioned in my previous post, I am quite happy to have an excess amount of something.
There are so many things you can do with zucchini! It's possibly one of the most versatile vegetables around. Brownies, muffins, loaves, grilled zucchini, zoodles, zucchini fritters…zuuuuuuuchini!!! So. One of OUR favourite things to do with this great green vegetable is to make a pizza with it.
You might be skeptical. We were too. We like our pizza on dough; HOWEVER, I gave this recipe a shot one time, and we were forever hooked. Etienne actually prefers it over regular pizza! The crust is light and thin, with a bit of a chewy texture and a wonderful cheesy flavour. It can withstand a ridiculous amount of toppings without getting soggy, and did I mention it's primarily made out of a vegetable!?
How do you make a zucchini pizza crust?
You will need 2 cups of shredded zucchini, squeezed and packed down. Why squeezed? If you've never worked with zucchini, you'd be surprised at the amount of moisture in one of those green monsters.
I typically shred the zucchini into a cheesecloth or an old kitchen towel, and squeeze the heck out of it, like you're wringing someone's neck (too much)?
To make the crust, combine the zucchini, cheeses, flour, and eggs together. If you're not worried about keeping it gluten free, regular all-purpose flour is fine. Spread the mixture onto a large piece of parchment paper that has been sprayed with non-stick cooking spray. I lay the parchment paper on top of my pizza pan so I can use the grooves of the pan to create that perfect pizza circle. You could also just use a baking sheet!
The crust gets baked for about 25 minutes, and then flipped. If it is still fairly soft after you've flipped it, you can bake it again for another 8-10 minutes.
What kind of toppings do you put on a zucchini pizza crust?
Once your crust is fairly crispy looking and not soggy to the touch, you can add your toppings!! This is where it gets fun. Add whatever you like. Here we've used some classics on a simple tomato base: pineapple (a must), diced peppers, mozza cheese, mushrooms, fresh parsley and some weird chillies that I've been growing in my garden – I don't know what they are!!!!!
Once your pizza is loaded up, you'll want to reduce the oven temperature to about 375 and then bake for another 15 minutes or so.
We generally like to double this recipe, as we all like it so much and it makes for perfect leftovers!!
Gluten-free pizza lovers, you've met your new best friend. ♥
If you're a zucchini lover like us, you'll LOVE these other zucchini recipes!
And check out a few of my other gluten-free specialties!
Print
Gluten-Free Zucchini Pizza
---
Author:

Yield:

3

-

4

servings

1

x
Description
Even the most fierce of zucchini-haters will love this gluten-free zucchini pizza with it's light and chewy texture and mild flavour.
---
2 cups

grated zucchini (squeezed well and packed down)

1/3 cup

shredded mozzarella cheese

1/3 cup

shredded parmesan cheese

2

large eggs, beaten

1/4 cup

almond flour*

1 tbsp

olive oil
---
Instructions
Preheat the oven to 400 F. Spread a large piece of parchment paper on top of a baking sheet or pizza pan (I use a 12″ pizza pan) and spray it with non-stick cooking spray. Set aside.
In a large bowl, combine the shredded and squeezed zucchini (see my notes in the post for tips) with both cheeses, the eggs, almond flour and olive oil. Mix well.
Spread the mixture onto the greased parchment paper and smooth it out until it covers the surface evenly. Bake for 25 minutes.
Remove the pizza from the oven, and carefully sliding one hand under the parchment paper (be careful not to touch the hot pan) swiftly flip the crust back onto the pan. If the top of the crust (it used to be the bottom) is fairly firm and brown, you can begin with your toppings. If you think it could bake a bit longer, pop it back into the oven for another 8-10 minutes.
Reduce the oven temperature to 375 F. Top the pizza with whatever you'd like! We used tomato paste, mozzarella, pineapple, mushrooms, diced peppers, fresh parsley and chili peppers. Return the pizza to the oven for 10-15 minutes, remove and serve.
Pizza keeps in an airtight container in the fridge for 3-4 days.
Notes
If you aren't concerned with keeping this gluten-free, you can use all-purpose flour instead.
Keywords: zucchini pizza crust // vegetable pizza crust // flourless pizza crust recipe
Recipe Card powered by
*Recipe originally adapted from Recipe Girl.
Shop today's tools