Meet the tastiest Nutella muffins you'll ever have! These cinnamon Nutella muffins are on the healthier side, made with applesauce and whole wheat flour, and they are full of flavor!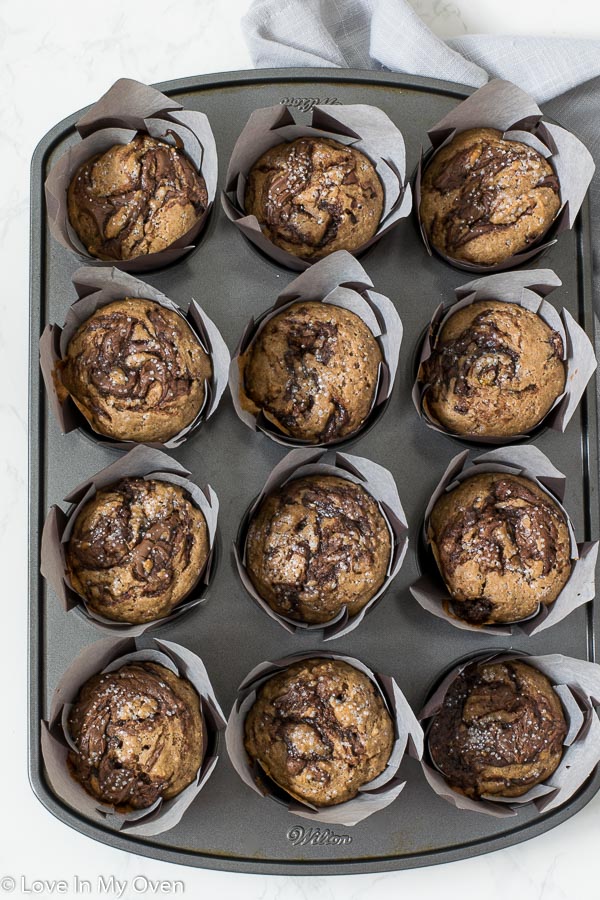 You know I love Nutella. I even created my own version of it (here). I also love cinnamon. LOVE cinnamon. I usually add 3 times the amount of cinnamon to a recipe that it actually calls for, just because I love it so much! No one seems to mind….
SO. I created these muffins last year sometime, and the recipe didn't quite work as I had hoped, so I shelved it and moved onto other things, as I usually do. But these were always in the back of my mind to go back and perfect! These swirly, cinnamon-y, beautiful muffins are the end result of a lot of testing (and eating)!!
I wanted these to have the decadence of the Nutella swirled in, but with a bit of a healthier base to balance it out. It's not often that I bake with just all-purpose flour for my kids, nor do I love to use a lot of refined sugars. So, for these muffins, I used half whole wheat flour and maple syrup to sweeten them up. Obviously, if you're using Nutella from the jar, it's got some refined sugars in there! But I am all about balance, and a few teaspoons of Nutella isn't the end of the world 😉
How do you make Nutella muffins?
Before starting any recipe, I like to get all of my ingredients out in one place. You wouldn't imagine the amount of times that I got halfway through a recipe only to realize I didn't have enough of the key ingredients to keep going. The worst!
Oh – and if you don't care for whole wheat flour or want a bit of a fluffier, lighter tasting muffin, then using all all-purpose flour is totally fine. I would caution against using all whole wheat flour, however. They'll be too dense!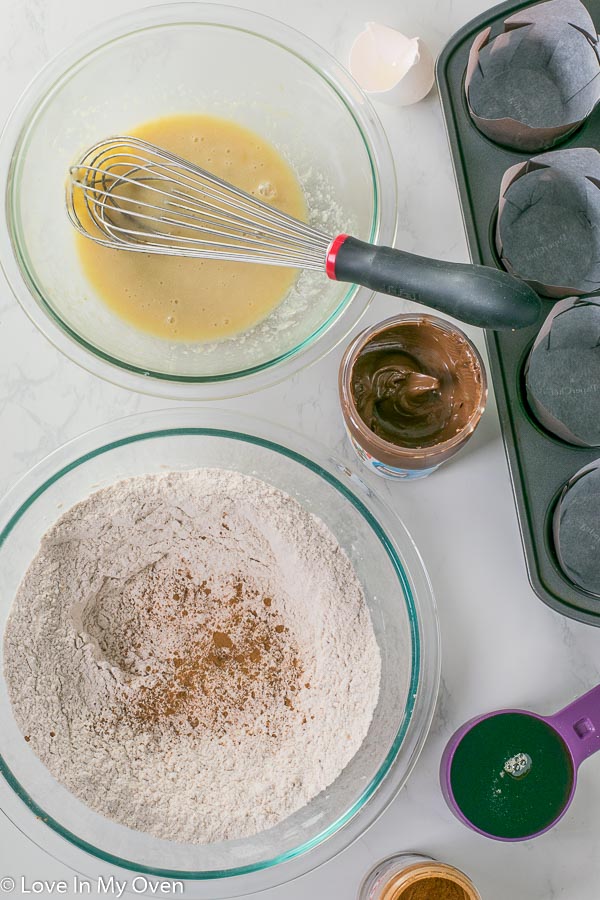 Once you have all of your ingredients in place, and your wet ingredients combined with your dry, spoon about 1 1/2 tbsp of muffin batter into each prepared baking cup, followed by 2 tsp or so of Nutella. Use a toothpick to swirl the Nutella around through the muffin batter, then divide the remaining muffin batter between the muffin cups, followed by more swirled Nutella on top. The Nutella inside the muffin when you take a bite makes for the most delicious surprise!
You don't have to be super precise with your Nutella measurements or your toothpick swirling styling. Just giving it a bit of movement with the toothpick creates a nice swirly look when it bakes up!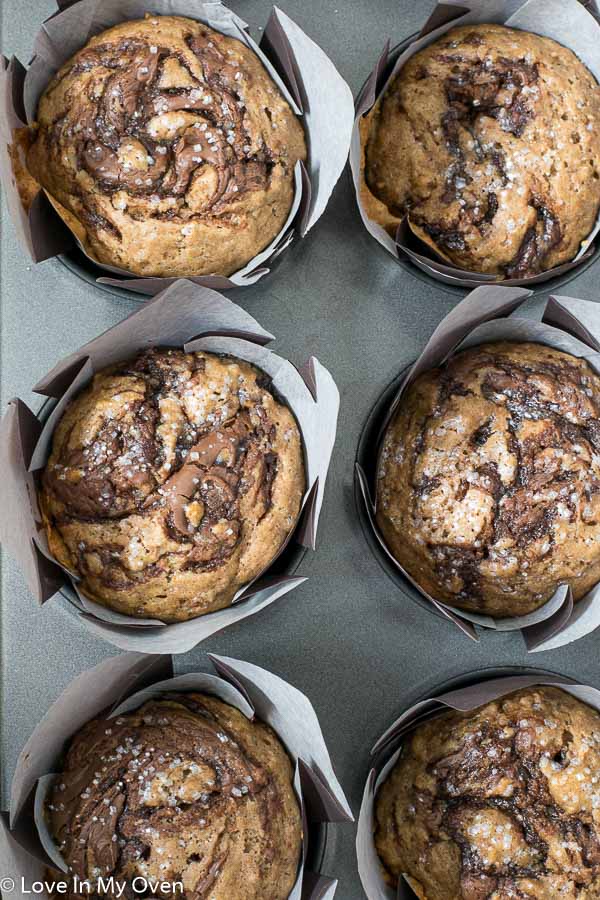 How long do the muffins last?
At room temperature, in an airtight container, these muffins will last about 2-3 days. I actually found that they tasted better on the second day! In the fridge, you'll get 4-5 days out of them, and in the freezer, up to 2 months! I love baking a big batch of muffins and freezing half for a quick round of snacks when I need them some day in the future.
Substitutions
I've played around with this recipe a LOT. If you're not a fan of any of the ingredients, chances are there is a suitable alternative. I've listed a few below to make it easy for you!
Butter: can substitute for coconut oil
Applesauce: can substitute for more butter/oil
Maple syrup: can substitute for honey
Almond milk: can substitute with virtually any other milk
Whole wheat flour: can substitute with all-purpose
But Nutella? There's no substitute for that…except of course, my homemade version!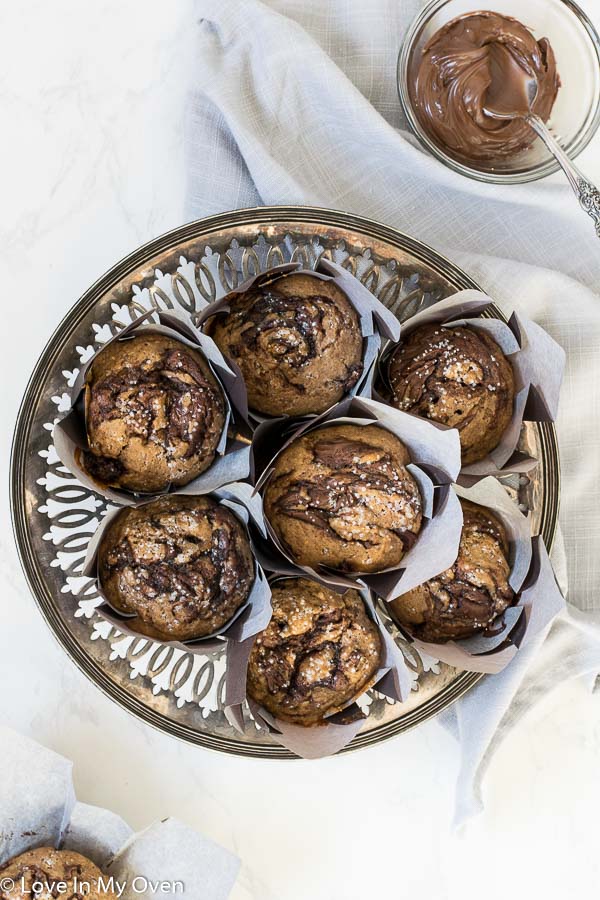 On an ending note – guys – my house is a bit of a whirlwind right now. We decided to repaint the walls in our living area, so we've got stuff EVERYWHERE at the moment. My husband is giving me the eyes right now to hurry up and finish my blog post so I can help with the chaos. So, I bid you adieu.
Try these muffins! And happy Monday!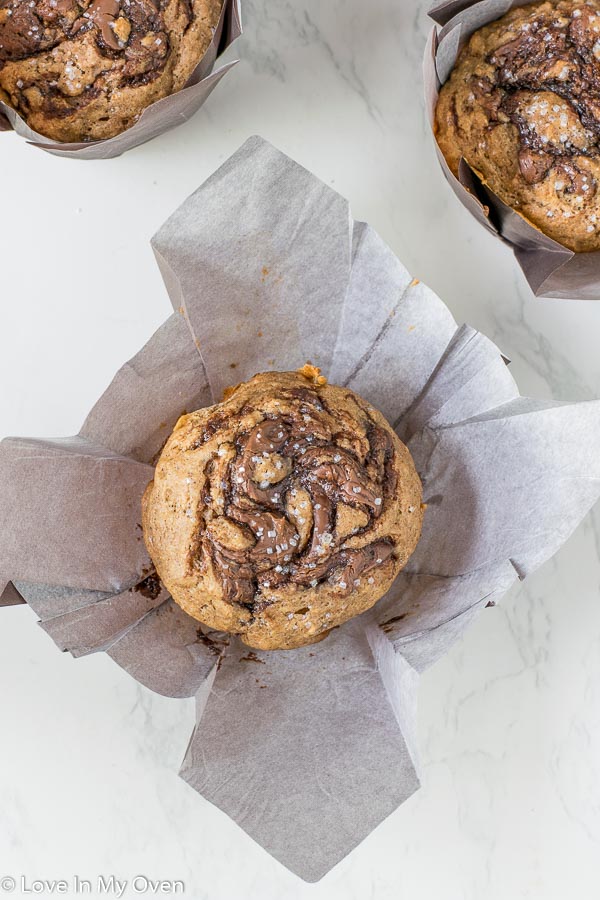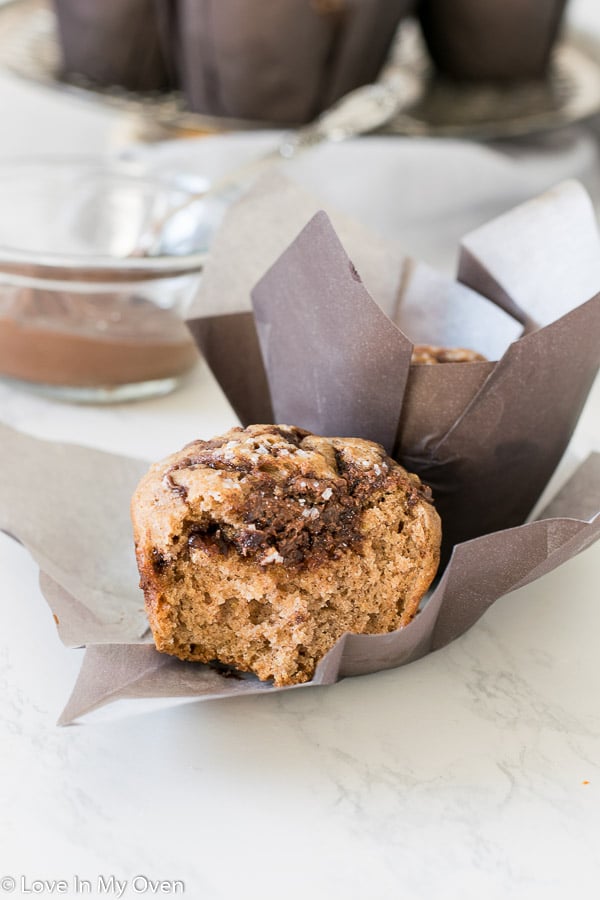 Don't forget to try my own version of Nutella (here). And here's a few more ways to use it!
And a few other muffins you don't want to miss out on!
Or these cranberry-orange overnight muffins from Crumb Top Baking!
Print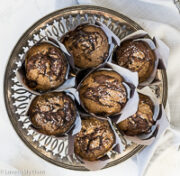 Nutella Muffins
---
Author:

Total Time:

40 minutes

Yield:

12

muffins

1

x
Description
Meet the tastiest nutella muffins you'll ever have! These cinnamon nutella muffins are on the healthier side but are full of flavor!
---
1 cup

whole wheat flour

1 cup

all-purpose flour

1 tsp

baking powder

1 tsp

baking soda

2 tsp

ground cinnamon

1/2 tsp

salt

1/3 cup

unsalted butter, melted and slightly cooled

3 tbsp

unsweetened applesauce

2

large eggs

1/2 cup

pure maple syrup

1 tsp

pure vanilla extract

1/2 cup

+

2 tbsp

unsweetened almond milk

1/2 cup

Nutella
sparkling sugar (optional)
---
Instructions
Preheat the oven to 375 F and line a 12-count muffin pan with liners, or spray the cavities well with nonstick spray.
In a large mixing bowl, whisk together the flours, baking powder, baking soda, cinnamon and salt. In another bowl, whisk together the melted butter and applesauce before adding in the eggs and maple syrup, and mixing well again. Slowly pour in the almond milk, whisking to combine. Add the dry ingredients to the wet, mixing gently with a large spoon just until there are no visible streaks of flour left.
Using a cookie dough scoop or a spoon, add 1 1/2 tbsp of muffin batter to the bottom of each muffin cavity. On top of the muffin batter, drop 2 tsp of Nutella on each muffin. Using a toothpick, swirl the Nutella with the muffin batter. Divide the remaining muffin batter amongst the cavities, followed by the remaining Nutella (about 1 tsp each) on top of the batter. Swirl again with a toothpick. Sprinkle the muffins with sparkling sugar (optional) and place in the oven to bake for 20-22 minutes. Check the muffins at 20 minutes with a toothpick; if there is still muffin batter on the toothpick, bake for an additional 2 minutes before checking again. Remove the muffins from the oven and allow to cool for 5 minutes in the pan before removing to a wire rack to cool completely.
Muffins can be stored at room temperature, in an airtight container for up to 3 days, or 4-5 days in the fridge. Muffins also freeze well, up to 2 months.
Notes
*See blog post above for substitution options
Prep Time:

15 minutes

Cook Time:

25 minutes
Keywords: Nutella swirl muffins // cinnamon swirl muffins // cinnamon Nutella muffins
Recipe Card powered by