Wondering how to make nutella? Try my NOTella! This easy homemade nutella is only 3 ingredients and can be yours for spreading (or dipping) in 30 minutes!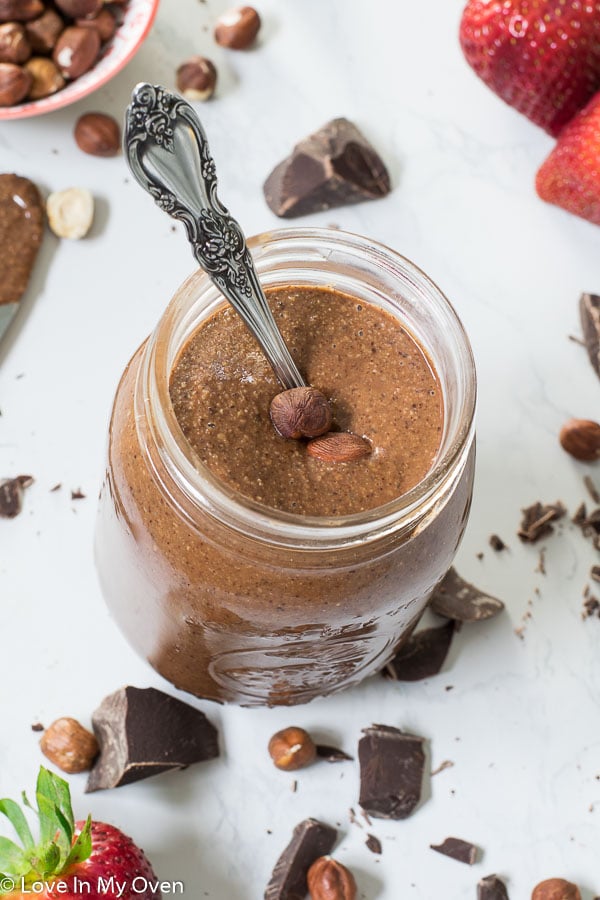 *Please note* this post has been updated as of July, 2019. The post and recipe remains the same, but the photos have been updated, along with a video at the bottom of the recipe card to show you how easy these are to make!
Yup, you read that right. Notella. Not Nutella – BUT – dare I say it's better than the store bought kind? The best part is, there are only 4 ingredients.
Nutella is one of those things that I would buy fairly regularly, knowing full well that it's chock full of strange ingredients and sugar. It's just SO good. So good on pancakes, waffles, toast, or right from the jar with a spoon. Actually, right from the jar with a spoon is probably the most popular way to eat it around this place. Don't judge.
I hadn't even considered making my own until I saw a jar of homemade Nutella on my friend's counter (hi Gina!) a while back. Why had I not thought of this before!? I often make my own nut butter in the food processor – this notella is not all that different.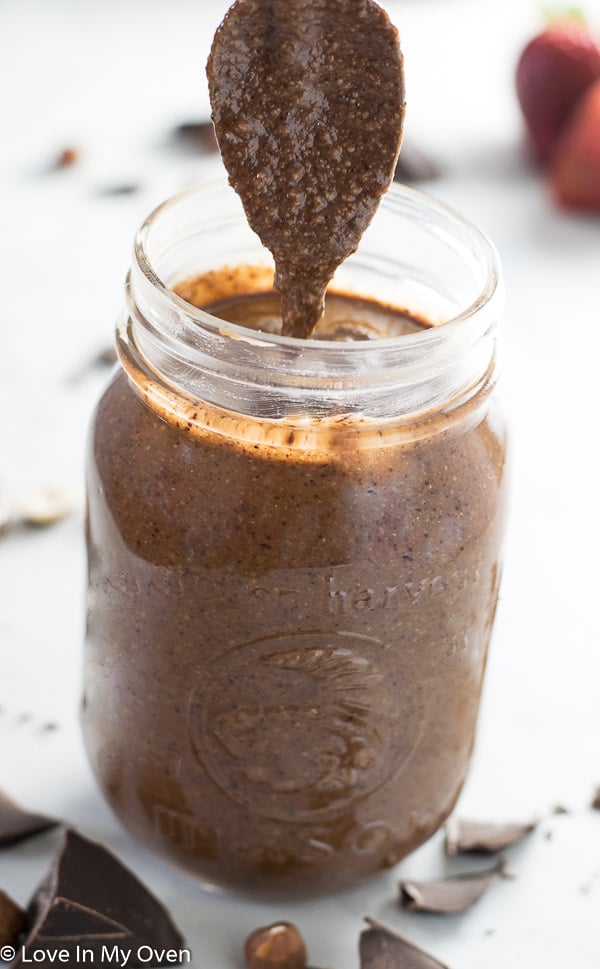 Anyway, I looked up a few recipes online and saw that there was quite a wide range of ingredients being used, some with cocoa powder, some with powdered milk and/or whole milk. I decided to just try plain old hazelnuts and unsweetened chocolate, with a touch of vanilla thrown in for flavor. It turned out great! The next time I tried roasting the hazelnuts, and that definitely made a difference. Winner, winner, chicken dinner!! Yes, I just said that. Quick, look at this picture to distract yourself from my nerdiness.
So, it doesn't taste exactly like Nutella – but it's pretty darn good, and I feel a lot less guilty about eating it. It has more of a peanut-buttery texture rather than the silky smooth texture of the real thing; but I'm ok with that. It's still spreadable, chocolately and sweet. Delicious.
How do you make Notella?
I've got a great video at the bottom of this post to show you just how easy it is to make your own Nutella! Roasting the hazelnuts is your first step to the process. It takes about 10-12 minutes in the oven, just enough time to loosen the skins of the nuts and make it easier to blend up in your food processor – it will also leave a nice nutty smell wafting through your kitchen. I DARE you not to eat one of those warm roasted hazelnuts.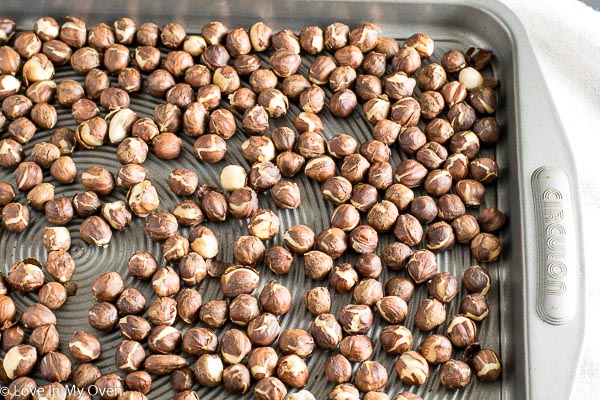 It's not absolutely necessary, but removing the skins of the nuts as much as possible will yield a much creamier finished product; to do so, roll the nuts around in a tea towel and flake the skins off with your fingers.
Add the roasted hazelnuts to a food processor or blender and blend on low until the nuts turn into butter, about 12 minutes. If you're having issues getting the butter smooth, you can add a bit of melted coconut oil, one tablespoon at a time to smooth things out!
Roasted hazelnut butter is absolutely delicious, so feel free to stop right here 😉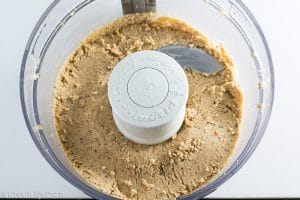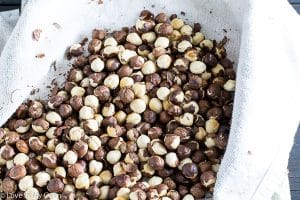 Otherwise, pour in some melted chocolate and vanilla and blend a bit longer, until it's all incorporated and creamy. If it's not sweet enough for you, add up to 2 tbsp of agave, honey or maple syrup – but just know that this will stiffen up the spread a bit.
This wonderful hazelnutty, chocolately spread is now ready for your consumption, and all in under 30 minutes! Let me know in the comments below how you like to eat your Nutella, and if you tried this homemade version!
Does homemade Nutella have to be refrigerated?
I would actually caution against refrigerating the notella. Since it contains real chocolate, it will get very hard in the fridge. The notella stays creamy and smooth on the counter, and since it's just nuts and chocolate, you don't have to worry about it going bad any time soon. It will stay delicious for a few weeks, but I doubt it'll last that long 😉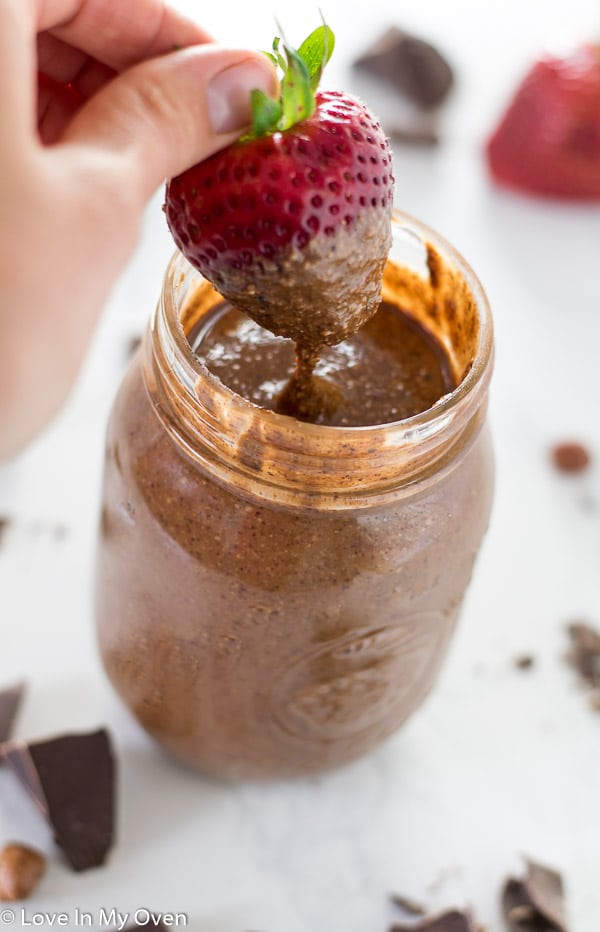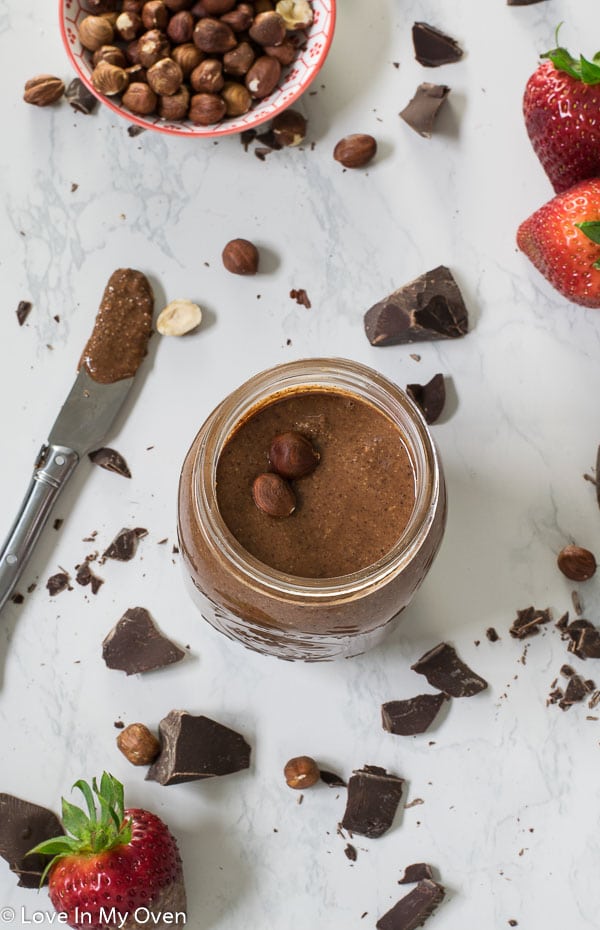 If you love this notella as much as I do, you'll love it in these other recipes from the blog:
Or try it in these easy Nutella bars from my friend Kelsie at The Itsy Bitsy Kitchen!
Print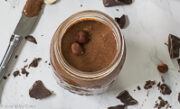 Notella
---
Author:

Total Time:

30 minutes

Yield:

2 cups

1

x
Description
Wondering how to make nutella? Try my NOTella! This easy homemade nutella is only 3 ingredients and can be yours for spreading (or dipping) in 30 minutes!
---
4 cups

raw, unsalted hazelnuts

125 grams

semi-sweet baking chocolate, chopped

1 tsp

vanilla extract
optional: 1-2 tbsp maple syrup*
optional: 1-2 tbsp coconut oil, melted**
---
Instructions
Preheat the oven to 400 F. Scatter the hazelnuts on a large baking sheet, and roast for 10-12 minutes. Remove from the oven, and transfer the nuts to a large tea towel. Roll the nuts around inside the towel for about a minute to loosen the skins, then use your fingers to remove the remaining skins.
Place the hazelnuts in a food processor or powerful blender, and continuously blend on low until a butter is formed, about 12 minutes.
While the hazelnuts are blending, melt the chocolate in a microwave-safe bowl in 30 second increments until smooth. Add the melted chocolate and vanilla to the hazelnut butter and blend for another minute, or until thoroughly combined.
Transfer the notella to an airtight container and store at room temperature, for up to 3-4 weeks.
Notes
*You may add up to 2 tbsp of syrup if you'd like the notella to be sweeter, but the more sweetener you add the stiffer the notella will become.
**If the nuts are not blending into a smooth butter, you can add 1-2 tbsp of melted coconut oil at a time to smooth things out
Keywords: // notella // easy homemade Nutella // homemade Nutella healthy
Recipe Card powered by