One of my favorite pear breakfast recipes! Make the most of those in-season pears with this Nutella pear French toast casserole. A make ahead brunch casserole that's perfect for a large group or just your family!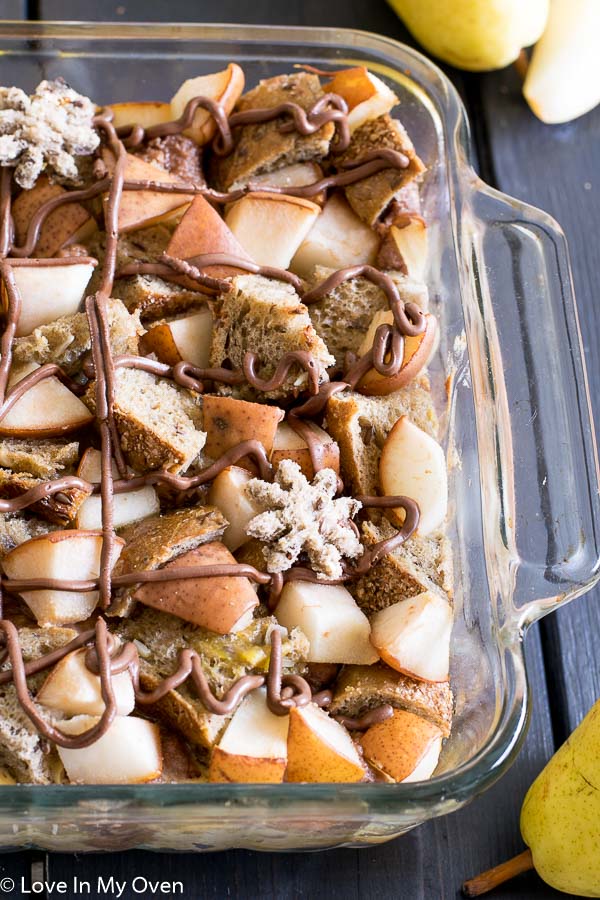 You've made it to Friday again! Congratulations! Am I the only one that gets excited on a Friday just thinking about all of the weekend fooding? Especially on long weekends! My website traffic stats tell me that many of you lovely readers are from the US of A, so I don't think this is a long weekend for you guys? Please tell me if I'm wrong! Here, May Long is a big deal. A lot of brave souls go camping for the first time on this weekend, bracing themselves for whatever may come their way, not uncommonly including a freak snowstorm or below freezing temperatures. As I type these words, I am confirming to myself that Canadians are crazy.
For my family, this particular May Long will be spent at a campground, but not camping. My Mom's side of the family is having a family reunion at a campsite, to celebrate what would have been my Grandpa's 100th birthday. My Mom is one of 8 siblings, and each of those siblings have kids, who also have kids (for the most part). This is going to be big!
When you're feeding a group of people, it's nice to have a go-to breakfast that isn't overly time consuming but gets some ooohs and aaahs. I discovered the wonder of overnight French toast casseroles a few years ago, and it quickly became my go-to.
A month or so ago, I bought a giant bag of pears from Costco. Now, my boys love pears, but there is only so much pear that can be eaten. Needless to say, I did what I do best, and began experimenting with different recipes. This Nutella pear French toast casserole was by far the most popular creation!
What kind of bread do you use for overnight French toast casserole?
When making this casserole, you'll want to use some crusty bread. Yes, crusty bread. Cruuuuusty. Super stale. I know, it sounds awful. But just trust me. That crusty ol' bread soaks up the milk and egg mixture allllll night long and the end result is far from stale. If you are buying the bread the day that you plan to prepare this bake, just leave it out of the bag all day to dry up a bit.
I love to use sourdough bread, or challah! You can usually just find this at the bakery section of your local grocery store.
What else do you need to make a pear French toast casserole?
Now. The best part. Nutella!!! Who doesn't love Nutella!? Even if you pretend you don't like it because it's got all sorts of mumbo-jumbo ingredients, you know that deep down you occasionally envision devouring a jar of it with a spoon. To help you out, I've linked to my homemade 3-ingredient "Notella". I used it for this casserole and it was devine. If you aren't afraid of ingredients you can't pronounce, just go for it and use the store-bought kind. I'm with you. It's delicious.
The casserole takes about 2 large pears. You'll want them to be ripe, but not so ripe that they just kind of mush apart when you try to slice them. Cube up your pears into 1″ pieces and add them to the bread prior to pouring in your egg mixture.
The morning of, this breakfast couldn't get any simpler. Really, it couldn't. Remove the casserole from the fridge, and put it in the oven. Ta da!!! You have yourself an amazing breakfast. If you're really looking for those ooohs and aaaahs (or you just realllly like Nutella), drizzle some extra Nutella over the top. YUM.
This dish can easily be doubled for a large crowd, and it keeps very well in the fridge for a couple of days so you can enjoy it again and again!
Even if you aren't lucky enough to have a long weekend, I hope that you have a great one. Seriously though, fit some Nutella into it.
Some other great overnight breakfast inspiration for ya!
Print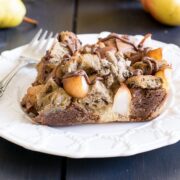 Nutella Pear French Toast Bake
---
Author:

Total Time:

8 hours

Yield:

5

-

6

servings

1

x
Description
One of my favorite pear breakfast recipes! Make the most of those in-season pears with this Nutella pear French toast casserole. A make ahead brunch casserole that's perfect for a large group or just your family!
---
1/2

loaf (225g) French bread, or sourdough

4 oz

cream cheese, room temperature*

1/4 cup

Nutella or Notella

4

large eggs

1 cup

milk (1%, 2% or non-dairy)

1/3 cup

brown sugar

2 tsp

vanilla extract

1/2 tsp

cinnamon

2

ripe pears, cubed*
---
Instructions
Begin the breakfast bake at least 4 hours before, or the night before you'd like it to be ready. Grease an 8×8 baking pan or spray it with non-stick spray. Cut the loaf of bread into 1″ cubes, then spread half of the cubes into the prepared pan.
In the bowl of a stand mixer or with a handheld mixer, beat the cream cheese until smooth. Add the Nutella and mix on low until combined. Using a spoon, drop random tablespoons of the mixture on top of the bread in the pan.
Slice the pears into 1″ cubes and scatter throughout the pan. Spread the remaining bread cubes on top.
In a large bowl, whisk together the eggs, milk, brown sugar, vanilla and cinnamon until there are no large lumps. Pour the egg mixture all over the bread in the pan. Cover tightly with plastic wrap or aluminum foil and place in the refrigerator to chill (at least 4 hours or overnight).
When you're ready to bake, remove the pan from the refrigerator, and preheat the oven to 350 F. Remove the plastic wrap and bake for 30-35 minutes. Drizzle with extra Nutella if desired, and serve immediately.
Leftovers keep well in an airtight container, covered for up to 3 days.
Notes
Use brick-style cream cheese, instead of the spreadable kind
You may peel the pear if you prefer – I left the peel on.
Easily double this French toast bake: double the amount of all ingredients, and use a 9×13 pan.
Prep Time:

25 minutes

Cook Time:

35 minutes

Category:

breakfast

Method:

bake

Cuisine:

american
Keywords: pear breakfast recipes // make ahead brunch casserole // quick French toast casserole
Recipe Card powered by
Pin this bake for later. You won't regret it!
Shop today's tools!