These bakery-style jumbo muffins are the BEST strawberry rhubarb muffins! They're packed with strawberries, rhubarb and 2 layers of streusel. Dense, filling and oh, so delightful!

Please note this post was originally published in 2017. I've since redone the photos and text, but the recipe remains the same.
If you read my 10 Thoughts yesterday, you'll be expecting an unveiling of a strawberry-rhubarb concoction of some sorts. Well, throw back the curtains! It's here! Let me introduce you to my all-time favorite summer muffin. DOUBLE streusel strawberry rhubarb muffins. And yes, you read that right. DOUBLE streusel. If I had it my way, all muffins would have a streusel topping. The fact that these muffins also have streusel in the middle…!? Well. That's just ridiculous!!
I think I have a streusel problem. Have you tried my strawberry streusel baked oatmeal yet!?
Today's muffins are brought to you by Love In My Oven's very own backyard rhubarb plant. When Etienne purchased our home 10 or so years ago he inherited a number of beautiful plants in the garden, one of which is a beautiful rhubarb plant. This plant is like a reliable old friend, coming back year after year to provide me with as much rhubarb as one can possibly use. Most of the fruit is given away to eager neighbours or my Mom, but a lot of it is also chopped and frozen, to be used during the winter when I get a hankering for something made with rhubarb.
You know those indiscriminate bags in your freezer from those long forgotten summer days when you decided that rather than throw away your abundance of luscious summer fruit you would freeze it, and "bake with it" later? I don't know about you, but I often end up with multiple bags of freezer burned something. WELL. These muffins have changed me. I now make a point of chopping the rhubarb, bagging it and sealing it in a vacuum sealed bag. All so that I can enjoy one of these muffins in the dead of winter.
Do you have to make these muffins in a jumbo muffin tin?
Soooo the muffins. I like to make these guys in a gourmet-style jumbo muffin tin
– all the more space for – you got it – streusel!!! The muffins come out dense and moist, sweet with just a touch of tartness and very, very filling. The strawberries act as a nice contrast to the tart rhubarb, and the extra streusel in the middle is like a hidden treasure inside.
You don't necessarily have to use a jumbo muffin tin, but if you use a regular sized pan, there will be less space for the extra streusel in the middle; in that case, you may as well just put all of the streusel up on top! If you use a regular sized tin, be sure to reduce the baking time to about 12-13 minutes, and always check to see if they're done by using a toothpick!
How do you make strawberry rhubarb muffins?
These muffins get started by simmering the chopped rhubarb on the stove until it begins to break down, then you add the melted butter and brown sugar. The melted butter in the batter helps to create that heavy, wholesome texture that makes these muffins filling enough to act as the perfect breakfast for on-the-go, as my husband can happily attest to. Nothing says love like a fresh batch of muffins baked for you in the morning, before you head out the door on your way to work!
Once slightly cooled, one egg and some milk is added to the mixture, and all of the wet ingredients then get combined with the dry. The strawberries are gently folded in at the end.
You will want to add about 1/4 cup batter to each sprayed/greased muffin cavity, before adding 1-2 tablespoons of streusel on top. The remainder of the muffin batter is divided among the muffin cavities and then they all get one more sprinkling of streusel before going into the oven!
I like to bake my jumbo muffins at high heat to ensure they puff up a lot, so these babies go in at 425. They're ready after about 18 minutes. Let them cool for 10 minutes (if you can wait that long!!!) before removing them from the pan and cooling completely on a wire rack.
I love to eat these muffins warm, fresh from the muffin, with a pat of butter. It's pretty impossible to stop at 1, but unfortunately these are not "diet" muffins so my waistline would have something to say about it.
If you've got some rhubarb that needs using, I highly recommend these beauties!!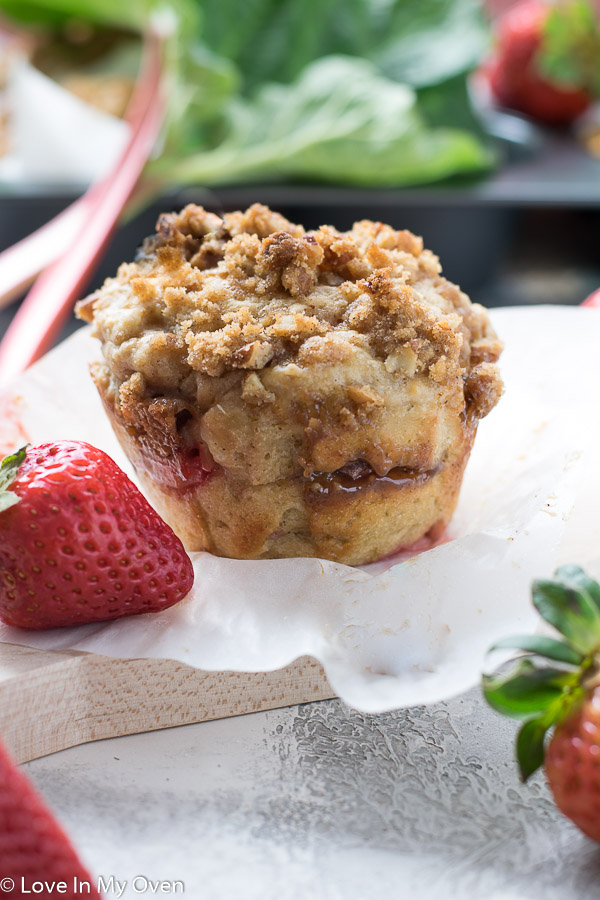 Other muffins for you to try:
Print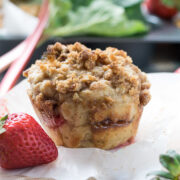 Double Streusel Strawberry Rhubarb Muffins
---
Author:

Total Time:

40 minutes

Yield:

6

jumbo muffins

1

x
Description
These bakery-style jumbo muffins are the BEST strawberry rhubarb muffins! They're packed with strawberries, rhubarb and 2 layers of streusel. Dense, filling and oh, so delightful!
---
Muffins
 2 cups chopped rhubarb*

1/2 cup

brown sugar, divided

1/2 cup

unsalted butter, melted

1/4 cup

milk*

1

egg, lightly beaten

1 tsp

pure vanilla extract

2 cups

all-purpose flour

1 tbsp

baking powder

1 tsp

cinnamon

1/2 tsp

baking soda

1/2 tsp

salt

1 cup

strawberries, diced*
Streusel
1/2 cup

brown sugar, packed

1/2 cup

chopped pecans*

1 tsp

cinnamon

2 tbsp

all-purpose flour

2 tbsp

butter, cubed
---
Instructions
Preheat oven to 425 F and spray a 6-count jumbo muffin tin with non-stick spray. Set aside.
In a medium-sized saucepan over medium heat, place the rhubarb and cook, stirring often for about 15 minutes. Add 1/4 cup of brown sugar, and the melted butter and stir to combine.  Remove from heat and allow to cool for 5 minutes. Add the beaten egg, milk and vanilla. Set aside.
Prepare the streusel. In a medium-sized mixing bowl, combine the chopped pecans, brown sugar, cinnamon and flour. Cut in the cubed butter until the mixture becomes coarse and pea-like. Set aside.
In a large bowl, sift together the flour, remaining brown sugar, cinnamon, baking soda, baking powder and salt. Combine the wet ingredients with the dry, stirring with a spatula until just moistened. Fold in the diced strawberries.
Place 1/4 of muffin batter in the bottom of each muffin cavity. Top with 1.5 tbsp of streusel, then cover the streusel with the remaining muffin batter, divided equally. Top with remaining streusel.
Bake for 17-18 minutes, or until a toothpick comes out clean. Remove the muffins from the oven and allow to cool at least 10 minutes. Run a knife along the edges of the muffins to loosen before removing to a wire rack to cool completely.
Muffins will keep in an airtight container, at room temperature for 2-3 days. Muffins freeze very well, up to 2 months. Thaw overnight in the fridge.
Notes
If using frozen rhubarb, measure 2 cups frozen. Do not thaw before simmering in the pot.
Any milk will work here, including non-dairy. I used 1%.
If using frozen diced strawberries, do not thaw first.
Pecans may be substituted for slivered almonds, or another nut
For standard size muffins, reduce the amount of batter to 2 tbsp in the bottom of each tin, and reduce baking time to 12-14 minutes at 375 F.
Prep Time:

20 minutes

Cook Time:

20 minutes

Category:

muffins

Method:

bake

Cuisine:

spring
Keywords: best strawberry rhubarb muffins // strawberry rhubarb muffins
Recipe Card powered by
Shop today's recipe!
Do you love streusel as much as me? Have you tried my strawberry streusel baked oatmeal yet?