Moist and tender blackberry peach streusel muffins are an amazing breakfast win! Big, bakery-style summer fruit muffins!
*Please note* this post was originally published in 2017. It has since been updated but the recipe remains the same.
What are you afraid of?
In addition to a few abstract, worldly fears, I AM AFRAID OF SPIDERS. Gah!! I understand that they do great things by eating bugs and other pests, yada, yada, yada – BUT – they're creepy. There's just no way around that. They have too many legs. And eyes. They move far too quickly. They hang down from the ceiling and they swing on their creepy webs. I just can't.
So, knowing my irrational fear of spiders, my husband likes to hide a black plastic spider in various places around the house, to LITERALLY keep me on my toes. What a jerk, right? I started my day today by innocently paging through the tops in my closet, only to be faced with the eyes and legs of said spider. I FREAKED OUT.
Luckily, I was able to confiscate the horrific plastic thing and find a new "home" for it (it'll never be seen from again). I live with 3 boys, so I suspect there will be another plastic spider in my life one day – but for now, I'm safe. Let's talk about peaches, shall we? And these blackberry-peach streusel muffins!
Peaches!
Saying goodbye to someone (or some THING) you love, when you know you won't be seeing them for some time, is such a hard thing to do. With a heavy heart, this is my farewell to fresh, summer peaches *insert muffled sob*. Peaches are one of my FAVOURITE fruits, and there is just no substitute for in-season peaches. You can buy tasty berries pretty much year-round (for a pretty penny), but when you buy peaches off-season they tend to be mealy and dull tasting. Plus they're expensive.
SO, I'm enjoying the last of my stone-fruits with vigour. I've been grilling them, putting them in tasty no-bake tarts and mixing them into smoothies. How do you most enjoy your peaches?
As much as I love just biting into a fresh juicy peach, I also loooove baking them into muffins! Enter these blackberry-peach streusel muffins!
What is a bakery-style muffin?
It's no secret that I love bakery-style, jumbo muffins. And muffins with streusel. A giant muffin can serve as a filling breakfast, or a wonderful little midday treat with a cup of coffee. A bakery-style muffin basically just means it's BIG, rather than the standard-sized muffin, and it usually has a little something extra, like sparkling sugar or streusel!
These blackberry-peach streusel muffins are moist and tender thanks to the melted butter and Greek yogurt, and they're studded with chunks of juicy peach and blackberry. The combination of blackberry and peach is undeniable. Blackberries hold just the right amount of tartness, perfectly contrasting with the sweet peach.
For these blackberry-peach streusel muffins, you'll need about a cup and a half of fruit; I used 1 cup of chopped peaches and 1/2 cup of blackberries. You could use frozen fruit too, but either way be sure to fold the fruit in very gently.
How do you make the streusel topping?
The streusel really takes these muffins from great to ah-mazing! That buttery, sweet crunch is the perfect addition to these giant, fruity muffins!
Preparing the streusel is a cinch. Mix together in a medium-sized bowl some large-flake oats, flour, brown sugar, and slivered almonds. Cut the butter in until the streusel forms crumbs. Scatter a heaping amount of streusel over the top of the muffins before baking. The butter will melt in the oven and create a golden, crispy topping. Mmm I'm drooling just thinking about it!
The muffins are ready after about 22-23 minutes in the oven; if you're making 12 regular-sized muffins instead, the bake time will be about 15-16 minutes.
Do yourself a favour, and make a fresh pot of coffee while you're waiting for the muffins to come out. You'll thank me.
MUFFINS! Want more of them? I've got a bunch!!
Print
Blackberry-Peach Streusel Muffins
---
Author:

Total Time:

40 minutes

Yield:

6

jumbo muffins

1

x
Description
Moist and tender blackberry peach streusel muffins are an amazing breakfast win! Big, bakery-style summer fruit muffins!
---
1 1/2 cups

all-purpose flour

1 tsp

baking powder

1/2 tsp

baking soda

1 tsp

cinnamon

1/2 tsp

salt

2

eggs, room temperature

1/3 cup

Greek yogurt, room temperature

1/3 cup

brown sugar

1/2 cup

milk*, room temperature

1/3 cup

unsalted butter, melted and slightly cooled

1 tsp

pure vanilla extract

1 cup

peaches, diced

1/2 cup

blackberries*
Streusel Topping
1 cup

large-flake oats

1 tbsp

all-purpose flour

1/4 cup

brown sugar

1 tsp

cinnamon

2 tbsp

sliced almonds

1/4 cup

unsalted butter, diced into small pieces
---
Instructions
Preheat the oven to 375 F and grease a bakery-style muffin tin or line with jumbo muffin liners.
In a large bowl, whisk together the flour, baking powder, baking soda, cinnamon and salt. Set aside.
In a medium-sized bowl, beat the eggs lightly, then whisk in the Greek yogurt, brown sugar, and milk. Slowly pour in the melted butter, continuously whisking. Add in the vanilla extract.
Add the wet ingredients to the dry, stirring until just combined. Gently fold in the diced fruit with a spatula. Divide the muffin batter between the 6 muffin cavities, filling about 3/4 full.
Prepare the streusel, combining the butter until the streusel becomes crumbly. Cover the muffin cavities generously with streusel. Bake for 22-23 minutes, or until a toothpick comes out clean.
Let the muffins cool in their pan for 5 minutes before removing and cooling completely on a wire rack.
Muffins will store at room temperature, in an airtight container for 3-4 days, or 1 week in the fridge. Muffins freeze well, up to 2 months in an airtight container or freezer bag.
Notes
Any milk will do. I used 1% dairy, but you could full fat dairy, almond milk, or coconut milk.
If the blackberries are very large, slice them in half
Prep Time:

15 minutes

Cook Time:

25 minutes
Keywords: summer fruit muffins // blackberry streusel muffins // bakery-style muffins
Recipe Card powered by
Pin these muffins for later!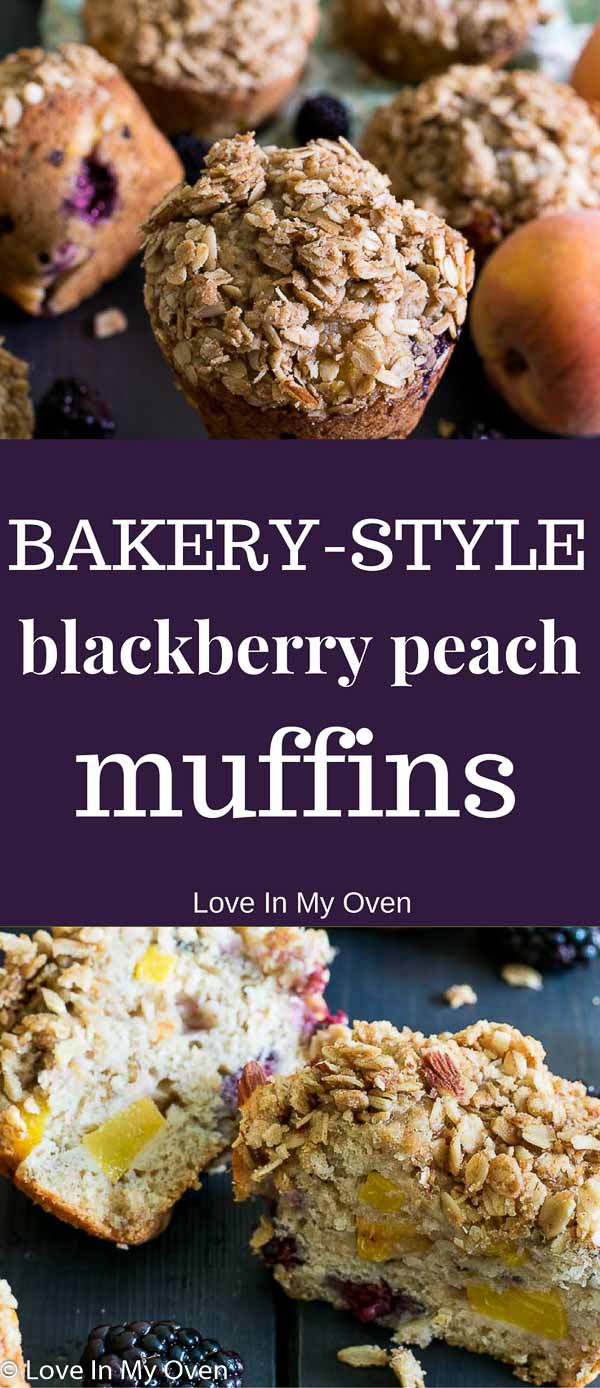 Want more of the same deliciousness?
Double Streusel Strawberry-Rhubarb Muffins
My Amazon tools for today!