Lime zest and juicy blueberries will make you think you're biting into summer itself with these blueberry lime muffins! Greek yogurt and applesauce make these healthy lime muffins a winner!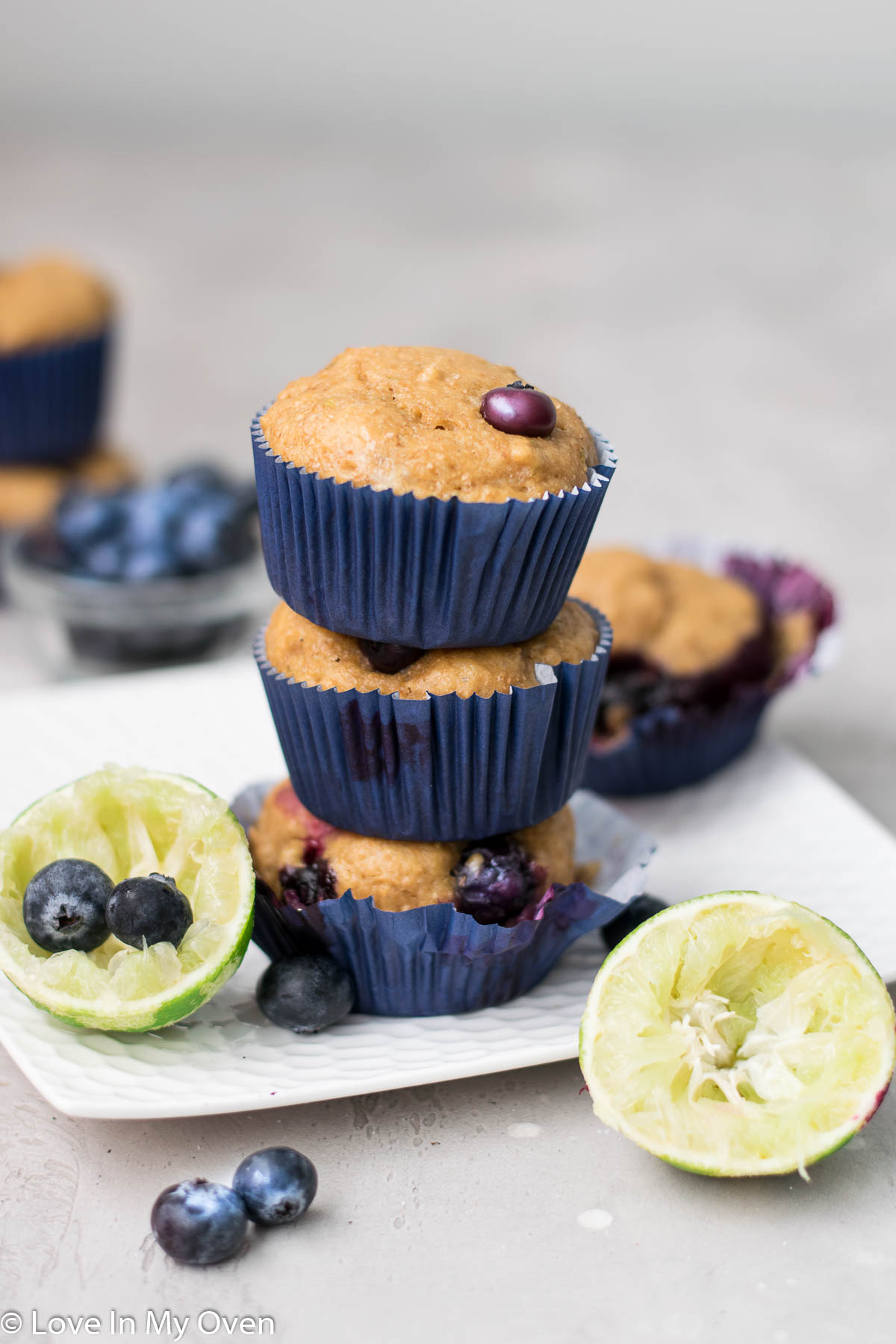 *Please note* this post was originally published in 2017. I've since redone the post but the recipe remains the same.
Yup, you read that right. Blueberry lime muffins. Blueberry with lemon has been a favorite in cakes and muffins for a long time, but I bet you have never tasted a blueberry lime muffin! Or maybe you have, in which case I stand corrected. Either way, do yourself a favor and make this recipe right now!
You might be thinking it's going to be sour, but the lime adds just the right amount of pizazz to an otherwise ordinary blueberry muffin. I was scarfing one of these muffins down driving with Etienne on our way to a birthday party and I remember excitedly exclaiming to him that "this muffin makes me think of summer! It's like a margarita"!! He gave me that sideways look like "riiiiight". But really, the lime is just perfect. It's a welcome contrast to the sweet, soft base of the muffin, and the juicy blueberries give a pop of fresh flavor in every bite. I used 2 small limes, but if your limes are a bit larger you might want to just stick with 1.
Is this is a healthy muffin recipe?
Aside from the fact that it's like having a margarita party in your mouth, another bonus for these muffins is that they're actually pretty darn healthy. As much as I love the big, bakery style (more like cake) muffins, they are usually full of fat and sugar and are not a practical breakfast, nor do I want to give my boys a ton of added sugar. I like to make most of my muffins with either bananas or unsweetened applesauce as a natural sweetener, but I also use coconut palm sugar and/or honey quite often.
The Greek yogurt is such a great addition to these muffins. I love baking with Greek yogurt! It makes the finished product so moist and soft, and replaces the need for a ton of oil. Due to the lack of fat in this muffin recipe, the end result is a fairly dense muffin, rather than a light, cakey texture. Plus Greek yogurt gives you a big protein boost! I think this makes it even more snack-appropriate!
How do you make blueberry lime muffins?
Start this muffin recipe in the usual way. Flour and dry ingredients in one bowl, and wet ingredients whisked into another. When adding your Greek yogurt to the coconut palm sugar (if you're using it), be sure to stir it enough that the sugar begins to dissolve, otherwise it may taste granular.
Divide the muffin batter evenly into the cavities of the muffin pan. I used muffin liners in this recipe, but you can definitely just spray the muffin pan with non-stick spray too! The muffins are ready after about 20-22 minutes in the oven.
For effect, I like to add a bit more lime zest to the top after the muffins come out of the oven; be sure that when you're zesting the lime, you scrape just the green part, as the white rind is quite bitter. So good!
Pro Tip: The muffins may stick to the liners a bit while they're still warm; to get them to completely pull away from the liners, wait until they've cooled down.
Do you have to use fresh blueberries in this recipe?
You can definitely use frozen blueberries if that's what you have on hand! I used fresh blueberries for this recipe, but frozen would work too! Please don't let me admit to you how much I spent on this small pint of blueberries; I can't wait until they're back in season and you can buy them in giant containers on the cheap!!
You should always be gentle when folding in fresh berries to a recipe, but be extra careful with frozen if you want to avoid the dreaded color bleed.
Summer is fast approaching, and I think snacking on something that reminds you of a margarita (or at least I like to think so) is a perfect way to bring on the warmer weather.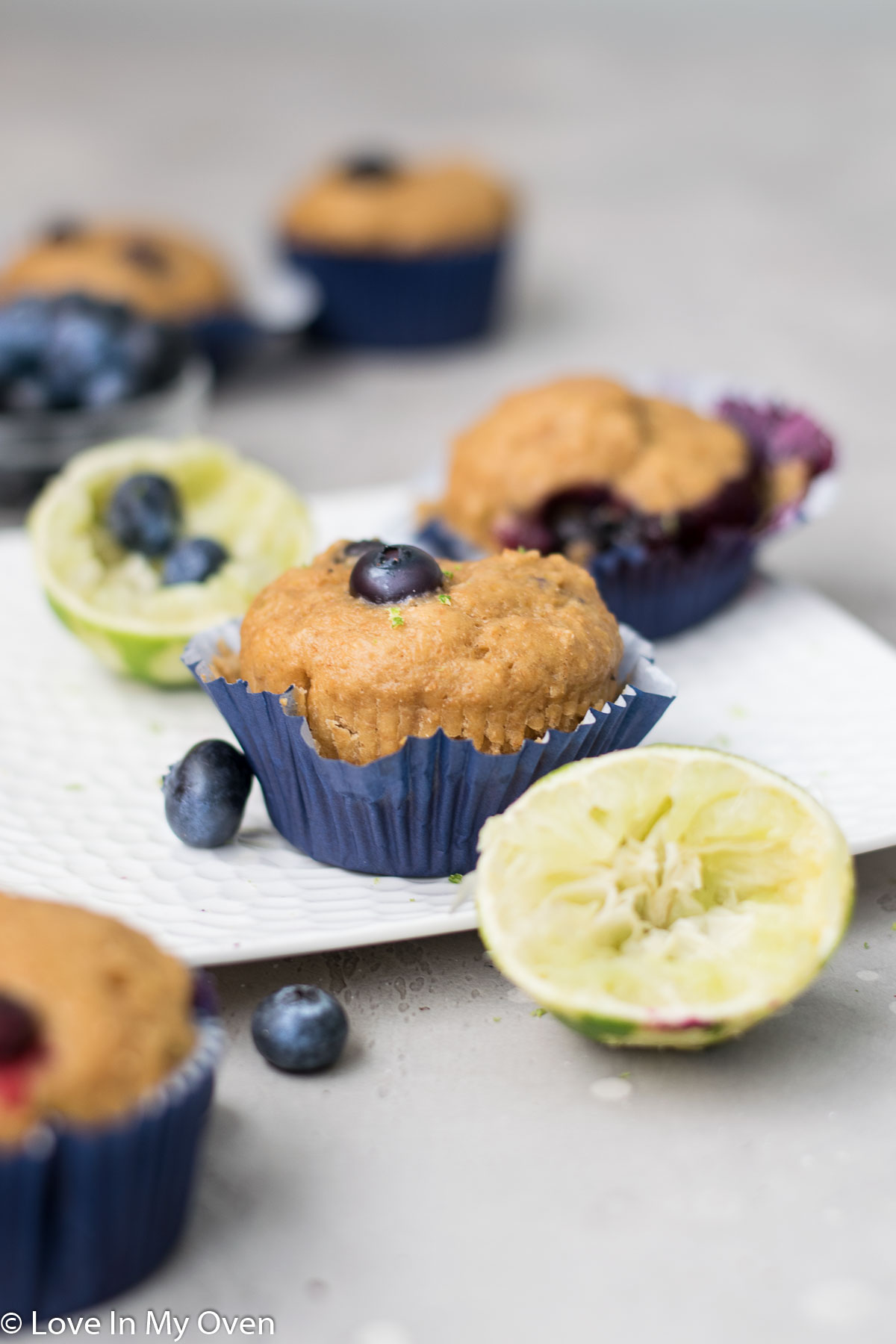 Some of my other favorite muffin recipes from the blog:
Print
Greek Yogurt Blueberry Lime Muffins
---
Author:

Total Time:

30 minutes

Yield:

12

muffins

1

x
Description
Lime zest and juicy blueberries will make you think you're biting into summer itself with these blueberry lime muffins! Greek yogurt and applesauce make these healthy lime muffins a winner!
---
3/4 cup

all-purpose flour

3/4

 cup whole wheat flour

1 1/2 tsp

baking powder

1/4 tsp

baking soda

1/4 tsp

salt

1/2 cup

plain Greek yogurt*, room temperature

1/2 cup

coconut palm sugar*

1/4 cup

unsweetened applesauce

3 tbsp

agave or honey*

2

large eggs, room temperature

1

small lime (zest and juice)*

1 cup

blueberries, fresh or frozen
---
Instructions
Preheat the oven to 350F and spray a 12-count muffin pan with non-stick cooking spray, or line with muffin liners. In a large mixing bowl, whisk together both flours, baking powder, baking soda and salt.
In a medium sized mixing bowl, combine the coconut palm sugar and yogurt together and stir until smooth. Add and combine the applesauce, agave/honey, and juice from the lime. Add the eggs one at a time, and then stir in the lime zest. Add the wet ingredients to the dry, stirring until just combined. Do not overmix! Fold in the blueberries gently.
Distribute the batter evenly among the muffin pan cavities, filling them about 3/4 full. Bake the muffins for  16-18 minutes, or until a toothpick inserted in the center of one comes out clean. Allow the muffins to cool for 5 minutes in the pan before removing to a wire rack to cool completely.
Muffins keep on the counter in an airtight container for up to one week, or in the freezer for up to two months.
Notes
I used 2% Greek yogurt, but you could easily substitute non-fat.
You can use granulated white sugar in place of the coconut palm sugar.
I use agave in my baking as I have a baby under 1 year of age, but honey or even maple syrup works just as well!
You only need about 2 tablespoons of lime juice – if you have a very big lime, be sure to measure out 2 tablespoons.
The muffins may stick to the liners while warm; if you wait until they're completely cool they will not stick when you peel the liners away
Prep Time:

10 minutes

Cook Time:

20 minutes

Category:

muffins

Method:

oven bake

Cuisine:

american
Keywords: blueberry lime muffins // healthy lime muffins a winner! // Greek yogurt muffins // blueberry Greek yogurt muffins
Recipe Card powered by