Whether you're in need of a keto breakfast or not, this keto chorizo frittata checks all of the boxes! This cheesy low carb frittata uses spicy chorizo and tons of veggies to jump start your day!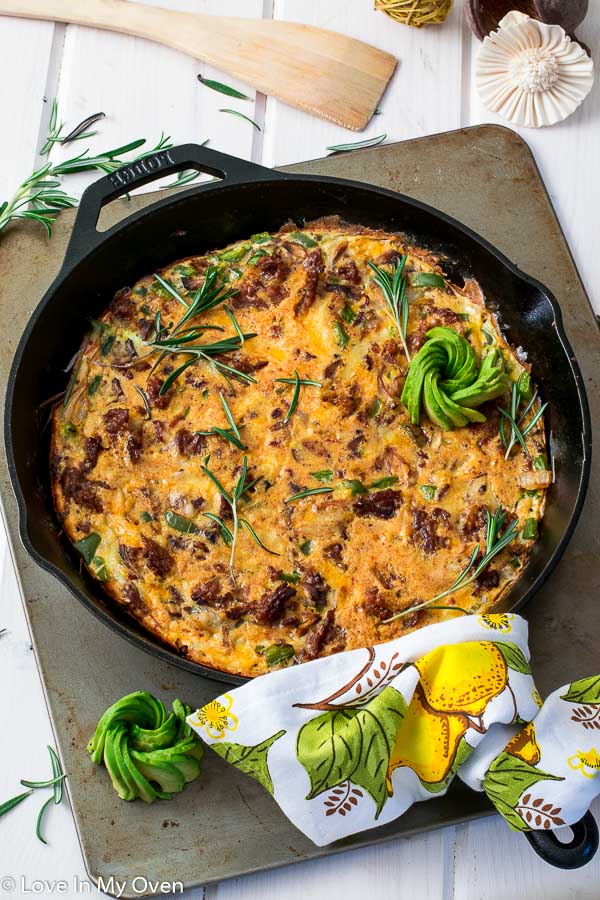 HAPPY NEW YEAR!!! It's 2019!
So, are you kicking off the new year with an "eat healthy" resolution? I'm not judging you if you are! I think most people make this resolution not necessarily because it's a new year, but because they've been stuffing themselves for the past month and a half and their bodies are screaming for lighter eats. At least, that's how it is for me every holiday season!
Don't get me wrong, I'm not about to sign up for any type of extreme diet, but I am definitely trying to eat a bit lighter and watch my intake of the unhealthy stuff. There's ALWAYS room for some chocolate though. And salted caramel. Just sayin'.
This keto chorizo frittata is not necessarily "light", but it is really low in carbs. Quite a few members of Etienne's family are following the keto diet, and I think if I had to choose a diet, it's probably the one I would follow too. I love my pasta and rice, oatmeal for breakfast, and alllll of the fruits, so it would be tough for me to give all of these up in one go, but I think there's a lot of yummy substitutions out there for things if you're dedicated to planning it out properly. Plus, you can eat delicious things like this frittata!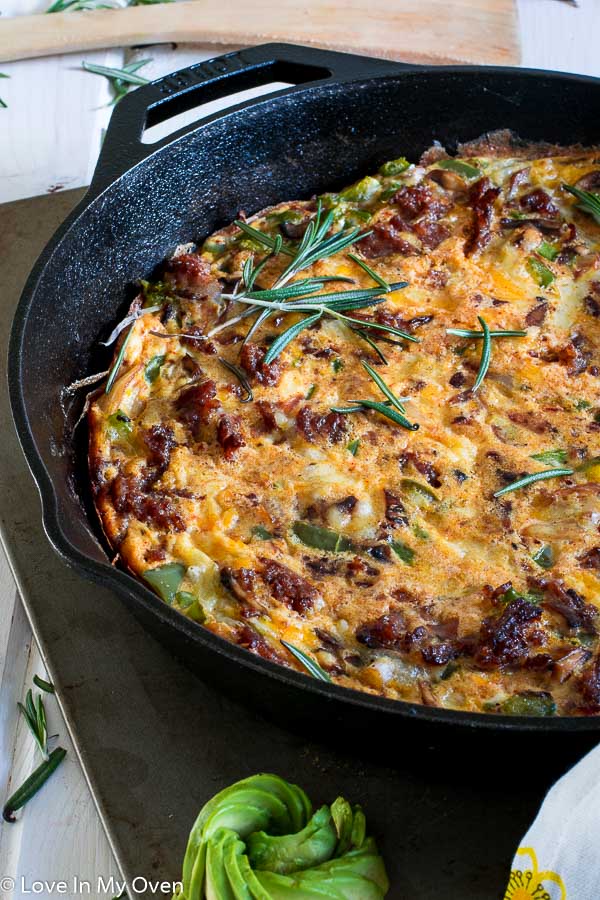 How is this keto chorizo frittata low carb?
I have a serious love affair with chorizo. It's so good – that little bit of spice and the crispiness you can achieve when you fry it up in a pan is just unbeatable. If you are a chorizo lover like me, you've got to try my skillet pizza!
If you're following a strict keto diet, be sure to be selective when picking your chorizo from the grocery store. Many varieties have ingredients like corn syrup that would quickly increase the carb content of the dish. I also use green peppers because they are the lowest in carbs, but feel free to brighten things up with a red or orange pepper. If you're just starting out on keto or even if you have been for a while, here's a link to some great keto diet hacks that will blow your mind!
Oh, and do NOT forget the cheese!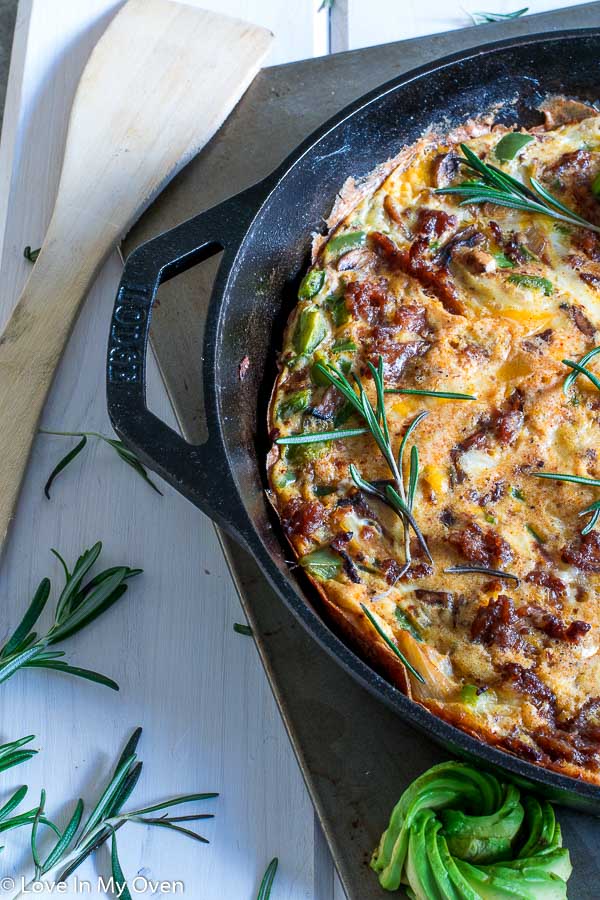 Is this frittata a good meal prep option?
Another great thing about a dish like this is that you can make it at the beginning of the week, and eat it for 3-4 days for breakfast. It reheats (and freezes) beautifully! I like to think if I was actually on the keto diet, I would make one of these on a Sunday and then eat the leftovers for breakfast the next few days. It takes the guesswork out of what you're going to eat and saves you from frying up bacon and eggs every morning!
Seriously though, I would hate to give up my oatmeal. It's such an easy and nutritious breakfast. And the kids love it too!
I hope your January is off to a great start. We went for a nice little stroll on New Year's Day, and I have to say I am SO grateful for this mild winter weather we've been having. I don't despise winter as long as I can still spend a significant amount of time outdoors.
Until next time!
If you're following a low-carb diet but you've got a sweet tooth like me, I've got some keto-friendly dessert recipes on the blog for you!
Print
Keto Chorizo Fritatta
---
Author:

Total Time:

35 minutes

Yield:

6

servings

1

x
Description
Make this keto-friendly cheesy, spicy and oh-SO easy keto chorizo frittata on a Sunday, and have your breakfast figured out for the whole week!
---
1

pack (250g) chorizo*

1/2

yellow onion, diced

2

garlic cloves, minced

1

green bell pepper, diced

4

whole mushrooms, diced

8

eggs

1/4 cup

heavy cream*

1/2 cup

cheddar cheese, grated
Avocado, sour cream for topping
---
Instructions
Preheat the oven to 375 F and place a heat-safe skillet on the stove over medium-high heat.
Fry the chorizo, stirring often, until crispy and brown. Use a slotted spoon to remove the chorizo to a plate lined with paper towel. Remove all but 2 tbsp of grease leftover from the chorizo. Add the onion and garlic and sauté in the grease for a couple of minutes before adding the pepper and mushrooms. Sauté for 5 minutes or until the veggies just begin to soften. Remove the skillet from the heat.
In a large bowl, whisk together the eggs and cream. Add a sprinkle of salt and pepper. Pour the egg mixture in with the veggies in the skillet, and add the chorizo back in. Stir everything together and sprinkle in the cheese.
Place the skillet in the oven and bake for 15-18 minutes or until the frittata no longer jiggles in the middle. Mine took 15 minutes. Remove and serve! Top with avocado and sour cream.
Leftovers keep very well in the fridge, up to 3-4 days in an airtight container. You can also freeze individual portions for up to 2 months for an easy breakfast the next day! Thaw overnight in the fridge, or microwave from frozen.
Notes
Use any type of chorizo you like, mild or spicy. Just be sure to check the ingredient label if you're trying to keep to a strict keto diet
Whole milk can also be used.
Prep Time:

20 minutes

Cook Time:

15 minutes
Recipe Card powered by