Whether you're on a keto diet or not, you will LOVE this rich, creamy, low carb lemon cheesecake made with a grain-free almond flour crust and garnished with toasted coconut!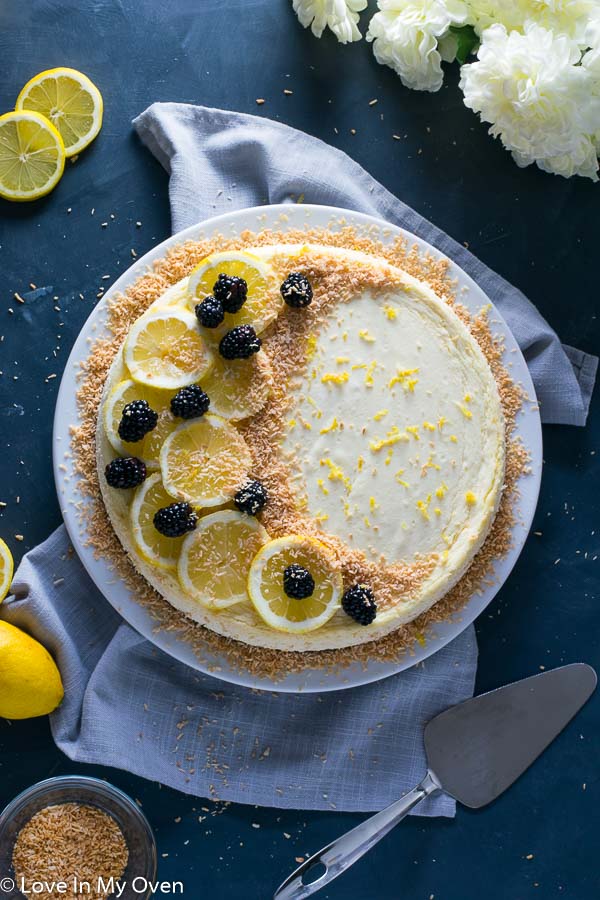 Please Note: I have updated the text of this post slightly as of March 2020. The recipe remains the same.
Well, we made it through renos!! Almost. We still have some work going on, but we're living upstairs again and the bedroom furniture is moved back in. Yay! And only one ding in the new wall paint so far *knocks on wood*.
I am being slightly neurotic about packing all of the STUFF back into the rooms. I'm using this opportunity to get rid of allllllll of the junk. Marie Kondo style. Etienne wants me to pile all of my clothes on the bed like Marie does in the Netflix show, but I don't think I have a big enough bed 😉 To be fair, I have gotten rid of a ton of clothes so far!
When it comes to sentimental items – what's your position? I have such a hard time getting rid of anything that someone made for me, or for the kids. It just seems too harsh to toss it away! Hence, I have a few overflowing boxes full of "keepers".
Speaking of "keepers" – check out this KEEPER of a low carb lemon cheesecake!! OMG you guys. Can you believe I don't have a single cheesecake recipe on the blog!? I don't know how that's even possible. I ADORE cheesecake! Maybe it's just all been a bit intimidating with the whole possibility of cracking and water-bathing. Luckily, I think I've figured that part out.
Does this low carb cheesecake require a water bath?
I know there is a lot of recipes and instruction out there that will have you completely wrap your cheesecake pan with aluminum foil, and place it into a water "bath". I found that so many times, no matter how carefully I thought I wrapped it, water would somehow get into the bottom of my pan and I'd end up with a soggy crust! Boo! Can't have that.
SO – lately I've been placing my cheesecake pan on a wire rack, placed in a shallow pan that has been filled with a couple inches of water. You still get the benefits of the steam without the soggy crust! Win!
One other trick that I find helps prevent cracking in my cheesecake is to turn the oven off when the cake is finished baking, opening the door an inch or so and letting it cool down INSIDE the oven for about an hour before transferring it to the fridge!
What makes this cheesecake low carb?
It's tricky sometimes to come up with keto-friendly desserts for the keto'ers in my life, but what I love about cheesecake is that it's pretty much already keto. You have to swap out the sugar for sweetener, and make a grain-free crust, but cheesecake is MEANT to be full-fat, rich and delicious. I normally don't love the taste of sweetener too much, but I find the lemon zing in this particular cheesecake really hides any sweetener after taste. And there's less than a cup of sweetener in the whole cheesecake! If you aren't following the keto diet, just swap the amount of sweetener for regular sugar.
Well, wish me luck while I finish the rest of my organizing. I am THIS close to feeling sane again!
Happy weekend!
I have a few other keto and low-carb desserts on the blog that you might like!
Print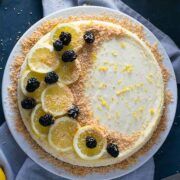 Low Carb Lemon Cheesecake
---
Total Time:

1 hour 20 minutes

Yield:

6

-

8

servings

1

x

Diet:

Gluten Free
Description
Whether you're on a keto diet or not, you will LOVE this rich, creamy, low carb lemon cheesecake made with a grain-free almond flour crust and garnished with toasted coconut! 
---
Crust
1 cup

almond flour

1 cup

unsweetened shredded coconut*

1/3 cup

unsalted butter, melted
Filling
3

blocks (24oz) cream cheese, full-fat

5 tbsp

unsalted butter, room temperature

3/4 cup

granulated sweetener*

3

eggs, room temperature

3/4 cup

sour cream, full-fat

1 tsp

pure vanilla extract

1

lemon (juice and zest)

1/2 cup

unsweetened shredded coconut (optional, for topping)*
---
Instructions
Preheat the oven to 350 F and spray a 9″ springform pan with non-stick cooking spray or line the pan with parchment paper. Combine together the almond flour, coconut and melted butter. Press the mixture firmly into the bottom of the pan. Bake in the oven for 10 minutes, or until lightly browned. Allow to cool while you prepare the filling.
In the bowl of a stand mixer fitted with the paddle attachment, or with a handheld blender, cream together the cream cheese and butter on medium-high speed until light and fluffy, about 3 minutes. Add the sweetener and mix for an additional minute. With the mixer running on low, add the eggs, one at a time, until combined. Scrape down the sides as necessary with a spatula. Add the sour cream, vanilla, lemon zest and juice and mix just until combined. Pour the filling into the prepared pan and smooth out the top with your spatula.
Place a wire rack on top of a shallow pan filled with about 2 inches of water. Place the cheesecake on top of the rack. The water should not touch the bottom of the cheesecake pan. Bake for 40-45 minutes, or until the center is soft but no longer jiggles. Turn the oven off, and open the door a couple of inches. Allow the cheesecake to cool down in the oven (1-2 hours) before removing and placing in the fridge for at least 4 hours. Garnish with toasted coconut and serve.
Leftovers will keep in the fridge for 3-4 days, in an airtight container. Cheesecake can also be frozen for up to 2 months.
Notes
For the purposes of this recipe, assume that the coconut I am referring to is the "medium" shredded, unsweetened coconut.
I use Swerve brand sweetener (erythritol). You can substitute this for any other granulated sweetener, or granulated sugar.
To toast your coconut, spread it out on a parchment-lined baking sheet, and bake in an oven preheated to 375 F for 3-4 minutes or until lightly browned.
Prep Time:

20 minutes

Cook Time:

1 hour

Category:

dessert

Method:

oven bake

Cuisine:

american
Keywords: low carb lemon cheesecake // keto cheesecake // keto lemon cheesecake
Recipe Card powered by