If you've never had a deep dish cast iron pizza before, you're missing out! This chorizo pizza is made up of sweet, caramelized onions and spicy chorizo sausage, all layered on to a soft, fluffy whole wheat pizza crust!
*Please note* this post was originally published in 2018. I've since redone the text but the recipe remains the same.
Sooo we're back to -25 (C) temperatures over here in Calgary. Beautiful, balmy, Calgary. It's only January 12 and I'm already over winter – in my mind I'm kicking back on my favorite chair in the backyard, drinking an ice cold bevy and basking in the sun….*sigh*. Once the excitement of Christmas and the holidays is over, I quickly lose patience with the cold and winter in general, and just look forward to the freedom that summer brings!
Only a "few" more months – and this is assuming I'll actually have time to do any of the above with a brand new baby attached to me 🙂
Anyway, in the mean time, I'll be over here cranking on the oven and warming up with cozy meals like my lazy perogies and THIS awesome cast iron chorizo pizza.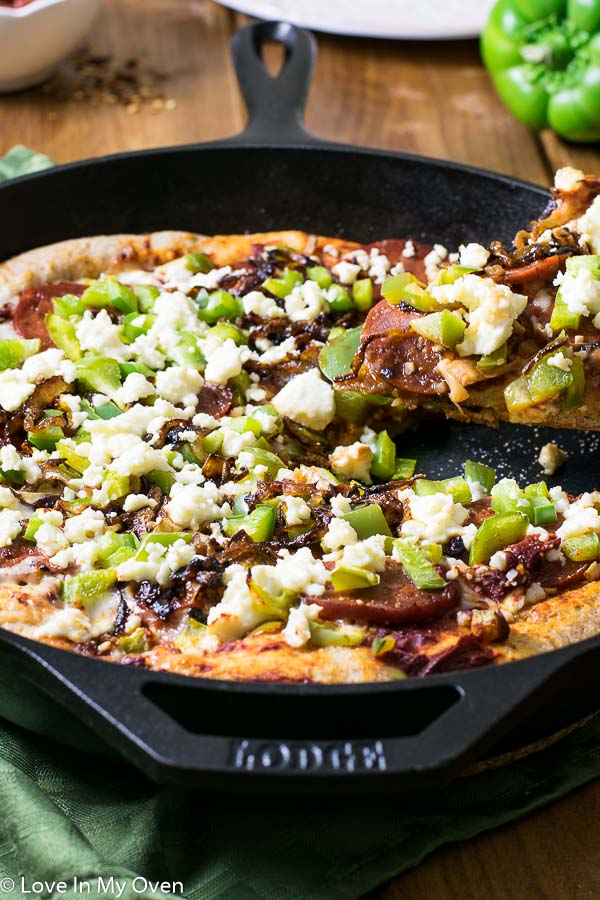 What is cast iron pizza?
If you haven't tried pizza in a cast iron skillet yet, I URGE you to try it! It makes the most AMAZINGLY crisp, deep-dish like crust! You need to add a fair bit of oil to the bottom of the skillet to get that classic take-out taste, but trust me, it's so worth it. My neighbors introduced this pizza method to me last summer and since then we've been making it fairly regularly. This chorizo pizza has been on regular rotation. Sausage is always a win with my kids!
How do you make cast iron chorizo pizza?
Start with the onions! Since we're caramelizing the onions here, you'll need to allow enough time for that (~hour) – but don't leave it out! I usually caramelize a few onions at a time so I can put them on sandwiches or burgers for the next few days. They're such a treat!
The caramelized onions will last in the fridge and taste just as good reheated in the skillet for a bit or in the microwave to use as a topping.
I use my trusty whole-wheat pizza dough recipe for the crust, but you can use any recipe for a 12″ pizza that you are comfortable with! This dough is 100% whole-wheat, but the oil in the cast iron skillet and the high heat makes the dough light and fluffy, with a crispy crunch. I'm usually that person that doesn't eat the crusty edge on my pizza, but I definitely finish every last bit of this crust!
If you'd prefer to use all-purpose flour for the dough, the recipe remains the same. You can also do half and half!
The rest of the toppings are pretty simple – and totally customizable. You can choose a different meat if chorizo isn't your game, but I personally recommend a spicy sausage! It contrasts SO well with the sweet onions and salty feta.
So, all of these flavors combined with a crispy, yet soft and fluffy crust, makes for one (EASY) awesome pizza – it will have you giving that boxed pizza in your freezer the snub in no time.
Can double the recipe for this chorizo pizza?
Yes, absolutely! If you have two cast iron skillets, you can make them at the same, or you can just slip the pizza out of the skillet when its ready and make the next one right after.
Do you have to use a cast iron skillet for the pizza?
If you don't have a cast iron skillet or you don't want to use it, you can also make the recipe on a pizza stone or a circular pizza pan. The cook time remains about the same, just keep an eye on the crust! You will also need much less oil on the bottom of the pan if you're not using the skillet.
Fridays are for pizza, right?! I wish I was eating this one in the backyard in the sun, but for now I'll make do with my cozy slippers and double layers. 😉
Happy weekending!
Also, be sure to check out some of my other favorite chorizo and pizza recipes from the blog:
Print
Cast Iron Caramelized Onion and Chorizo Pizza
---
Author:

Total Time:

4 hours 55 minutes

Yield:

1

pizza

1

x
Description
If you've never had a deep dish cast iron pizza before, you're missing out! This chorizo pizza is made up of sweet, caramelized onions and spicy chorizo sausage, all layered on to a soft, fluffy whole wheat pizza crust!
---
Pizza Dough
2 cups

whole wheat flour

3/4 cup

warm water*

1

package (2 1/4 tsp) active dry yeast

1 tbsp

honey

1 tsp

salt

1 tbsp

olive oil
Caramelized Onion*
1

medium yellow onion, sliced

1 tbsp

unsalted butter

1 tbsp

red wine, balsamic vinegar, or water
Pizza
3 tbsp

avocado or canola oil

3 oz

tomato paste

1/2 tsp

chili flakes

1 cup

shredded mozzarella cheese

1 cup

chorizo sausage, crumbled or sliced*

1/2

green bell pepper

3/4 cup

crumbled feta cheese
cornmeal, for dusting (optional)
---
Instructions
Prepare the pizza dough. In the bowl of a stand mixer fitted with the dough hook attachment, stir together the warm water with the yeast. Allow the mixture to sit for about 10 minutes, or until the yeast starts to foam up (proofing the yeast). If this doesn't happen, your yeast may be dead. Start again with new yeast and water.
Add 1 cup of the flour, the honey, salt and olive oil. Mix together on low for 1 minute, before adding the last cup of flour. Once the dough starts to form together, increase the speed to medium-high and run the mixer for about 5-6 minutes; if the dough continues to stick to the sides of the bowl, add an additional tablespoon of flour at a time, until the dough pulls away from the sides of the bowl (you may need to use up to 1/4 cup more flour in total). After 5-6 minutes, remove the dough from the bowl, and shape it into a round ball. Place the dough into a large bowl that has been sprayed with non-stick spray or lightly greased with olive oil. Turn the ball of dough around in the bowl to lightly coat all surfaces. Cover the bowl tightly with plastic wrap or a damp towel and leave it to rise at room temperature (away from cold drafts) for about 1 1/2 hours, or until the dough has doubled in size.
While the dough is rising, caramelize your onion. Melt the butter in a large skillet (cast iron or stainless steel is best) over medium heat. Add the sliced onion, and stir to coat. Cook the onion for 40-55 minutes, stirring them every 8-10 minutes with a wooden spoon, ensuring that all bits (fond) that collects on the bottom of the pan is scraped up and stirred. Taste a golden onion around 40 minutes, and if it tastes good to you, add the wine/vinegar/water to deglaze the pan. Stir/scrape up all of the remaining fond that has collected on the bottom of the pan. Turn off the heat and allow the onions to cool.
Preheat the oven to 450 F.  When your pizza dough is ready, punch it down lightly to release some of the air. Place it on a floured surface and roll the dough into a 12″ circle. Pour the oil into the bottom of a 12″ cast iron skillet* and swirl it around to coat. It will seem like a lot of oil, but trust me – it really helps to deliver that deep-dish flavour to your crust. Sprinkle some cornmeal over top of the oil (if desired). Place the circle of dough into the skillet, and fold up the sides slightly to create a bit of a crust around the edge.
Top your pizza starting with tomato paste, chili flakes, and mozzarella cheese. Add the sausage, pepper and feta, and finish it off with the caramelized onion.
Bake the pizza for 15-20 minutes, or until the edge of the pizza has turned a golden brown. Remove the skillet from the oven, and run a knife around the edge of the pizza. Using a spatula, lift the pizza out of the skillet and onto a large wood cutting board to slice and serve. Enjoy immediately!
Leftover pizza can be stored in the fridge, in an airtight container, for 3-4 days.
Notes
Water should be warm to the touch, but not hot.
You only need 1 onion for this recipe, but I like to caramelize 2-3 at a time. To do this, double or triple the butter and wine/vinegar/water as well.
Chorizo can be substituted for any other spicy meat/sausage
A smaller/larger cast iron skillet can also be used – you will just end up with a thinner/thicker pizza.
Prep Time:

1 hours 30 minutes

Cook Time:

1 hours 25 minutes

Category:

pizza

Method:

cast iron

Cuisine:

mexican
Keywords: deep dish cast iron pizza // chorizo pizza // deep dish cast iron pizza // ground chorizo pizza // skillet pizza
Recipe Card powered by