When you love perogies but you're not up to the work of it all, these lazy perogies save the day! This lazy perogy casserole is the ultimate comfort food!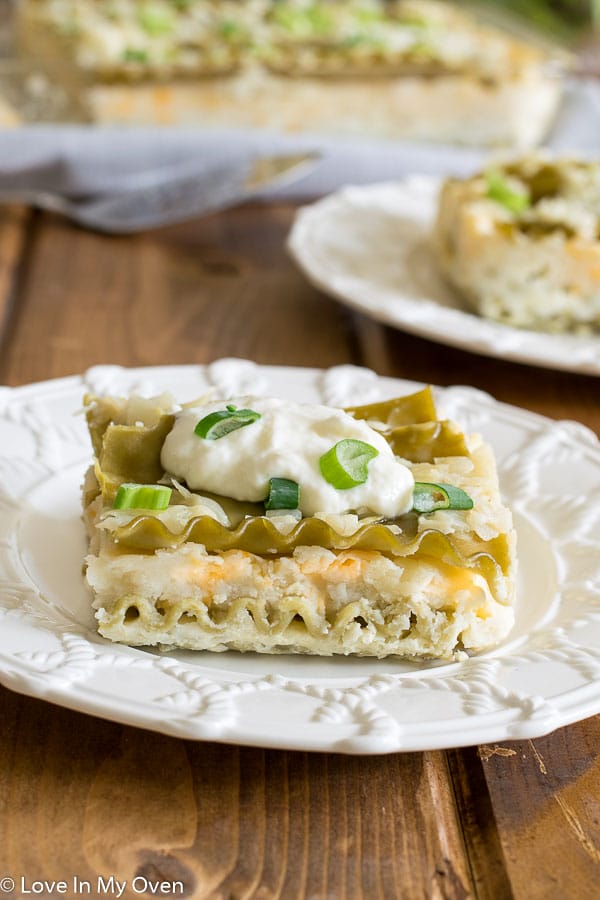 *Please note* this post was originally published in April 2017. I've updated the text a bit but the original recipe and post remains the same
You guys. I realized this weekend how literally OUT OF SHAPE I am. I had a massage booked for myself for 3pm, and at 2:20pm I went, "Hey! Why don't I ride my bike there"?! Brilliant idea. Right?! Google Maps told me that it takes 25 minutes on a bike. Perfect! I got on the bike and went zooming down the road, feeling so confident and healthy and proud of myself.
Enter the wind. And the entirely uphill route. Oh MY GOSH! I was SO tired! Halfway there I literally contemplated just giving up and calling an Uber. I had totally overestimated my in-shapeness.
I was huffing, I was puffing, and I was BARELY MOVING. It was embarrassing. Plus, I was on the clock! I had an appointment! Anyway, I made it. At 3:01 I staggered through the door of the massage studio, beet red and a little shaky in the knees. But I made it, and I had a terrific massage. And I barely had to touch the pedals on the way home, thanks to the downhill.
Where am I going with this? I'm not sure, except to just announce that I am dedicated to getting my butt back in gear. Now. Let's talk perogies. Specifically, lazy perogies. Totally the meal of someone getting back into shape, right!?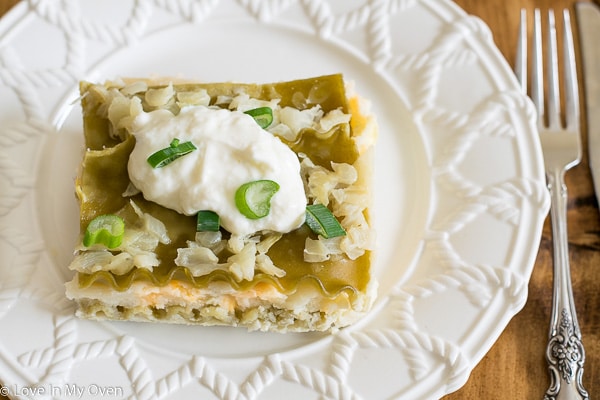 What are lazy perogies?
This frequently requested lazy perogy casserole is one of my childhood favorites. My Mom made it quite often for us growing up, and I haven't changed her recipe a bit. Not only is it easy, filling and delicious, it's also a great one for making and stashing in the freezer, or as a meal to pass along to a friend in need. Kind of like a lasagna!
The primary ingredient in this casserole is potatoes. Good old hearty potatoes. You'll need about 3, but I like to make extra because, well…mashed potatoes are amazing. Stash it in the fridge for another dinner a few days later! That's the extent of my meal planning some days.
The steps to constructing this beauty are press basic, but a little time consuming. Mash the potatoes, cook some lasagna noodles (I like to use the spinach kind for extra colour), shred some cheese…throw it all together and bake!
Trust me, WAY easier than individual perogies!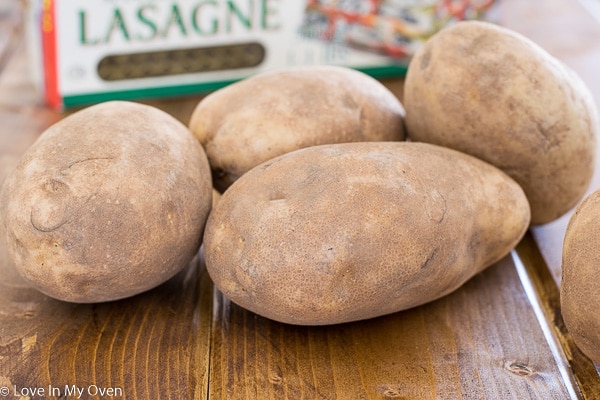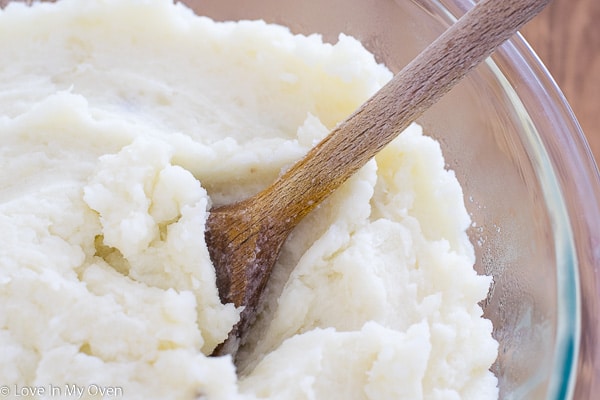 What kind of cheese do you use for lazy perogies?
I like to use cheddar cheese in my filling as I think it has such a nice contrast to the potato and noodles, but you could swap it out for any kind of cheese you like. Along with the cheddar, I use cottage cheese. I have tried this casserole using ricotta instead of the cottage cheese, but I found it to be much drier, so I highly recommend sticking with the cottage cheese!!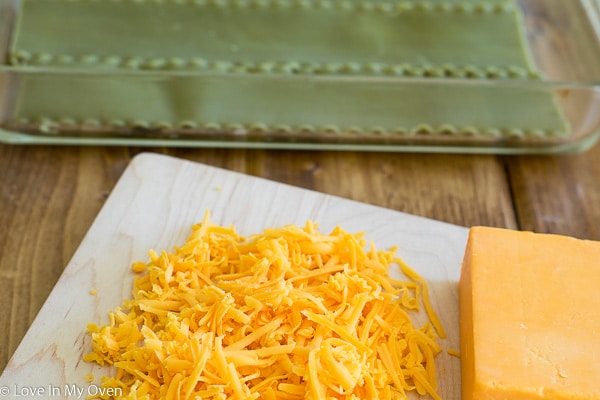 The layers are pretty straightforward. Noodles, cheese mixture, noodles, potatoes, noodles. Top everything off with some diced onions sautéed in butter, and throw it in the oven. It's not necessary, but covering the dish with aluminum foil will prevent the lasagna noodles from curling up.
The bake time for this casserole (do I call it a casserole or a lasagna?) is about 30 minutes. Let it stand for about 10 minutes before serving.
With all of that potato and cheese, you will do yourself a favor by serving this up with a salad on the side! Gosh. Back to that whole business of getting into shape. At least this meal will provide some much needed carbohydrates?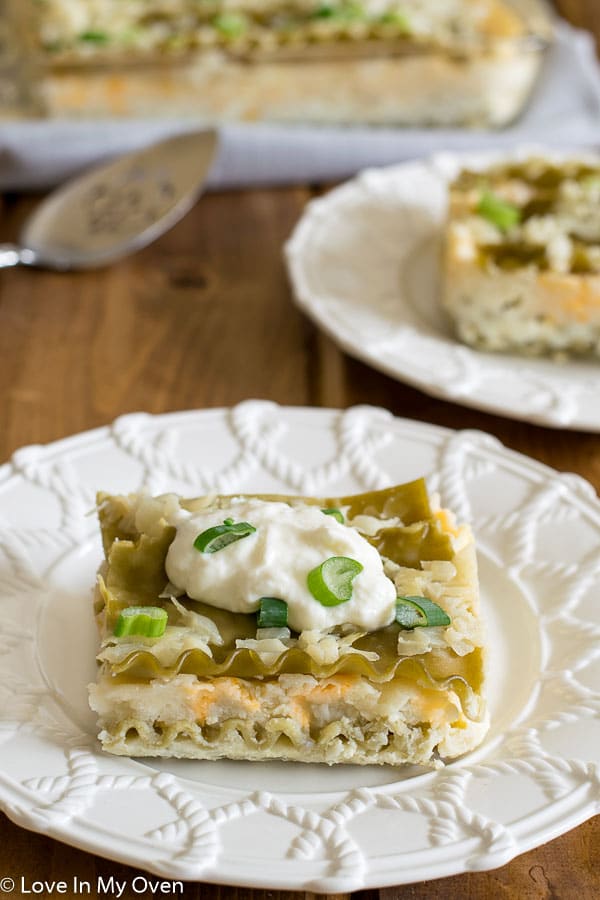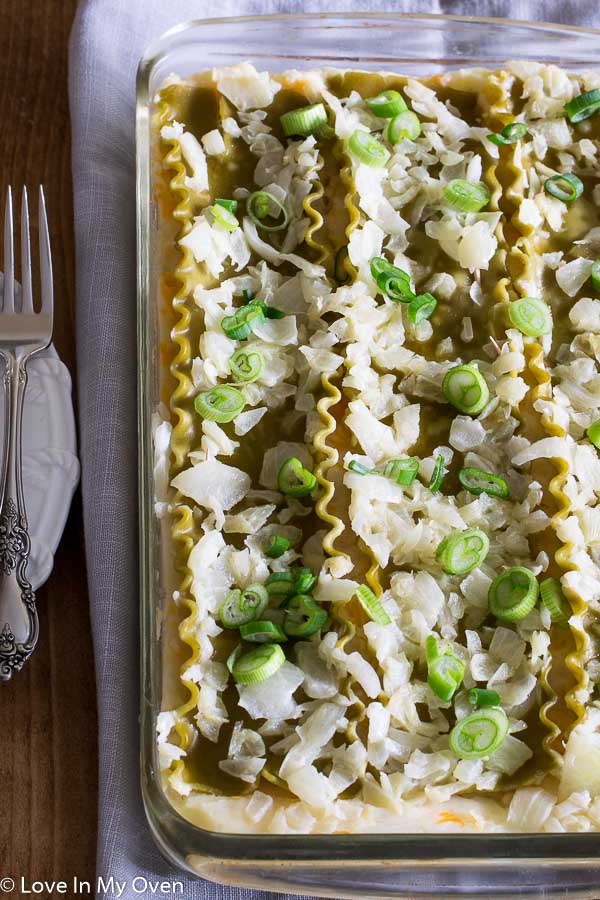 I love cozy meatless meals. Want to try a few others?
Or try this amazing looking meatless lasagna from my friend Dawn over at Girl Heart Food.
Print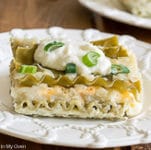 Lazy Perogies
---
Author:

Total Time:

1 hours 30 minutes

Yield:

8

servings

1

x
Description
When you love perogies but you're not up to the work of it all, these lazy perogies save the day! This lazy perogy casserole is the ultimate comfort food! 
---
9

lasagna noodles, any type you want

500

mL cottage cheese (I used low fat)

1

egg, slightly beaten

1 tsp

onion salt, divided

2 cups

mashed potatoes (about

3

large)

1 cup

shredded cheddar cheese

1/2 tsp

pepper

1/4 cup

butter

1/2

yellow or white onion, diced
Diced green onions and sour cream, for topping
---
Instructions
Preheat oven to 350 F and spray a lasagna pan* with non-stick spray or lightly grease with butter.
In a large pot of boiling water, cook the potatoes until fork-tender and ready to mash. Drain and mash the potatoes* and mix with cheddar cheese, 1/2 tsp onion salt and pepper. Set aside.
While the potatoes are cooking, cook the lasagna noodles as directed on the package; drain. Place 3 cooked lasagna noodles side by side in the bottom of the lasagna pan.
Prepare the cheese mixture in a medium-sized bowl by combining the cottage cheese, egg, and remaining 1/2 tsp onion salt. Cover the bottom layer of noodles with all of the cheese mixture. Top with another 3 lasagna noodles.
Spread the potato mixture over the lasagna noodles, then top with the last 3 noodles.
In a large saucepan over medium heat, melt the butter and sauté the diced onions until clear and soft. Pour the onion and butter over the top of the casserole. Cover the dish with aluminum foil and bake for 30 minutes. Remove from oven and let stand, covered, for 10 minutes before serving. Top with sour cream and chopped green onions.
Leftovers will keep in an airtight container in the fridge for up to 4-5 days, or in the freezer for up to 2 months. To heat from frozen, place in oven at 325 F, covered, for about an hour.
Prepare ahead: Mash the potatoes, cook the noodles, and combine the cottage cheese and egg together the night before and keep in the fridge. When you're ready to create the casserole, just layer as indicated in the steps above.
Notes
My lasagna pan is 8 x 11, which is perfect but I've used a 9 x 13 and it works just fine. The noodles will just not cover the entire surface.
When mashing your potatoes, feel free to add whatever you're used to adding to mashed potatoes such as milk, cream, butter, etc.
Prep Time:

1 hours

Cook Time:

30 minutes
Keywords: easy perogies recipe // lazy pierogi casserole // pierogi lasagna
Recipe Card powered by