With just 3 ingredients and no sugar added, this homemade unsweetened applesauce couldn't get any easier or healthier! If you're looking for a basic applesauce recipe, this is the one for you.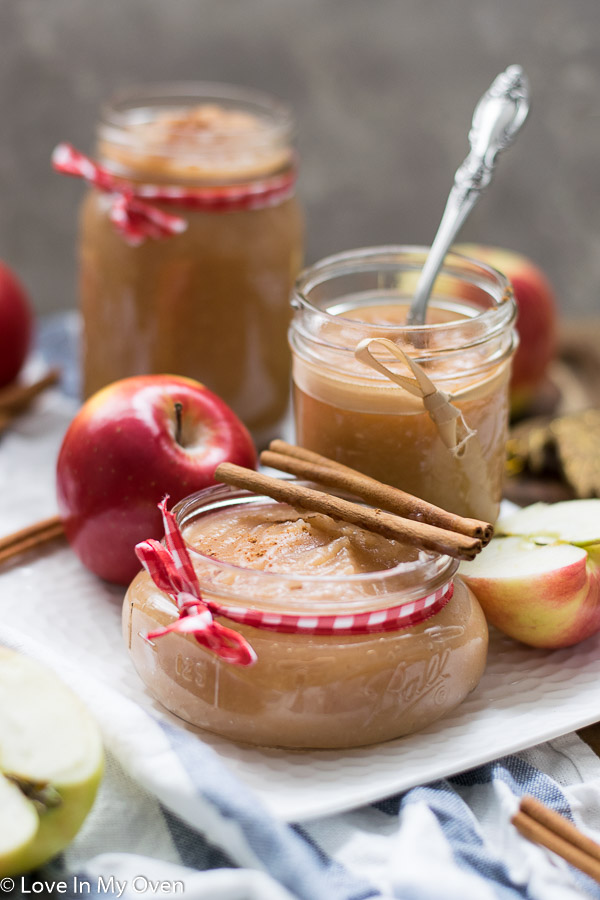 My lovely readers, this is clearly a follow-up to my last post where I gushed about all of the produce I got at last weekend's Harvest Sale. I wasn't actually planning on posting this 3 ingredient applesauce today but I really wanted to share it with you so I switched around my posting schedule!
I've actually been making this applesauce for years, but I hadn't thought to actually post it until now.
My family eats oatmeal for breakfast a few times a week, and the kids have been having unsweetened applesauce, with cinnamon, in theirs for years! It adds so much flavor without any sugar, and it also cools the oatmeal down enough that they can gobble it down quickly before school. I sometimes add a little maple syrup or honey to it and they just LOVE it.
I also use a ton of applesauce in my baking! It's a great way to lighten things up but still keep baked goods moist. My banana muffin recipe, a reader favorite, uses applesauce to add sweetness and moisture.
What's in homemade applesauce?
Technically this is really only a 2 ingredient recipe, since I don't really count water as an ingredient. SO, all you need for this recipe is:
Don't leave out the cinnamon! It makes a huge difference in the flavor.
What kind of apples should you use for homemade unsweetened applesauce?
I've made applesauce with so many different kinds and you know what? They almost all work just fine! If you're using a softer apple, such as a McIntosh, you might want to combine it with something tart and crisp like a Pink Lady (my personal fave).
My only suggestion would be not using all soft apples or the sauce will end up extra mushy (since we're blending it up anyway it doesn't matter toooo much).
How do you make homemade applesauce?
Start by coring and dicing the apples. You'll need 3 pounds! You could peel your apples but I wouldn't bother, since we're blending everything up there won't be any weird skins in the sauce texture. Also, apple peels have so much nutrition!
After putting the diced apples into a saucepan, add the cinnamon as well as the water. Turn the heat up on the stove until things start bubbling, then turn it down and let it all simmer for about 20 minutes, or until mostly soft. Stir it every few minutes so the bottom doesn't burn.
Once it's starting to look fairly soft and saucy, pour the applesauce into a blender or food processor. You can let it cool down for a few minutes, or just be extra careful when removing the lid to avoid a ton of steam!
Blend it all up until it's as smooth as you want it – and you're done!
Can homemade applesauce be frozen?
Definitely! I keep my sauce in glass mason jars, but you need to leave a lot of room at the top if you're doing this, because water/fluids expand when frozen and you might end up with cracked glass. The general rule of thumb is to only fill the jars 3/4 full and then be sure to freeze the jars standing up.
If you don't want to bother with glass, just freeze the sauce in plastic! It'll last up to 2 months in the freezer. To thaw, leave in the fridge overnight.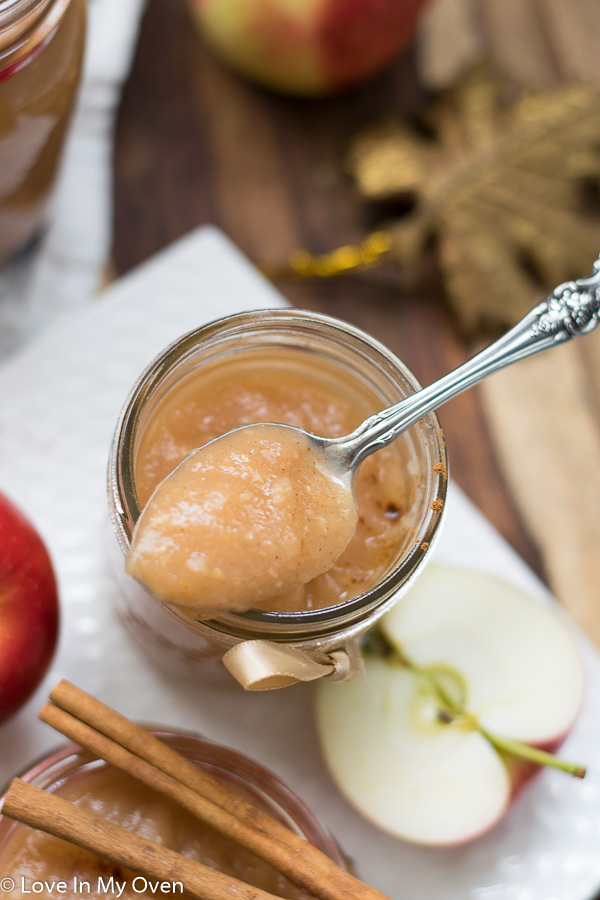 If you find yourself with a lot of apples this fall (the best situation to have) then homemade applesauce is a great way to use them up!
Some other sweet recipes using apples:
PS – it's my Mama's birthday. Happy birthday Mom!!!
❤
Print
Homemade Unsweetened Applesauce
---
Author:

Total Time:

30 minutes

Yield:

4 cups

1

x

Diet:

Low Calorie
Description
With just 3 ingredients and no sugar added, this homemade unsweetened applesauce couldn't get any easier or healthier!
---
3

lbs apples*, diced and cored

1 tsp

ground cinnamon

1/2 cup

water
---
Instructions
In a large saucepan over medium-high heat, combine the apples, water and cinnamon. Once things start bubbling, lower the heat and let the mixture simmer for 20 minutes, or until the apples are mostly softened and broken down. Be sure to stir every few minutes!
Let the mixture cool for a few minutes, then empty it into a high powered blender or food processor. Puree the mixture until the applesauce is as smooth as you'd like it to be. Empty the sauce into containers and let it completely cool before refrigerating/freezing.
Applesauce will keep in the fridge, in an airtight container, for up to 1 week, or in the freezer for up to 2 months. See notes above for freezing instructions!
Notes
*You do not need to peel the apples. You can use any type of apple for this recipe; I like to use a mix of tart, crisp apples and softer ones.
Prep Time:

10 minutes

Cook Time:

20 minutes

Category:

sauces

Method:

blender
Keywords: homemade unsweetened applesauce // unsweetened applesauce recipe // healthy applesauce recipe
Recipe Card powered by