This 3-ingredient coconut peanut butter recipe is simple coconut, coconut oil and natural peanut butter! You'll love switching up your regular peanut butter for one with a little extra something!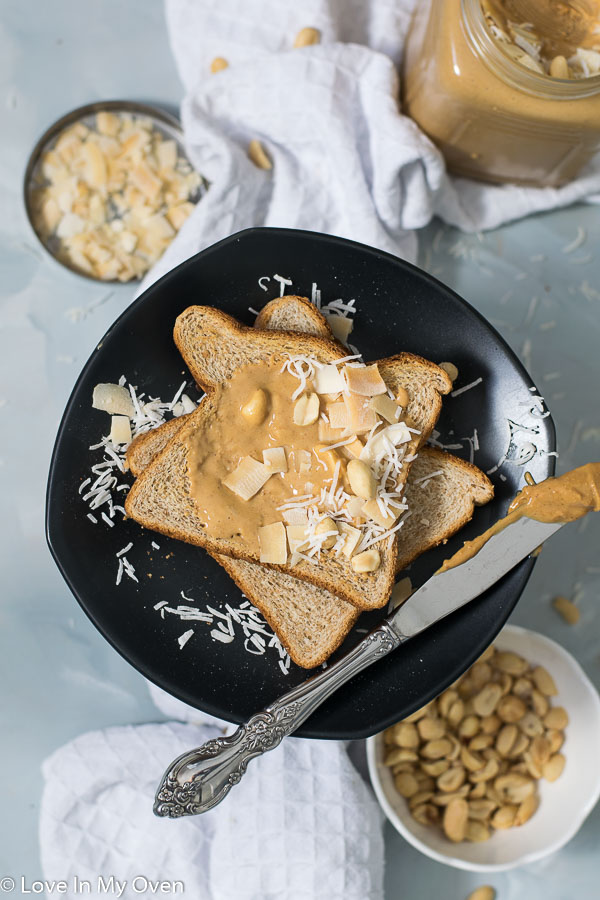 I"m baaaack with another 3-ingredient recipe for you! Coconut peanut butter!
How was this week for you guys? I think for the most part we're setting into this whole "never leave the house" situation, but there are definitely moments where I kind of just want to burst into tears at the things we're missing out on. Don't get me wrong, I know we're very lucky in the grand scheme of the whole situation; no big events of our have been cancelled, we're all healthy, we already worked from home so there's no big change there. BUT, then I think of my kids and how they haven't seen any of their friends or anyone else for so long. I think of the friends that I miss chatting and socializing with, and I long for the days of normalcy.
It will come, it will come. We'll get through this!
In the mean time, we can all keep upping our kitchen game.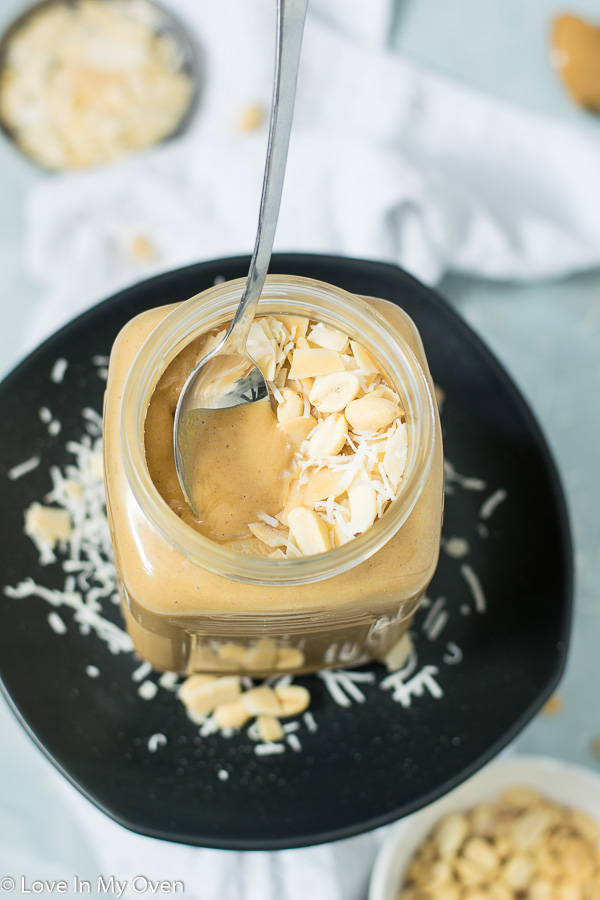 What do you need to make coconut peanut butter?
This recipe is stupid easy. All you need is:
shredded coconut
coconut oil
natural peanut butter
If you don't like the flavor of coconut, you won't like this spread! Just take a glance around the blog and I think you'll figure out that I'm certainly not opposed to coconut-flavoured goodies!
I first tried coconut peanut butter when I was in Hawaii! There was a little market near our place and I paid an absurd amount for a teeny tiny little jar of the stuff. It didn't take much though, to hook me!
Obviously, I had to try my own version.
How do you make coconut peanut butter?
Have you ever made coconut butter? That's the first step in this process. You can certainly make coconut butter with JUST coconut butter, but I like to add a little bit of coconut oil to really get things moving, and ensure everything is nice and smooth.
Start by placing the shredded coconut in a high-powered food processor or Vitamix.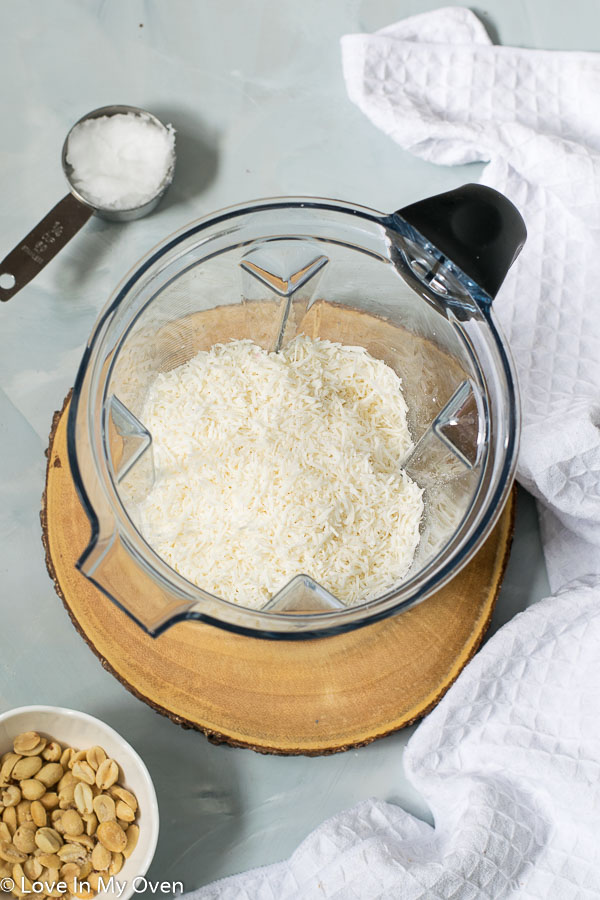 You should begin the process by pulsing the coconut, but once things start breaking down, you can run the mixer on low, stopping every so often to scrape down the sides. Add the coconut oil near the beginning of the process to help get things moving.
You'll know the butter is ready when the consistency is "buttery". Smooth and creamy!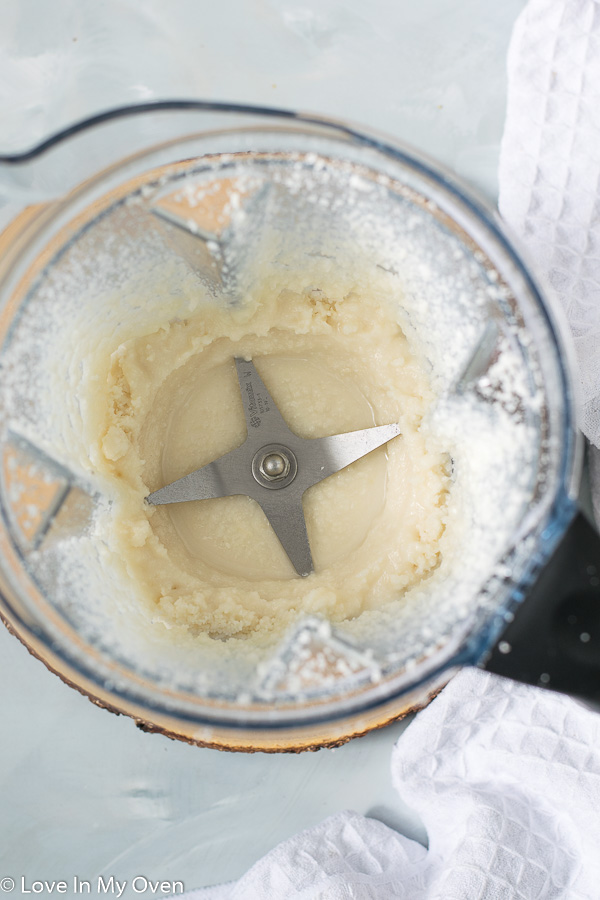 The second (and last) step in this whole process is to now mix the coconut butter with your peanut butter! See, I told you this was easy peasy.
Add the peanut butter right to the food processor that contains the coconut butter, and mix it all up together until it's smooth and creamy! You can add a pinch of salt if you'd like, as well.
Do you have to use natural peanut butter?
Not necessarily, but I presume that if you use the more processed peanut butter, this would have a different texture and could possibly even be sweeter? Not necessarily bad things…but then this recipe will no longer be 3 ingredients! I do sometimes buy this version of peanut butter, but generally I always use natural peanut butter in my kitchen!
How long does this coconut peanut butter last?
I keep my finished product in a mason jar, and it lasts for a couple of weeks just fine at room temperature, on the counter. Presumably, it would last even longer, but I've always polished mine off before I could really find out. If you keep this spread in the fridge, it'll last a really long time; however, it will be super hard when you first take it out, and not very spreadable. Leave it at room temperature for a bit to let things soften up and it'll spread just fine!
So, my second 3-ingredient recipe in this campaign is published! I'm actually shooting some photos today for another recipe that I'm super excited to share with you guys. Make sure you subscribe to the newsletter so you don't miss out!
Happy isolating, my friends. ❤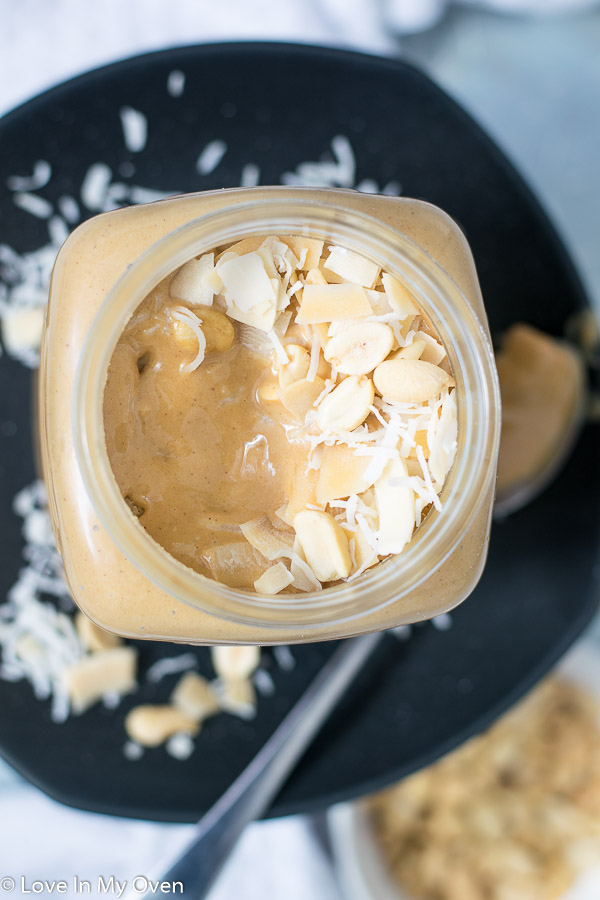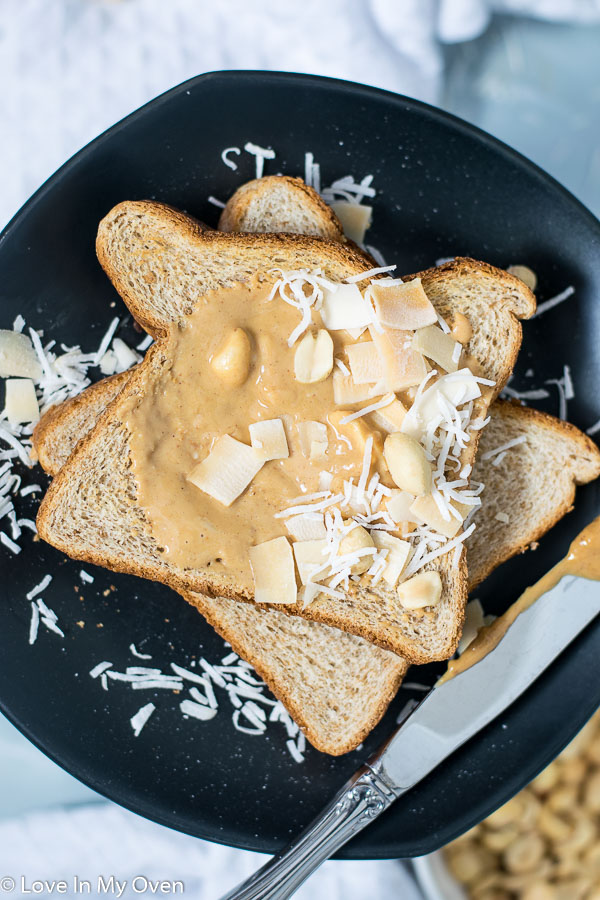 Try some of my other favourite spreads:
Print
Coconut Peanut Butter
---
Author:

Total Time:

15 minutes

Yield:

2 cups

1

x
Description
This 3-ingredient coconut peanut butter recipe is simple coconut, coconut oil and natural peanut butter! You'll love switching up your regular peanut butter for one with a little extra something!
---
3 cups

unsweetened shredded coconut

1/4 cup

coconut oil

1 cup

natural peanut butter
optional: pinch sea salt
---
Instructions
In a high-powered blender or food processor, start pulsing the shredded coconut until it begins turning into a powder. Add the coconut oil and blend on low continuously for about 5-6 minutes, stopping to scrape down the sides of the blender with a spatula. Run the blender until the coconut is a smooth, buttery texture.
Add the peanut butter to the blender, and blend on high for 1-2 minutes, or until the mixture is thoroughly combined. Taste and add sea salt, if desired.
The coconut peanut butter will last in a sealed container, at room temperature for 1-2 weeks, or in the fridge for up to 1 month.
Notes
Try mixing things up a bit by adding maple syrup or honey to the mix for a sweeter version, or add 2 tbsp of cocoa powder for a chocolatey version!
Prep Time:

15 minutes

Category:

spreads

Method:

blender

Cuisine:

american
Keywords: coconut butter // coconut peanut butter
Recipe Card powered by