These coconut lime popsicles are only 3 ingredients and SO refreshing! You'll be making these sugar free lime popsicles weekly this summer after you give this recipe a try!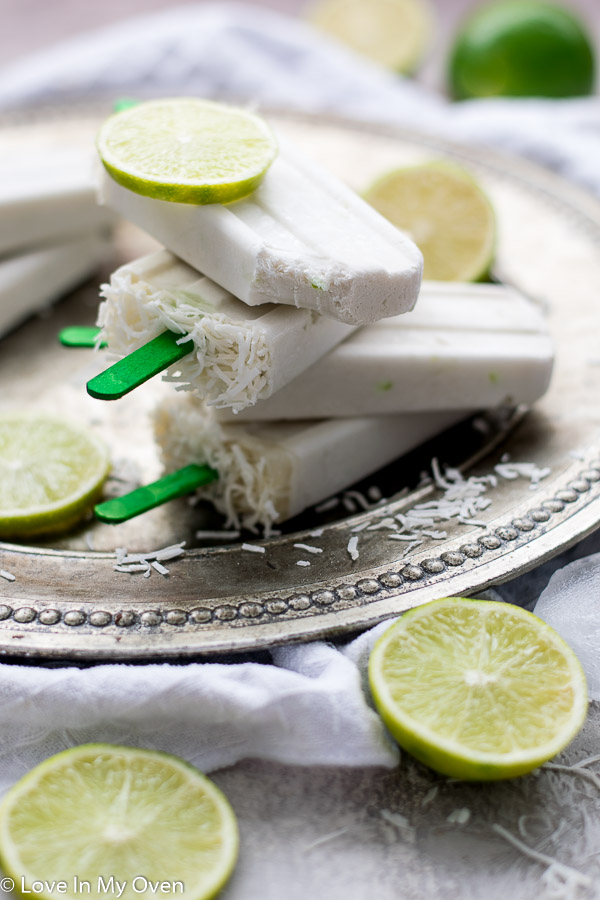 Hi! How was the weekend!?
We had some SUMMER weather and I enjoyed every second of it. Mind you, it still didn't reach typical July temperatures, and there was definitely still SOME rain. Of course! With the sun shining, we got out for a family bike ride (soooo much better since getting a backseat bike seat for Hattie), threw some rocks in the water, had a fire, and went for a few walks. As much as I love camping, I do love weekends at home too!
I also got in a TON of recipe testing this weekend. The kids were more than happy to help me out with the "testing" part for a few of the treats. I had made these coconut lime popsicles a couple of weekends ago, but I wanted to make them again with the shredded coconut on top. It felt like they were missing something! And now I feel happy to share them with you!
Also – I haven't shared a 3-ingredient recipe with you guys for a week or two, so please accept these 3 ingredient popsicles as my request for forgiveness!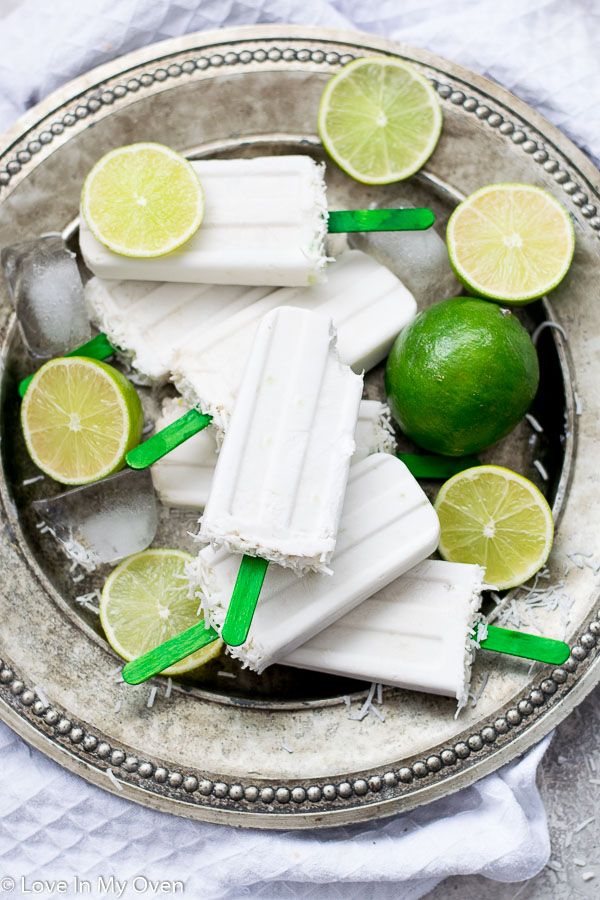 What do you need to make these coconut lime popsicles?
Like I just mentioned, you only need 3 INGREDIENTS! Woop! Based on the name, I'm sure you can guess what those ingredients are:
coconut milk
fresh lime juice and zest
maple syrup
It's a simple ingredient list, but trust me. They taste great! Plus they'll only take you a few minutes to whip up.
If you want to add the shredded coconut "topping" like I have in the pictures, you'll just need shredded coconut, coconut oil and a bit more maple syrup.
Do you have to use full-fat coconut milk?
No, you don't! But you will get a much creamier and tastier end result than if you use light coconut milk. If you've been following me for a while, you'll know that I am a big fan of full-fat coconut milk. It's just so delicious!
How do you make coconut lime popsicles?
You can use a blender to mix the 3 ingredients, but since there's nothing that you're really blending, you can also just whisk it all together by hand and use a measuring cup to pour the mix into the popsicle molds.
Whisk (or blend) everything together, then fill up the molds 3/4 full. If you're skipping the coconut topping, you can fill the pops right to the top.
Freeze the popsicles for 40 minutes before removing them from the freezer, adding the coconut topping and inserting the popsicle sticks. If you're skipping the topping, just pop in the sticks at this point.
Mix together the shredded coconut with maple syrup and melted coconut oil, and then top each filled mold with a tablespoon and a bit of the shredded coconut mix. Insert a popsicle stick and return the popsicles to the freezer for 4-5 hours.
Release the pops from the mold by running the plastic bottom portion under very hot water and pulling them out one by one.
Are these popsicles vegan?
Yes! Just another added bonus to this recipe. You can swap out the maple syrup for honey if you don't care about keeping this recipe vegan and that's all you have on hand. I use the two almost interchangeably at home.
How long do these popsicles keep?
Store them in the freezer for up to a month (or more) but since this recipe only makes 6 or so popsicles, you'll have no trouble polishing them off!!
I hope you get some hot summer weather to give you an opportunity to make this recipe. We have yet to have any really hot days, but either way we're still munching on popsicles!!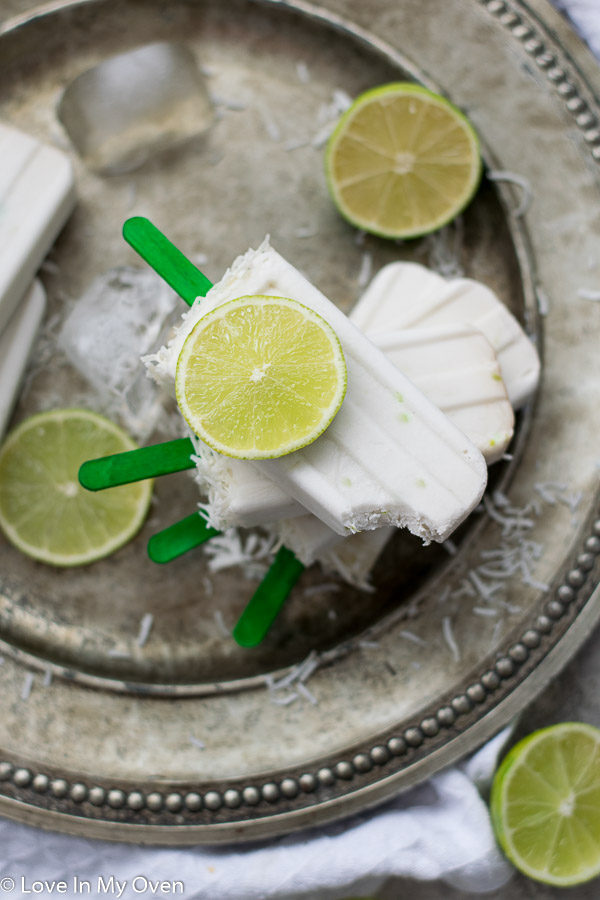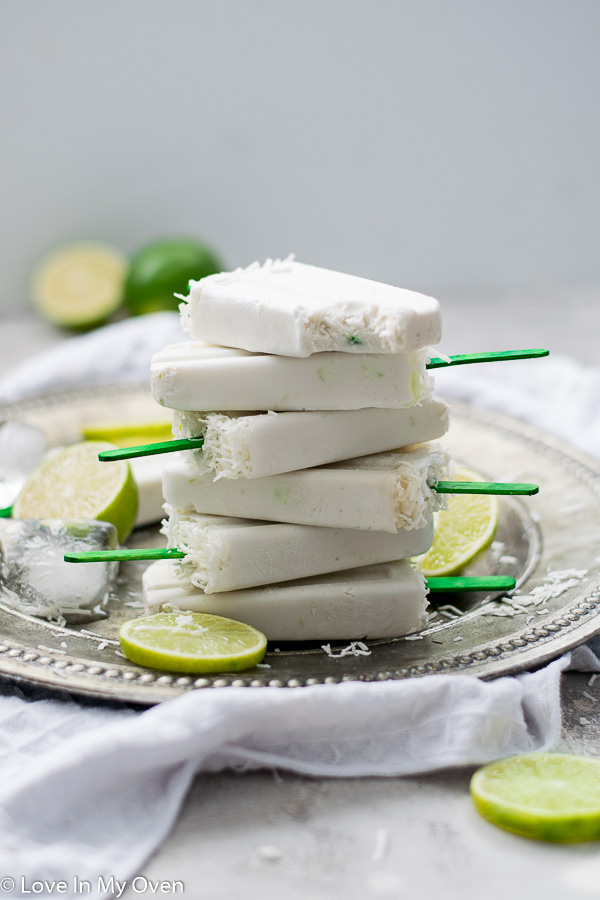 Some other popsicles and treats from the blog that you'll love:
Print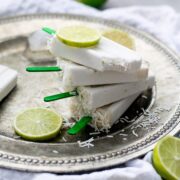 Coconut Lime Popsicles
---
Description
These coconut lime popsicles are only 3 ingredients and SO refreshing! You'll be making these sugar free lime popsicles weekly this summer!
---
1

can (400mL) coconut milk*

1

lime (zest + juice)

2 tbsp

maple syrup**
Optional Coconut Topping
1/3 cup

shredded unsweetened coconut

1 tbsp

coconut oil, melted

2 tsp

maple syrup
---
Instructions
In a blender or in a bowl with a whisk, mix together the coconut milk, lime juice and zest, and maple syrup. Pour the mixture into a popsicle mold, filling it about 3/4 full if you're planning to make the coconut topping. Fill to the top if foregoing the topping. Place the molds in the freezer for 40 minutes.
Remove the pops from the freezer. If you're not making the coconut topping, insert popsicle sticks into each popsicle mold and freeze for an additional 4-5 hours.
Optional Topping: Mix together the shredded coconut, melted coconut oil and maple syrup. After removing the popsicles after the initial 40 minutes of freezing time, top each popsicle with a tablespoon and a half of the shredded coconut mix. Insert a popsicle stick into each mold, and freeze the pops for an additional 4-5 hours.
To remove the popsicles from the mold, run hot water over the plastic part of the mold and gently lift the popsicles out. Enjoy immediately or place the popsicles in a freezer-safe bag for later.
Popsicles will last for up to 1 month in the freezer.
Notes
*I always use full-fat for a creamier popsicle but you can use low-fat too!
**Swap for honey if you'd like, but be sure to really whisk the honey in as it's thicker and stickier than syrup
Recipe Card powered by