A fancy French toast recipe for those special occasions or lazy Sundays. This easy French toast features thick, fluffy, cinnamon bread paired with Earl Grey whipped cream and an easy blueberry compote. If you're looking for a fancy French toast recipe, look no further!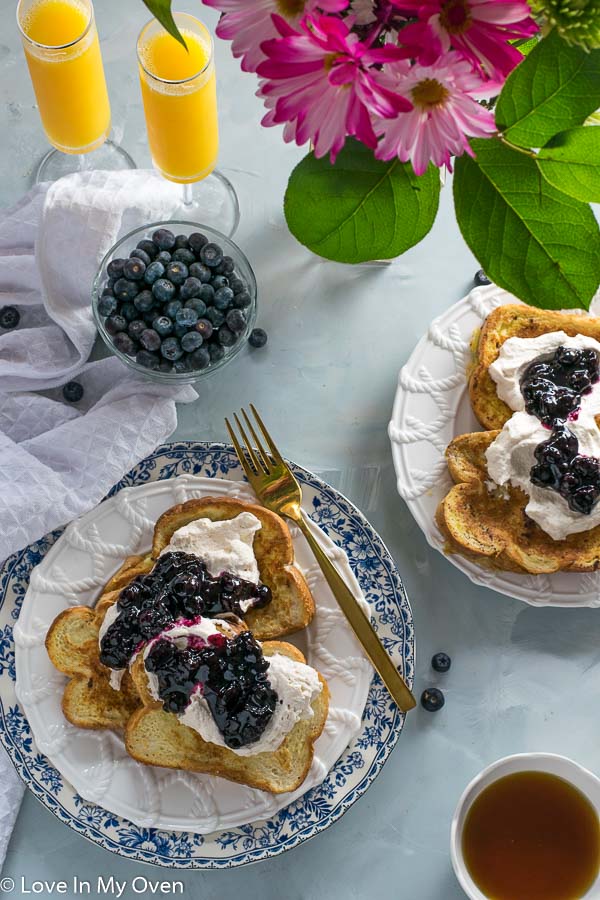 It's Mother's Day this weekend! When you guys think of a breakfast recipe for Mother's Day, what comes to mind? Other than seeing Mom in bed with her feet up, wearing a puffy housecoat and covered in warm blankets, being waited on hand and foot….wait, is that just me?
I feel like breakfast has to be something special, like a pile of pancakes with fresh fruit, a gourmet egg dish or…..a fancy French toast!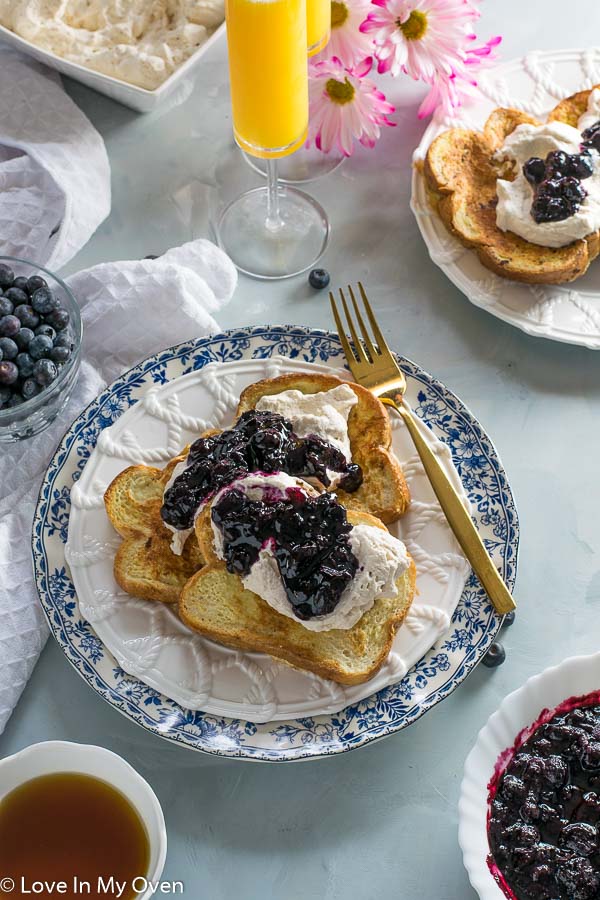 French toast is one of those brunch recipes that I seem to gravitate towards when I see it on a restaurant menu. When Etienne and I went to Australia a few years ago, one of our first breakfasts was a stuffed French toast with caramelized bananas. It was SO good. We still talk about it!
I make French toast quite often, since it's quick and easy and the kids love it. I thought it was time I tried a fancy French toast recipe!
I guess the "fancy" in this recipe mostly comes from the Earl Grey whipping cream, since thinking about it just automatically makes me want to eat this French toast with my pinky finger out.
The method for the flavored whipping cream is exactly the same as the one I use in my vanilla-bean rooibos bread. Which actually makes me think, vanilla-bean rooibos whipped cream would be SO good on this French toast too!
How do you make Earl Grey whipping cream?
Making Earl Grey whipping cream is beyond easy. You will want to prepare it a few hours before you start the French toast, or I suppose, overnight if you're planning breakfast for the next day! Heat up plain whipping cream in a small pot on a stove, over medium-heat until it starts to bubble. Remove it from the heat, add the tea bags, place the lid on and let it steep for 30 minutes. When it's done steeping, squeeze the bags gently to release more of the flavor, then discard. Refrigerate the cream until completely cool, and you're ready to whip it up!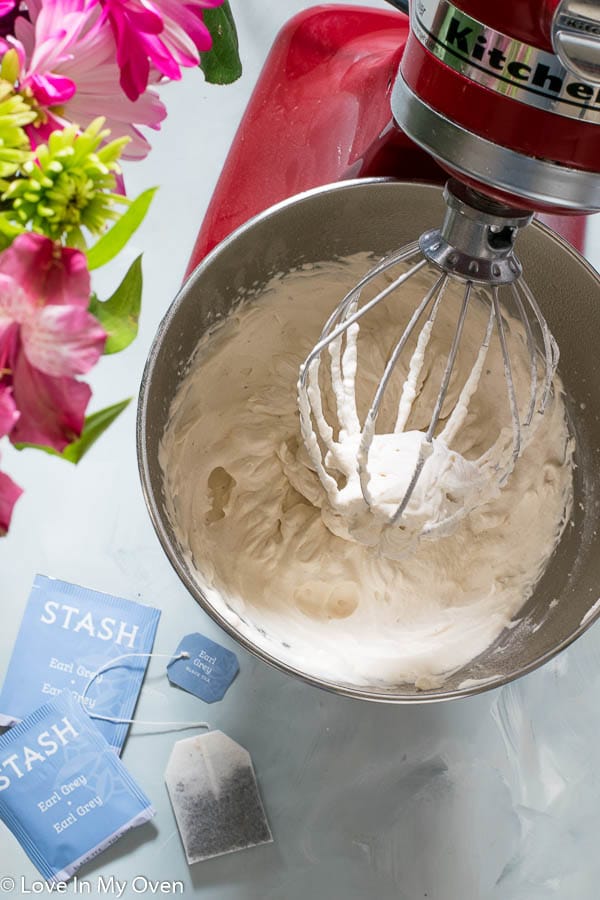 The rest of the fancy comes from the blueberry compote.
Have you ever tried your hand at blueberry compote? It may be a tricky thing to say…is it compOAT or compot-AY…? But it IS a simple thing to make, and adds so much flavour to pancakes, waffles or even ice cream. I've been known to mix it into my oatmeal too 😉
This is a great article on the difference between compote, jam and conserve.
How do you make blueberry compote?
Simple! You make blueberry compote by heating up blueberries on the stove to release their juices, and add in a bit of honey, water, and lemon juice for flavor until it starts simmering. Mash the blueberries a bit, and add a cornstarch slurry (optional) to thicken it up a bit.
Can you use make blueberry compote with frozen blueberries?
You can absolutely use frozen blueberries – in fact – I find them much juicier, so it's my favorite way to make blueberry compote! You can make the blueberry compote ahead of time, but I like to make it at the same time as I'm doing the French toast.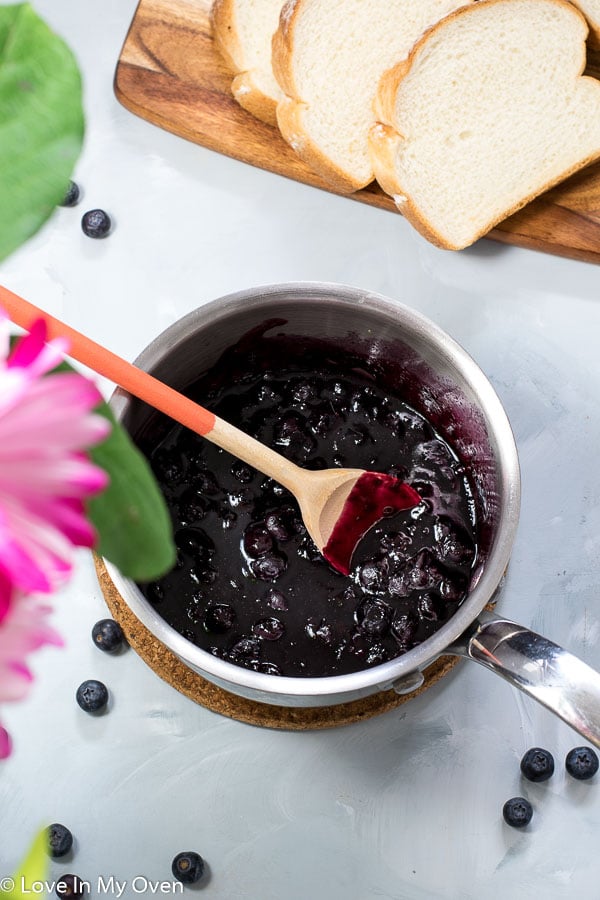 The French toast itself is super quick and easy. If I can find brioche or challah I love using it for French toast, but any thick-cut bread would work too. Look for an artisanal loaf at the bakery or grocery store!
My recipe makes about 12 pieces of toast, and the compote and whipped cream is proportional to that amount. If you'd like to half the recipe, you can either make the full amount of the whipped cream and compote and keep the extra, or half those amounts too!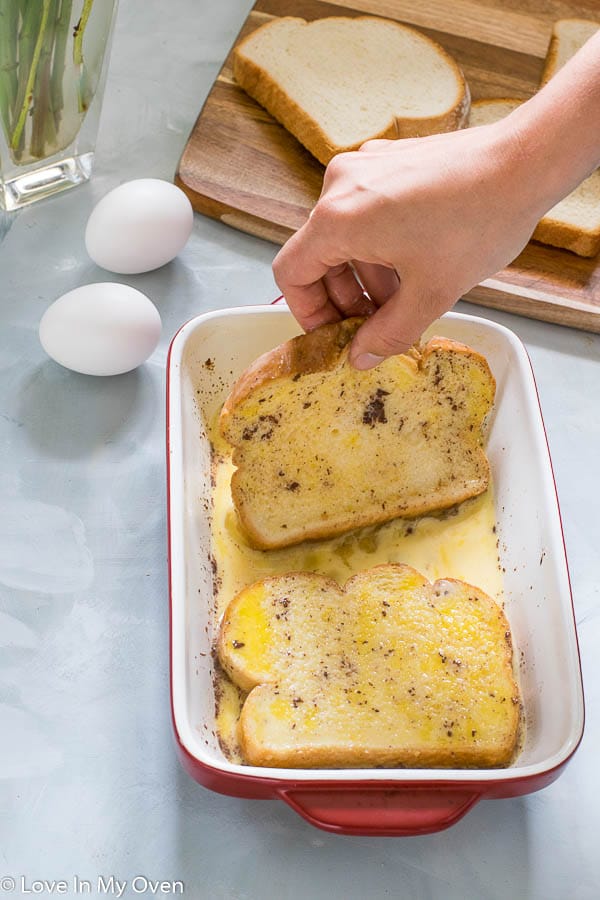 I hope you give this recipe a try the next time you're looking to make something a little special. A special time would be this Sunday. Mother's Day. Your Mom. She likes to be spoiled. Don't forget the mimosas. 😉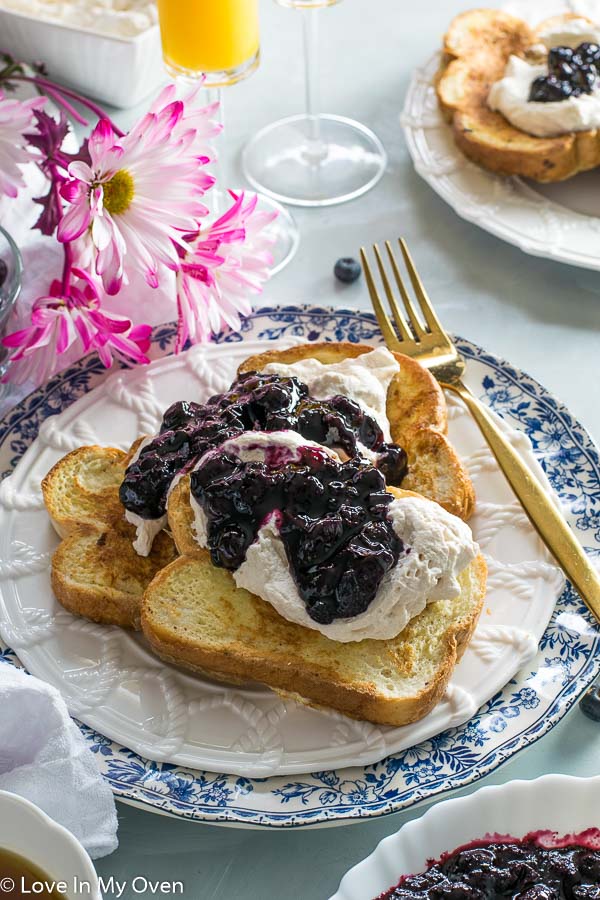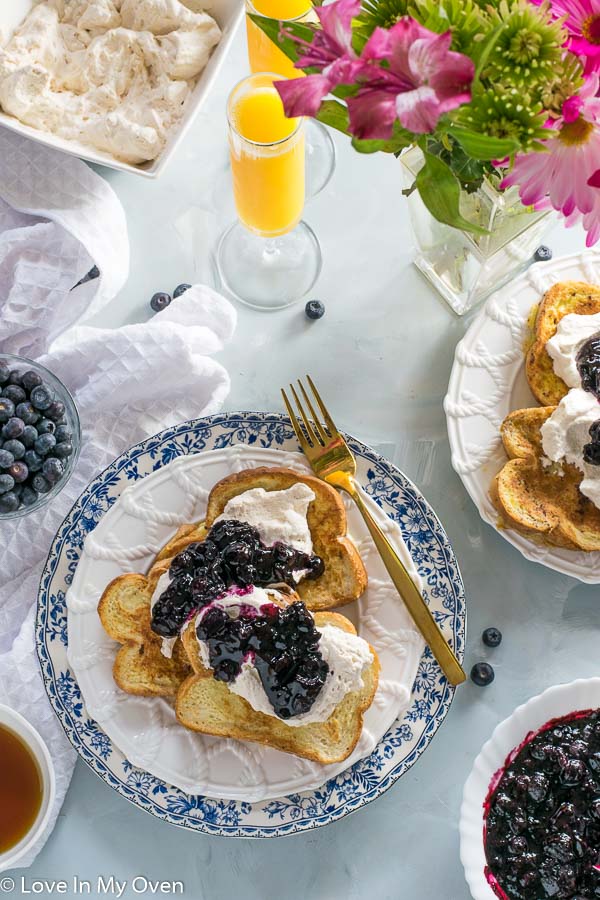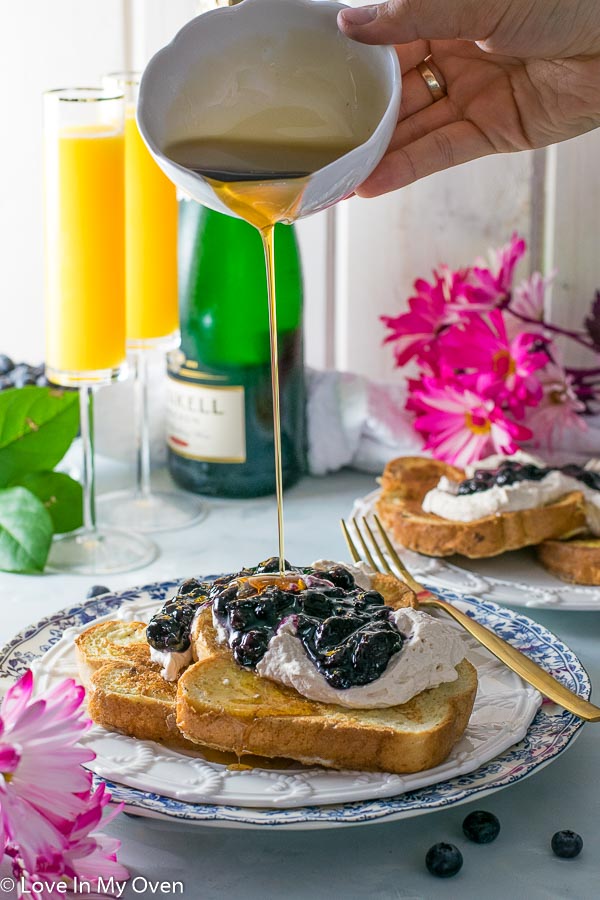 Need another fancy French toast recipe in your life?
Try my Nutella-pear baked French toast
Spoil Mom on the big day with some of these other recipes from the blog:
Chocolate and Raspberry Mousse
More Rise & Shine Breakfast Ideas
Finish off your Mother's Day with this beautiful cake from my friend Kirsten at This Celebrated Life.
Honey Cake with Peach Mascarpone
Print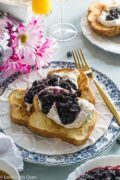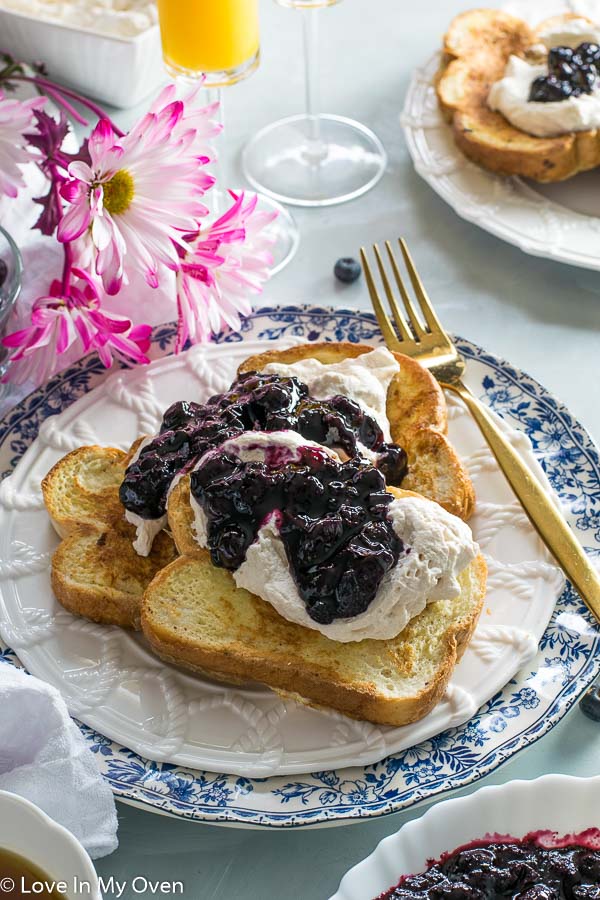 Earl Grey French Toast with Blueberry Compote
---
Author:

Total Time:

60 minutes

Yield:

12

slices

1

x
Description
A fancy French toast recipe for those special occasions or lazy Sundays. This easy French toast recipe features thick, fluffy, cinnamon bread paired with Earl Grey whipped cream and an easy blueberry compote. If you're looking for a fancy French toast recipe, look no further!
---
Earl Grey Whipped Cream
1 1/2 cups

heavy whipping cream (33-36%)

3

bags of Earl Grey tea

1/2 tsp

vanilla bean paste (or vanilla extract)

1/4 cup

powdered sugar
Blueberry Compote
2 cups

blueberries*

1/4 cup

water

2 tbsp

honey

1 tsp

lemon juice

1 tsp

cornstarch

1 tsp

water
French Toast
8

eggs

1/4 cup

whole milk

1/2 tsp

cinnamon

3 tbsp

unsalted butter, divided

12

–

1

" slices thick artisanal bread*
---
Instructions
Prepare the whipped cream. Beginning at least a couple of hours before you want to make the French toast, or the night before, pour the heavy cream into a medium saucepan on the stove and heat over medium-high heat unti just before boiling. Add the tea bags, place the lid on the pan and remove the pan from heat. Allow the tea to steep for about 30 minutes. When discarding the tea bags, gently squeeze them to release the flavoring into the cream first. Place the infused cream in the fridge, in an airtight container, until completely cooled*, about 2 hours. I often place the bowl and whisk attachment for the whipped cream in the fridge too, for that extra chill factor.
Make the whipped cream. In the bowl of a stand mixer fitted with the whisk attachment, or using a handheld mixer, whip the cream on high until it begins to thicken, about 2 minutes. Add the vanilla and powdered sugar and continue to whip on high until stiff peaks begin to form. Set aside.
Make the blueberry compote. In a medium saucepan over medium-high heat on the stove, add the blueberries along with the water (see notes). Once simmering, add the honey and lemon juice, and cook for about 10 minutes. In a small bowl, mix together the cornstarch and water to form a slurry and then add it to the mixture. Simmer for an additional 5 minutes or until thickened.
Make the French toast. In a wide, flat dish, whisk together the eggs, milk and cinnamon until combined. Heat a large frying pan over medium heat on the stove. Add 1 tbsp of butter, and stir it around once it melts to coat the pan. While the butter is melting, dip a slice of bread into the egg mixture, turning it to coat both sides. Place the slice of bread in the pan. You can add as many pieces side by side as you can fit. Cook the bread on one side for about 5 minutes, or until lightly browned. Flip and cook the other side for an additional 3-4 minutes. Remove the bread and keep warm in the oven, preheated to 250 F, or serve immediately. Repeat with the remaining butter and slices of French toast. Serve by plating the French toast, followed by the whipped cream on top and then the compote. Enjoy!
Extra whipped cream and compote can be kept in the fridge, in an airtight container, for 2-3 days. Extra French toast can either be frozen or kept in the fridge in an airtight container.
Notes
If using fresh blueberries, add 1/4 cup water to the pan. If using frozen, use 3 tbsp
This recipe would work for about 1 loaf of challah or brioche, cut into 1″ slices
Be sure not to try whipping the cream until it is COMPLETELY cooled, or it may not whip up! 
Prep Time:

30 minutes

Cook Time:

30 minutes
Recipe Card powered by