If you haven't tried puff pastry wrapped brie you are definitely missing out! This cranberry almond baked brie is an easy appetizer that's sure to impress your guests. It's a magical baked brie dish – it disappears!
I'm still alive! Barely (haha). This declaration is just a testament to the way I've been feeling since Saturday (and the reason why this is my only post this week). As most of you have read in my previous posts, my boys have been taking turns with the nastiest of flus/colds/whatever you want to call it for the better part of the past month. I thought I had escaped it, as nearly everyone had fully recovered….but no such luck!! It hit me like a 10 pound bag of bricks on Saturday night! Bang!
It's weeks like these that I am SO grateful for my husband's parents living so close, and being more than willing to step in and help out. The boys got some play time in with them, and I was able to forge a strong bond with my bed and trusty humidifier. I'm happy to say I'm finally on the mend! Phew. We've got to have a long stretch of healthiness in front of us now, right? Right!?
Either way, Christmas (and Thanksgiving for my 'Mericans) is fast approaching, and with it, all of the holiday related gatherings that require company-friendly foods! I've been seeing all sorts of great appetizers, cheese boards and platters popping up all over the web, so I knew I had to post about one of my own personal favourites.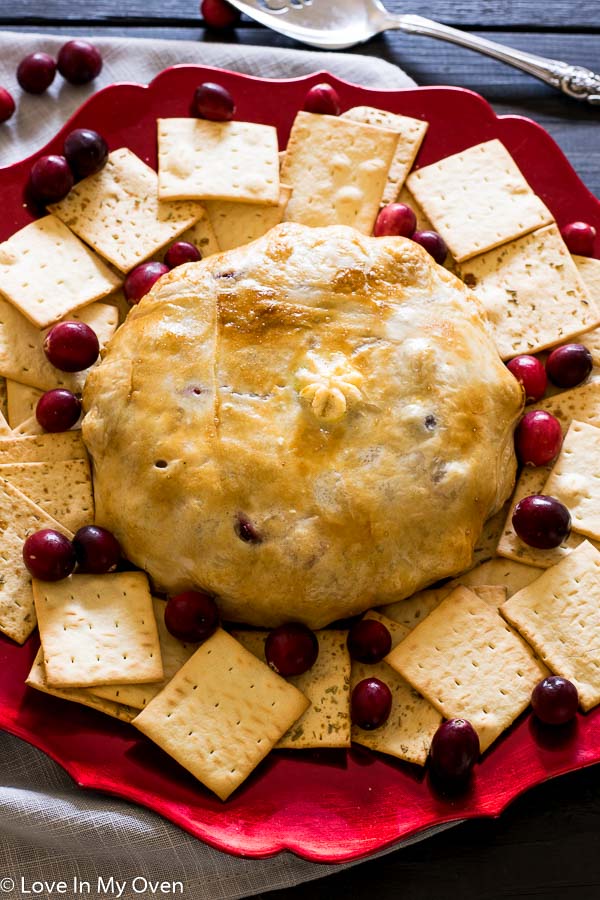 Is puff pastry wrapped brie easy to make?
The first time I had a pasty-covered wheel of cheese was at a girlfriend's house, back in Uni. I was helping her prepare some snacks for a group of people coming over, and I watched in awe as she quickly prepared this amazing appy like she'd done it a million times before. It's likely she had, since discovering the dish I can't even remember how many times I've made it myself, with a few adjustments, of course 😉
So yes, it's the easiest recipe ever, yet elegant and impressive for your guests. You just need to pick up a wheel of brie (or camembert), a box of puff pastry, and whatever you'd like as a filling. The cranberry and almond mixture is my favourite thing to add during this time of year. Can't stop, won't stop with the cranberries!!
Since the puff pastry is purchased frozen, you'll want to leave at least 3-4 hours prep time to allow the pastry to thaw before preparing the dish. Use some of that time to chop up your berries and mix it with your almonds! Once thawed, roll out your pastry, place the mixture in the middle, and place the wheel of cheese directly on top.
Do you remove the rind from brie before baking?
You can remove the rind, but I never do. I find that when the brie is baked, you don't even notice the rind! It may even add another element of texture and flavor to the dish.
Once the cheese is in the middle, fold up the edges of the pastry to completely cover the brie, then swiftly flip it over onto a baking sheet.
You'll want to brush the pastry with an egg yolk/water mixture to add that beautiful colour and shine! The pastry only takes 20-25 minutes to bake to perfection, so you can easily time it with the arrival of your guests. OR – pop it in the oven as soon as everyone arrives.
I serve my baked brie with lightly flavoured crackers spread out on a platter. Leave a serving knife next to the tray so guests can continue to cut into the pastry and continue the flow of ooey-gooey melted cheese!!
Do you have to use cranberries?
I think the tart cranberries act as the perfect compliment to the soft brie cheese, but feel free to change up the cranberry/almond mixture with something else – just be sure to limit it to about 1/3 cup!
Can you freeze baked brie in puff pastry?
Yes! Making this ahead of time will save you a ton of time. Prepare all of the steps right before brushing the pastry with egg wash. Wrap the pastry tightly in plastic wrap and freeze for up to 2 months. When you're ready to serve the brie, bake it right from frozen for 45-50 minutes, brushing with the egg wash first.
My first holiday gathering is coming up in just over a week, so I best be feeling back to my old self by then!! A serving of this baked brie is definitely on the menu!!
Cheers, friends!
Additional appetizers for you to delight your guests with:
Print
Cranberry Almond Baked Brie
---
Author:

Total Time:

40 minutes

Yield:

8

-

10

servings

1

x
Description
Creamy brie topped with almonds and tart cranberries, all wrapped up in a puff pastry and baked until warm and gooey.
---
1

sheet frozen puff pastry, thawed

1/4 cup

fresh cranberries, chopped

2 tbsp

slivered almonds

1 tbsp

maple syrup

1

–

9

oz wheel of brie (or camembert)

1

egg yolk +

1 tbsp

water
crackers, for serving
---
Instructions
Preheat the oven to 425 F and place a sheet of parchment paper or a silicone baking mat on top of a baking sheet.
On a lightly floured surface, roll out the thawed puff pastry into a rough 11-12″ square.
In a small dish, combine the almonds and cranberries together with the maple syrup. Place the mixture directly in the middle of the thawed puff pastry. Place the wheel of brie on top of the mixture. Grab the edges of the remaining pastry and fold over and on top of the brie, pinching the ends together a bit to keep it sealed. Slide your hands under the bottom of the pastry, and swiftly flip the brie/pastry onto the prepared baking sheet.
Using a pastry brush, gently brush the egg yolk and water mixture all over the pastry. Place the brie in the oven and bake for 20-24 minutes, or until the pastry has turned a dark golden shade.
Allow the baked brie to cool for a few minutes before transferring it to a serving platter. Surround the brie with assorted crackers (or apples)! Create a cut in the pastry just before serving to allow the cheese to ooze out for dipping. Yum!
Any leftovers can be kept in a sealed container in the fridge for 3-4 days, and reheated in the oven at 275 until the cheese begins to melt.
Notes
Replace the cranberry/almond mixture with a different combination but keep it to 1/3 cup. I've also just used raspberry jam and it was delicious!
Prep Time:

15 minutes

Cook Time:

25 minutes

Category:

appetizers

Method:

baked
Keywords: brie with cranberries and almonds // baked brie with cranberries puff pastry
Recipe Card powered by