Love store-bought cinnamon apple chips? Save money with these super easy air fryer apple chips! They're such a great snack with only 2 ingredients!
I'm BACK!
Did you miss me? I took a much needed break from the blog from Christmas Day until today and it was wonderful. Not that I don't love blogging, but it can be a lot of work! It can feel like a 24/7 job when you're always feeling the pressure to be on social media and sharing stories and answering comments. But a little break can do wonders for a person and I'm feeling much more refreshed! You'll even find a post on Instagram again 😉
I'm coming at you hard today with not only a brand new recipe, but a 2-ingredient one at that, as well as an air fryer recipe! I only have a few other air fryer recipes on the site, but I was thinking that there may be a few more people looking for air fryer recipes after Christmas!
These air fryer apple chips are a perfect way to break in that new appliance you might have received. They're simple, easy and take very little time. Plus they're a delicious, nutritious snack!

Can you put fruit in an air fryer?
It may not be what first comes to mind when you think of what to put in your air fryer, but there are a number of ways you can air fry your fruit! If you're slicing things thinly, like for these cinnamon apple chips, you'll end up with a crispy snack. If you keep things on the thicker side, the fruit will cook up nice and juicy with a bit of a crispy outside. Think warm and soft pineapples, pears, or strawberries.
How do you make air fryer apple chips?
Start by slicing your apple(s). Since you don't want to crowd your air fryer basket, start with just 1 or 2 apples sliced. I like to use my mandolin to get the slices thin and even. This is the one
I have.
If you don't have a mandolin or a food processor with a blade attachment, just use a sharp paring knife and be very careful to cut the slices about 1/8″ thick.
Once sliced, preheat the air fryer to 325 F. I tried a couple of different temperatures when I was testing these apple chips, and I found that anything higher than 325 F just burned the chips quickly, and anything lower took way too long. 325 is the magical temperature!
As soon as the air fryer is heated, dust some cinnamon over the apples and then place in the air fryer basket, trying your best to keep them from overlapping too much. You may only be able to fit a few at a time; as you can see I was able to fit 9! The cooking process is quite quick, so you can still do a fair number of apples in a short amount of time.
Cook the apples for 10 minutes in total, or until they're as crispy as you want. Be sure to stop the cooking process 2-3 times throughout, and flip the slices, flattening them as much as you can. I like to use mini tongs to do this!
If you notice the apple chips getting crispier than you'd like, either remove them from the air fryer or rotate/flip them more often. When I removed mine from the air fryer at 10 minutes, they were still slightly soft but they crisp up even more after you set them out at room temperature!
Remove the apples to a plate or serving dish and repeat with remaining apple slices.
Eat and enjoy!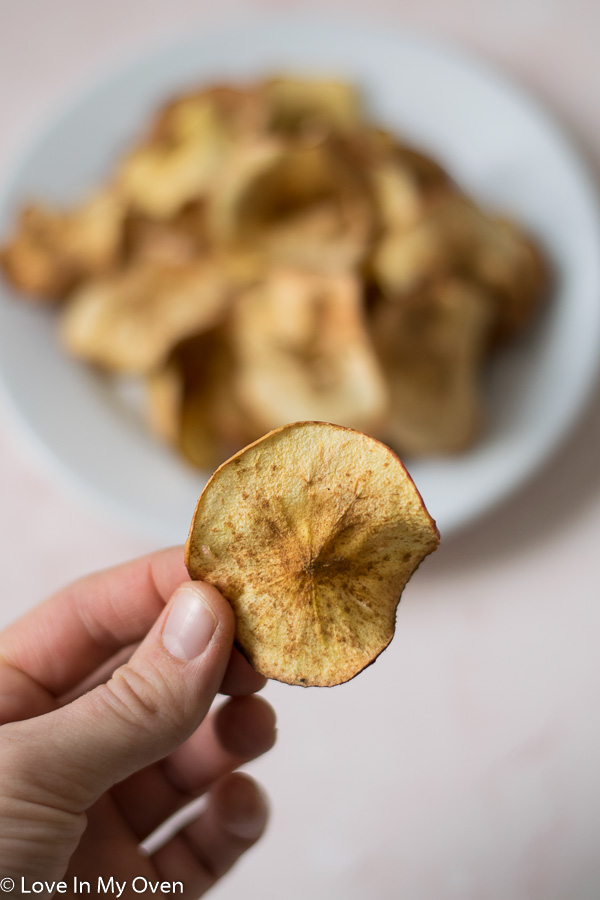 What kind of apples should I use for apple chips?
You can use your favorite apple, or any apple you find on sale. I like some that are slightly tart, such as the pink lady apples. You can often find gala apples on sale and these work well too!!
How long do air fryer apple chips last?
Unfortunately I can't be TOO helpful because we keep devouring our apples within 10 minutes after eating them, BUT I did keep a batch out for a few days and they were still delicious! They may lose a bit of crispness but they'll still be a great snack.
Well, here's hoping that you all had a happy, restful break and that 2021 is going to be much, MUCH better than 2020. I mean, how can it not be!? 😉
Cheers!
Some other air fryer snack recipes as well as a couple delicious apple recipes!
Print
Air Fryer Apple Chips
---
Author:

Total Time:

15 minutes

Yield:

2 cups

apple chips

1

x
Description
Love store-bought cinnamon apple chips? Save money with these super easy air fryer apple chips! They're such a great snack with only 2 ingredients!
---
1

apple*

1/2 tsp

ground cinnamon
---
Instructions
Preheat the air fryer to 325 F. Using a mandolin, slice the apple into 1/8″ thick slices. You do not have to remove the core unless you want to, but do remove the seeds! If you don't have a mandolin or a food processor that can evenly slice the apples, use a sharp paring knife to carefully slice the apple.
Once preheated, place the apples in the air fryer basket, ensuring that there is minimal overlap of the slices. Sprinkle the slices evenly with the cinnamon, and close the air fryer basket. Cook the apple slices for 10 minutes in total, pausing the cooking process roughly every 3 minutes to flip the apple slices over, pressing them down as much as possible. If you notice some slices getting crispy too quickly, change their position in the basket to the middle. Stop cooking the apple slices when they're sufficiently crispy for you!
Remove the slices to a plate or serving bowl and allow to cool completely before enjoying (or enjoy them while still warm).
Leftover apples will keep at room temperature in an airtight container or plastic zip-top bag for up to 1 week. They will get softer over time!
Notes
*As per the post, you can use any time of apple you want to use (or multiply this recipe by the number of apples you want to use). I have best luck with gala or pink lady apples!
Prep Time:

5 minutes

Cook Time:

10 minutes

Category:

snacks

Method:

air fryer

Cuisine:

american
Keywords: air fryer apple chips // air fryer snacks // apple cinnamon chips // apple chips
Recipe Card powered by