Add a little spice, a few crunchy walnuts and you've got yourself one heck of an orange zucchini bread! An amazing way to use up fresh zucchini, try this orange zucchini bread recipe today!
Tell me the truth. Zucchini bread lover or hater? I mean, it is a green VEGGIE inside something presuming to be sweet and delicious. I kinda get it if you don't like it. But, I have to say, I'm happily camped out on the LOVE side. I grew up with zucchini bread! It was pretty much the only way I liked zucchini. I can distinctly remember my parents trying to force me to eat fried zucchini and me gagging on every bite!
My kids are unfortunately not lovers of zucchini yet either, but I'm confident they'll come around; however, they DO love zucchini in baked goods! Hooray!
This orange zucchini bread is delicately spiced, scattered with walnuts and finished off with an orange-zested glaze. It's a perfect treat for afternoon tea! Since I recipe tested this one SO many times, we actually ended up eating a lot of it as French toast. Highly recommended.

How much zucchini do you need for orange zucchini bread?
This particular recipe uses about 1 medium zucchini, or enough for about 2 cups of shredded (and squeezed) zucchini. I find that the larger my zucchini, the more moisture is trapped inside and the more squeezing I have to do! Some of the monsters from my plant outside are FULL of water!
Other than the zucchini, you need 1 large orange. I've put juice and zest in the loaf, and in the glaze as well! Don't worry, the orange is still subtle and not overpowering!
I use brown sugar in the recipe, but I've also tried this with coconut sugar, as well as date sugar and both were delicious. The date sugar was given to me by Liva Foods (this is not sponsored). It's a great refined sugar-free option for baking! I like it a lot.
How long do you bake the zucchini bread for?
So, once you've got all of your ingredients together, you'll bake the loaf for about 45 minutes. Every oven is different, so I usually recommend starting with 45 and then using a toothpick to check. If it comes out fairly wet, tack on another 5 minutes of bake time and check again. You want that toothpick to come out nice and clean so the middle doesn't sink in too much!
As hard as it will be not to cut into this loaf the minute it comes out of the oven, you'll want it to be completely cooled before you top it with the glaze, or it will just melt all into the bread.
The glaze is SO good!! I want to put it on everything. Orange zest and orange juice. So flavourful!
After pouring the glaze on the loaf, let it set for about 10 minutes before slicing and serving.
You can keep the bread at room temperature for 2-3 days (if it lasts that long) but I like to keep it in the fridge. It lasts a bit longer, 4-5 days, plus the glaze hardens a bit! I find this extra delicious!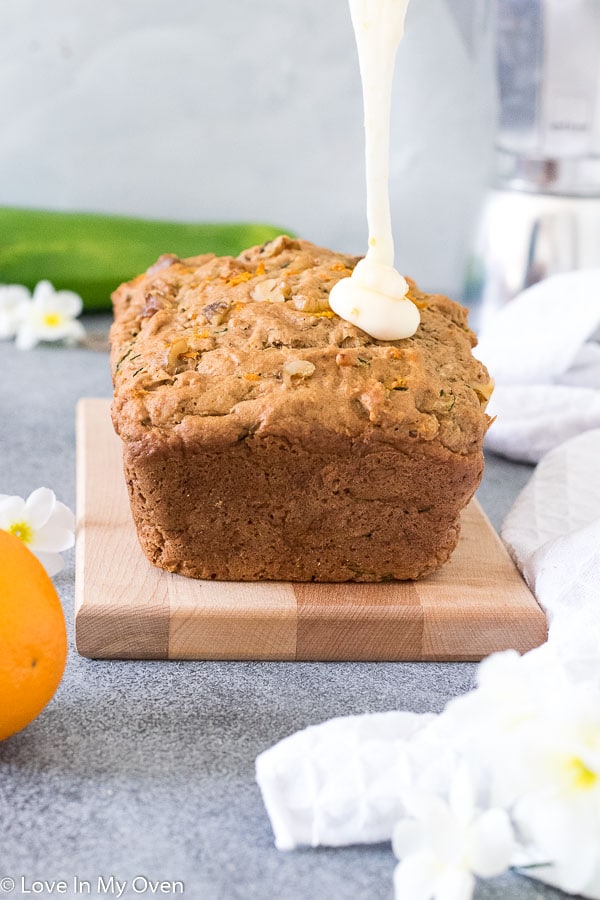 As I mentioned earlier, this bread is SO good as French toast. Just dip the un-glazed slices in an egg and milk mixture and fry until golden brown on the outsides, and serve with a bit of maple syrup!
So good.
I've been pulling monsterous zucchini from my garden (and by garden, I really mean my 2 zucchini plants), so I'll be making this bread and freezing a few for those cold winter days! Does anyone else love batch baking and freezing!? It's really the only type of freezer prep I do.
Happy weekend guys!
Zucchini!! Here's a few of my fave zucchini recipes:
And you can find a few other breads and loaves here!
Print
Orange Zucchini Bread
---
Author:

Total Time:

1 hour 10 minutes
Description
Add a little spice, a few crunchy walnuts and you've got yourself one heck of an orange zucchini bread! An amazing way to use up fresh zucchini, try this orange zucchini bread recipe today!
---
1 3/4 cup

all-purpose flour

2 tsp

baking powder

1 tsp

baking soda

1 tsp

cinnamon

1/2 tsp

nutmeg

1/2 tsp

ground ginger

1 tsp

all spice

1/4 tsp

salt

1/2 cup

unsalted butter, melted

2/3 cup

packed brown sugar*
juice of

1/2

large orange (~

1/4 cup

)

2

eggs, room temperature

2 cups

grated zucchini, squeezed of liquid

2 tsp

grated orange rind

1/3 cup

milk**

1 cup

chopped walnuts
Orange Glaze
2 cups

powdered sugar
juice and zest of 1/2 large orange (~1/4 cup)

2

–

3

tbsp heavy cream
---
Instructions
Preheat the oven to 350 F and line a standard sized loaf pan with parchment paper. In a large bowl, sift together the flour, baking powder, baking soda, cinnamon, nutmeg, ground ginger, all spice and salt. Whisk to combine.
In another bowl, whisk together the melted butter and brown sugar until the sugar is dissolved. Add the orange juice and eggs, and whisk. Add the milk and stir, followed by the grated zucchini and orange rind. Make a well in the center of the dry ingredients and pour the wet ingredients into the middle. Add the walnuts, and stir just until combined. Do not overmix! Empty the batter into the prepared loaf pan, and bake for 40-45 minutes or until a toothpick inserted in the center comes out clean. Remove the pan from the oven and allow to cool for 10 minutes in the pan before removing to a wire rack to cool completely.
Prepare the glaze. In a medium mixing bowl, stir together the powdered sugar, juice and zest. Add the cream, 1 tbsp at a time until the glaze is smooth but still fairly thick. Drizzle the glaze all over the cooled loaf. Serve immediately!
I store the leftovers in the fridge, in order to prevent the glaze from melting into the loaf. If storing at room temperature, keep the loaf in an airtight container for 2-3 days. Loaves can be frozen (preferably pre-glazed) for 2 months.
Notes
*As per the blog post above, I also used date sugar in the loaf and it was delicious.
**I used 1% milk but you can substitute with almond milk or other dairy-free milk
Prep Time:

20 minutes

Cook Time:

50 minutes
Keywords: orange zucchini bread // zucchini loaf // orange zucchini bread recipe
Recipe Card powered by