Once you try this grilled pork souvlaki with tzatziki recipe, it'll be on repeat all summer long. The souvlaki skewers and easy tzatziki can be prepped a whole day in advance, making meal prep a breeze!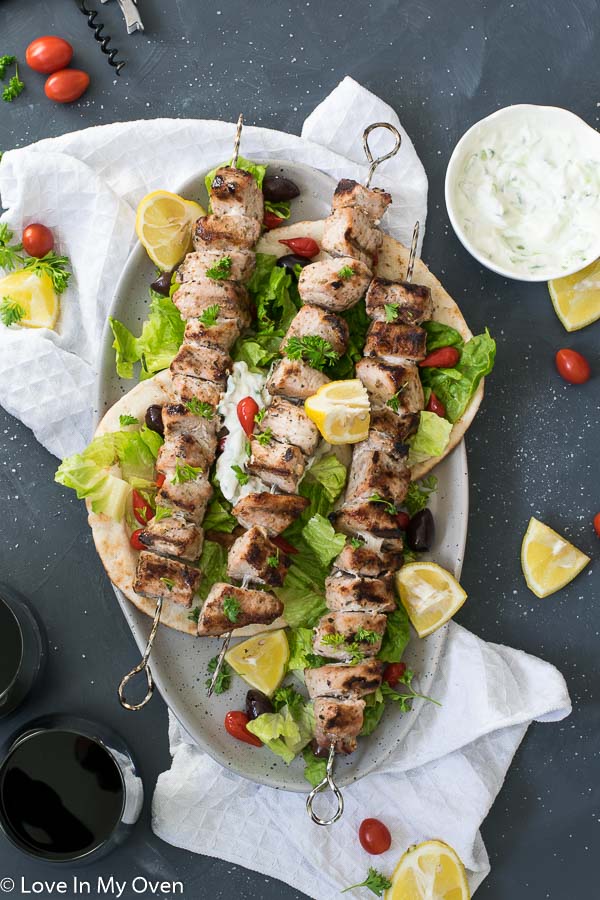 This post contains affiliate links that may earn me a small commission, at no cost to you. Thank you for supporting the brands that make this blog possible!
Have you planned out your Father's Day menu yet? If you're anything like me, you probably haven't. Maybe you've thought about it, but there hasn't been any real planning involved. And so, are the days of my life.
Anyway, if you're still in a bind, let me tell you, these grilled pork souvlaki skewers might just be your saving grace. We don't eat a ton of pork at our house, but when we do, we want it to be flavourful, juicy and easy. I'm guessing you can see where I'm going with this? Enter this easy grilled pork souvlaki recipe!!
My Greek chicken kebabs seemed to be pretty popular with you all, so I thought I should follow that one up with another delicious Greek dish.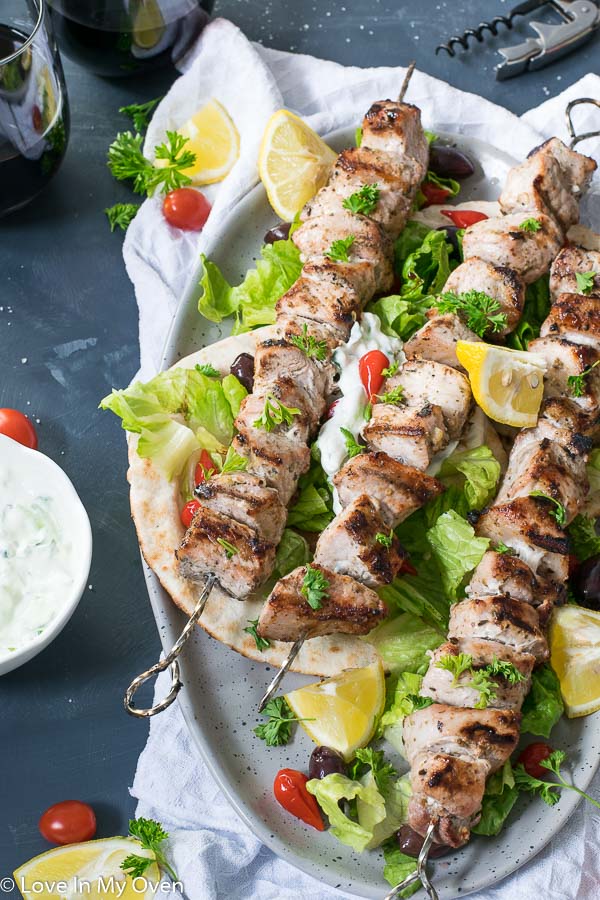 Greek food makes me think of Etienne and I's first proper date. Funny thing is, it wasn't proper at all. I was supposed to meet him at his house, so I arrived promptly at oh, say 7. No answer at the door. No answer on his phone. I waited for about 15 minutes, getting more and more ticked off as the minutes flew by.
As I drove home, he called. He had taken a nap and his alarm didn't wake him. Could I come back?
Ok, ok. I came back. We hopped in his car and he took me to the restaurant he had made a reservation at….only…the place he had reserved was actually in Toronto (we're in Calgary). The Calgary branch had no open space for us. Srsly!?
Eventually, we drove to a shady looking Greek place and ended up having the most amazing meal. Date disaster, avoided! Somewhat. I ended up marrying him so it couldn't have been THAT bad right?!
The food at the Greek restaurant was phenomenal. I can't remember what we had, but I know it was awesome. Maybe that's even where my love affair for Greek food started!?
This grilled pork souvlaki starts with a super simple marinade, using the basics. Red wine vinegar, lemon, olive oil and a bit of herbs. You will want to marinate the pork at LEAST 2 hours, but preferably overnight. Pssst – this makes it REALLY easy to prep the night before!
What is grilled pork souvlaki made of?
Souvlaki is just the Greek version of a kebab; meat that has been marinated with oil and lemon. Pork is the traditional meat used for souvlaki in Greece, but lamb and chicken is fairly popular too.
What is the difference between souvlaki and kebabs?
To be honest, from what I can tell, there isn't much of a difference. It seems that souvlaki is basically marinated chunks of meat on a skewer, while a kebab often contains vegetables along with the meat!
Take the marinated meat out of the fridge about an hour before grilling. Thread them onto skewers, being sure to soak your wooden skewers in water for at least 30 minutes prior to threading.
The skewers take about 5 minutes per side on the grill, so they're super fast! I like to use the top rack, since I find it cooks the meat nice and evenly with no scorched spots – you know your grill best, though! I love using our new ThermoWorks Thermapen to check the temperature. So many fun colours to choose from, too!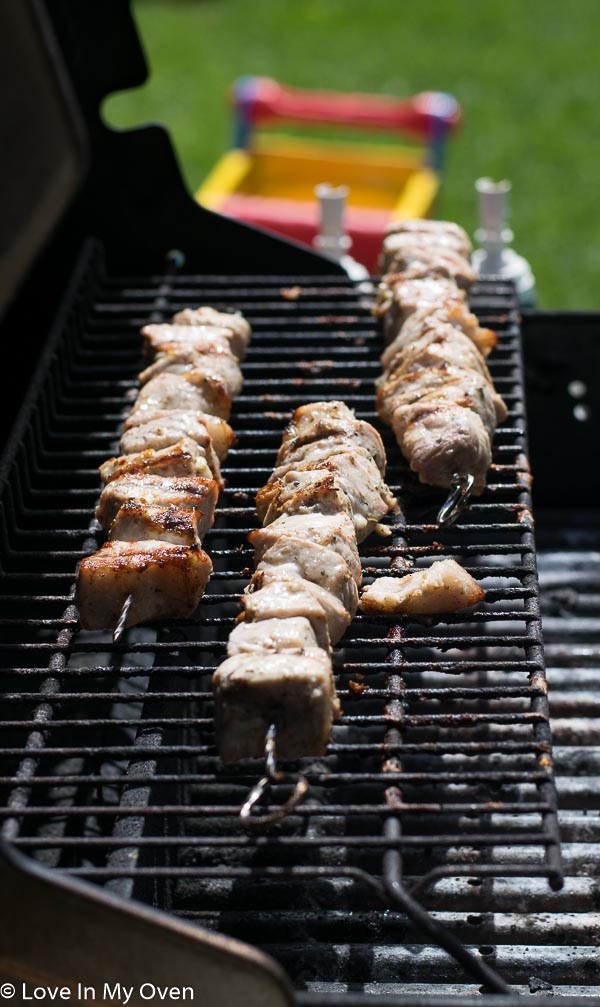 I serve the souvlaki with my homemade tzatziki using sour cream, the same recipe from my chicken skewers. You can even make the tzatziki the night before, for a REALLY easy dinner to throw together the night of!
Fresh pita is a MUST, too. If you want to try your hand at your own, I love this recipe from my pal Marissa at Pinch and Swirl.
The end result of this meal is a quick 'n easy dinner that your family will love. Don't forget the red wine!
PS – Happy Father's Day weekend ❤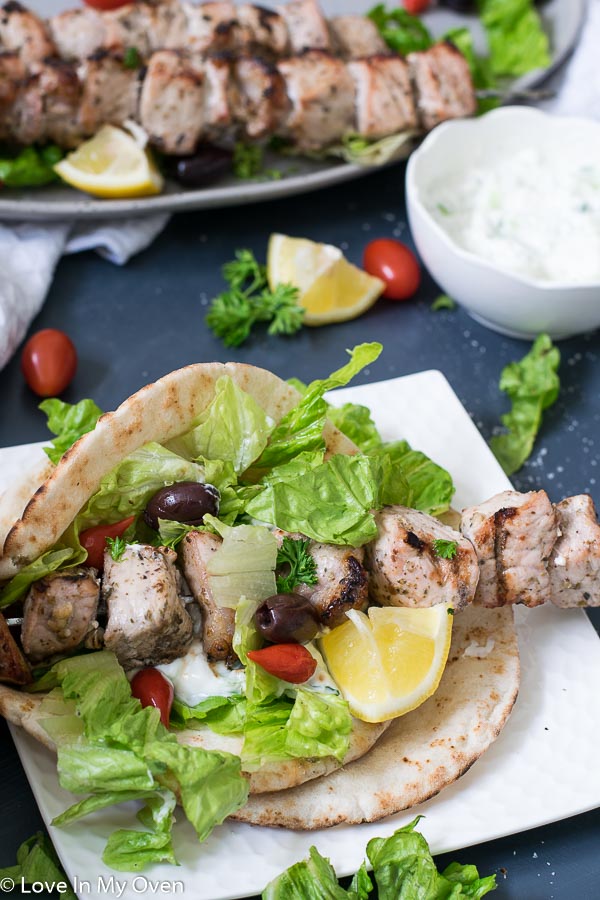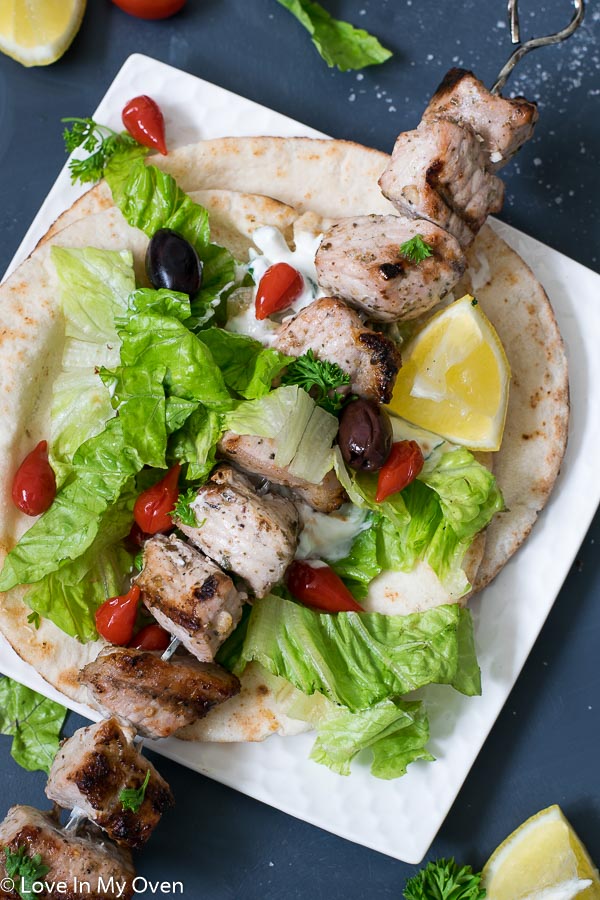 I've got more summer dish inspiration here, including:
And don't forget dessert for Dad!
Print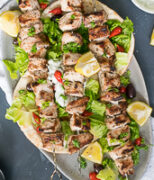 Grilled Pork Souvlaki
---
Author:

Total Time:

3 hours
Description
Easy, flavourful grilled pork souvlaki with an even easier tzatziki recipe! Prep the recipe the day before to make dinner the next day a breeze! 
---
Pork and Marinade
1

lemon (juice)

4

cloves garlic, minced

2 tbsp

olive oil

2 tbsp

red wine vinegar

1 tbsp

oregano
dash of salt and pepper

1 1/2

lbs pork tenderloin/shoulder, cut into

1

" cubes
Tzatziki Sauce
1 cup

plain, full-fat Greek yogurt

1

medium cucumber, grated*

2

cloves garlic, minced

1 tbsp

fresh dill, chopped finely (or

1 tsp

dried)

1 tbsp

fresh parsely, chopped finely (or

1 tsp

dried)

1 tbsp

fresh lemon juice
salt and pepper, to taste
optional: pita, shredded lettuce, for serving
---
Instructions
Prepare the marinade. Combine all of the marinade ingredients in a large resealable bag or container and add the cubed pork. Toss to coat and place the pork in the fridge, at least 2 hours prior to grilling**.
About 30 minutes to an hour before grilling, soak your wooden skewers (if using) in water. This recipe will require about 4 skewers.
Prepare the tzatziki sauce. In a small bowl, whisk together the yogurt, grated cucumber, garlic, dill, parsley and lemon juice. Taste, and add a dash of salt and pepper to taste. Refrigerate until ready to serve.
Grill the pork. Preheat your grill to medium-high heat. Remove the pork from the bag, and discard the remaining marinade. Thread the pieces of pork onto the skewers. Brush the grill lightly with oil (I use a soaked paper towel) then place the skewers on the grill***, cooking them for about 4-5 minutes on each side (turning once) until browned and cooked through, to 145 F. Remove the skewers to a plate.
To serve, place a warmed pita on each plate, followed by 1-2 souvlaki skewers, and drizzle the tzatziki sauce all over. Squeeze some fresh lemon juice all over the dish for added taste!
Leftover souvlaki can be kept in the fridge for 2-3 days, in an airtight container. The tzatziki sauce will last in the fridge for about 4-5 days.
Notes
*I use the large hole on my box grater to grate my cucumber. There is no need to de-seed your cucumber!
**You can marinate this meat for up to 24 hours! I would highly recommend at least 2 hours.
***As per my blog post above, I like to use the top rack of my BBQ for these skewers; but you know your grill best!
Prep Time:

30

Cook Time:

15
Keywords: souvlaki, grilled souvlaki skewers, grilled pork souvlaki
Recipe Card powered by