This iconic Canadian tiger tail ice cream recipe is NO-CHURN so it can be made without an ice cream machine! You'll love the orange ice cream mixed with black licorice. Don't let another summer go by without trying this no-churn tiger tail recipe!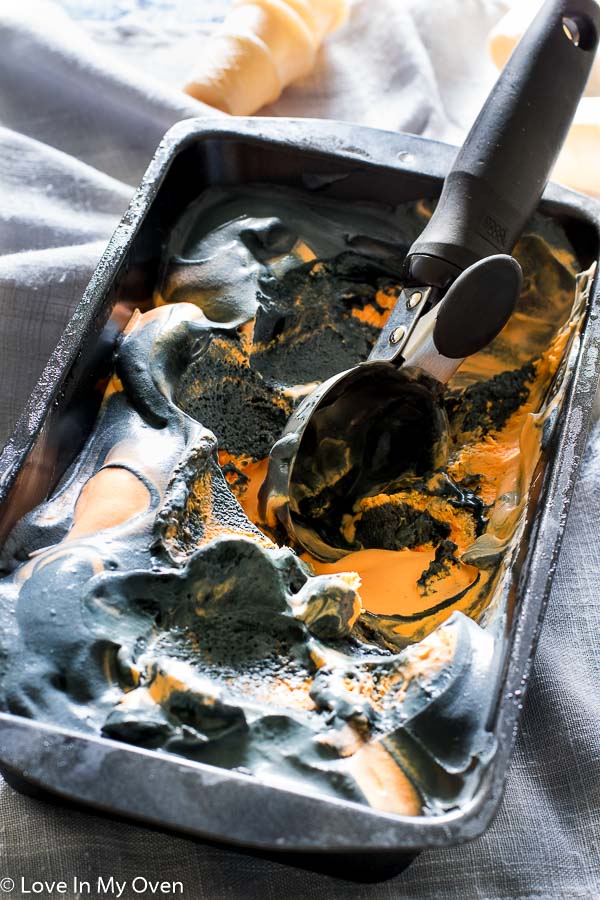 This post contains affiliate links that may earn me a small commission, at no additional cost to you. All opinions and recommendations are mine.
HAPPY HALLOWEEN!! I'm so glad my usual day to post something new landed on this spooktacular holiday. Obviously, I had to do something Halloween-themed. You wouldn't typically think of tiger-tail ice cream when you think of Halloween – but – it's orange and black, so to me, it fit right in.
I've always been a big fan of tiger-tail, although I think it might be one of those flavours that you either HATE or LOVE. It really comes down to whether you're in the black licorice camp or not. I've always been that weird kid who preferred black to red licorice, and would get pretty excited about my grandparents' bowl of licorice allsorts.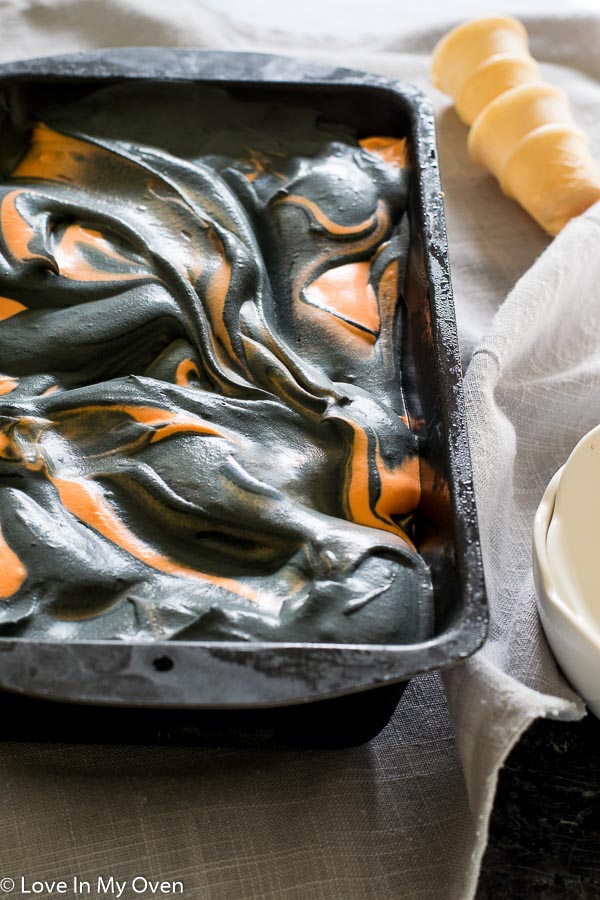 The licorice flavour in this no-churn ice cream (that's right – NO-CHURN!!!) is thanks to pure star anise extract. It has a strong licorice flavour and you can buy it at almost any grocery store in the bakery aisle. The complementary orange flavour? Pure orange extract, of course. Also in the bakery aisle!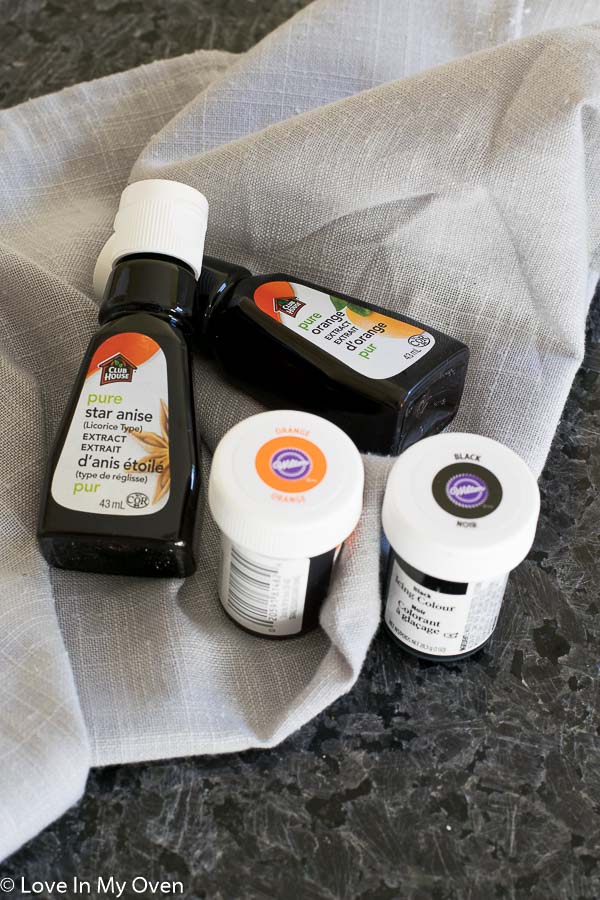 To achieve that signature orange and black colouring, I used a few drops of gel colour from Wilton's line. I find gel colours are so much easier to use when you're trying to get a strong shade without an entire bottle of food colouring! The gel also incorporates into icings and (ice cream) very well, without making it too runny. I really should have listened to my own advice when I tried to make Oscar a red fire truck cake and ended up with a hot pink one. I highly, highly recommend using gel colouring for this recipe!
I love these Wilton Gel-Based Food Colors
.
No-churn ice cream couldn't be easier to make!! This will be my second ice cream post on the blog, the first being that delightful roasted strawberry-rhubarb recipe from the summer….aaah…summer.
BUT – just because it isn't summer, it doesn't mean you can't indulge on the cold creamy stuff! Especially when it's this easy to make. Whip up some cream, fold in condensed milk, freeze, and voila! Ice cream. Of course, if you want tiger-tail, you'll need to add in the colours and flavours 😉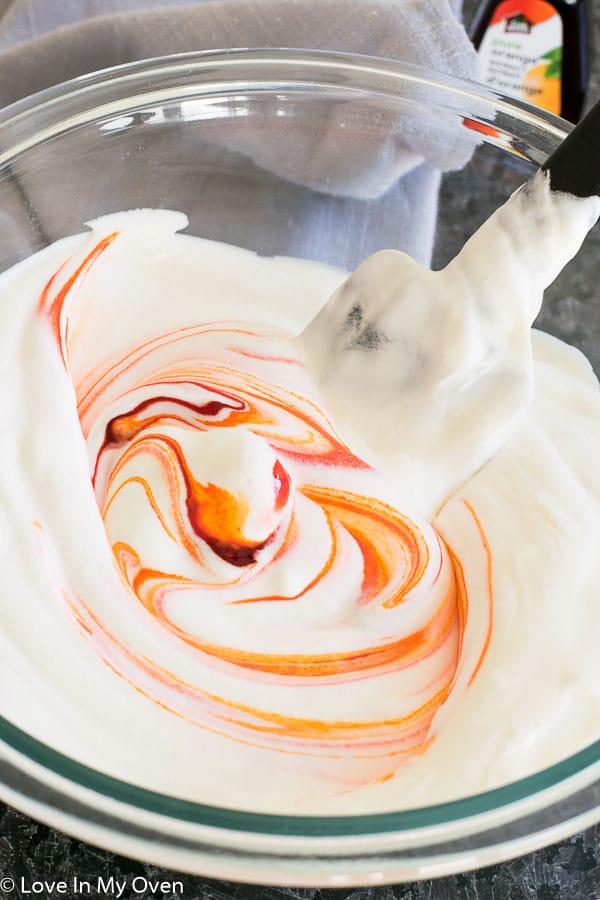 Once the condensed milk is folded into the whipping cream, you'll want to divide the mixture into 2 equal parts: one for black colouring and the star anise, and the other for orange colouring and orange flavour.
To swirl them together, first layer half of the orange ice cream into a freezable container (I like using a loaf pan), and drop spoonfuls of the black ice cream on top. Use a spoon to swirl the two together, and then repeat.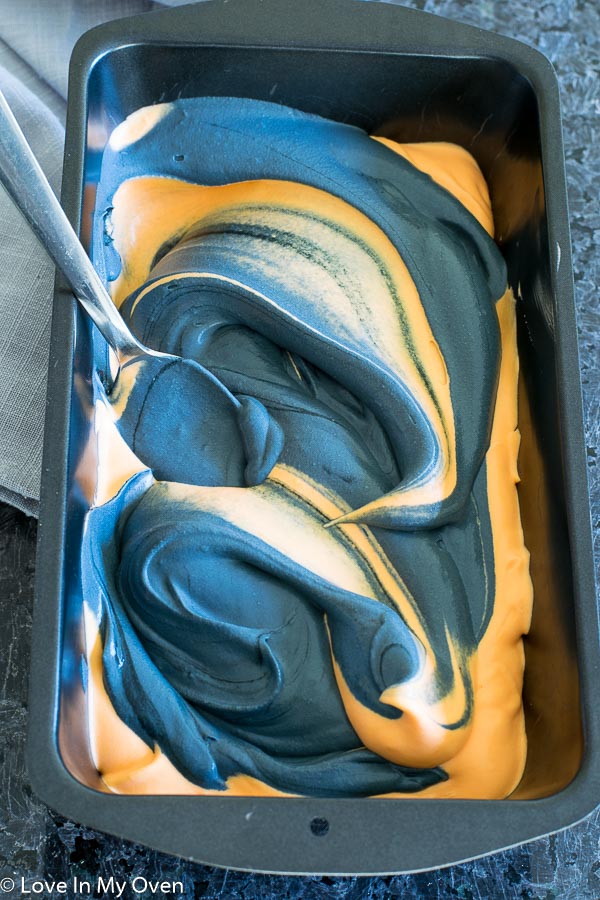 The ice cream will need to be frozen for 5-6 hours before it's ready. If you're reading this on Halloween morning, you'll have just enough time to make a batch of this for a special Halloween dessert! And still have time to sew some spider legs onto a giant black onesie for your husband to wear. 😉
Yes, Etienne gets to be a big black spider. It goes with our theme – Oscar insisted on being Spider-Man, and Wally is going to wear Oscar's spider costume from two years ago. I'm recycling my Goldilocks outfit into a Little Miss Muffet dress. Perfection!
Almost as perfect as this creamy, soft orange and licorice flavoured ice cream….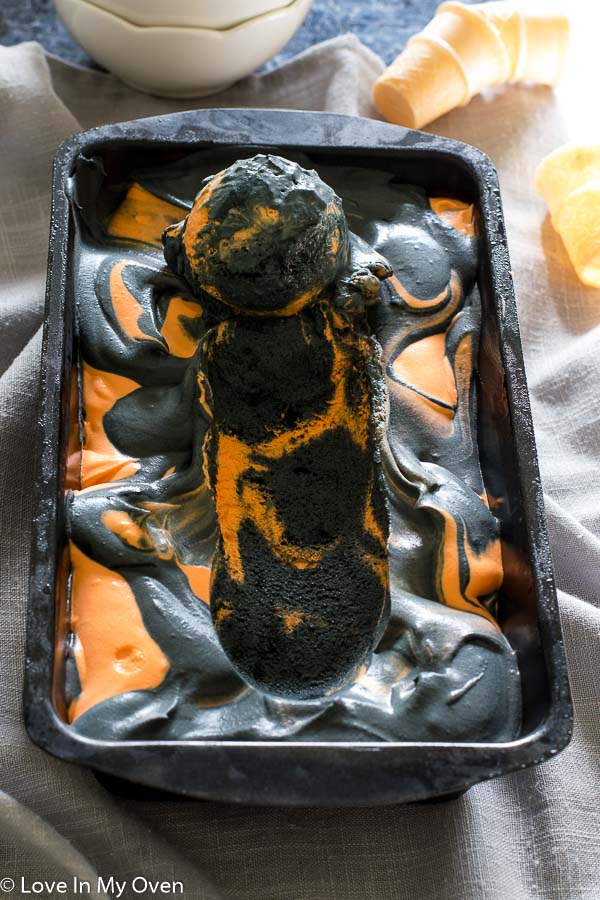 Happy Halloween guys!! Today we're handing out some Halloween cake pops to Oscar's pre-school class and going for a quick trick-or-treat run around the neighbourhood after dinner. I can't wait to do a quality check on the kids' candy bags once they're in bed….
And then follow up with a scoop of this tiger tail no-churn!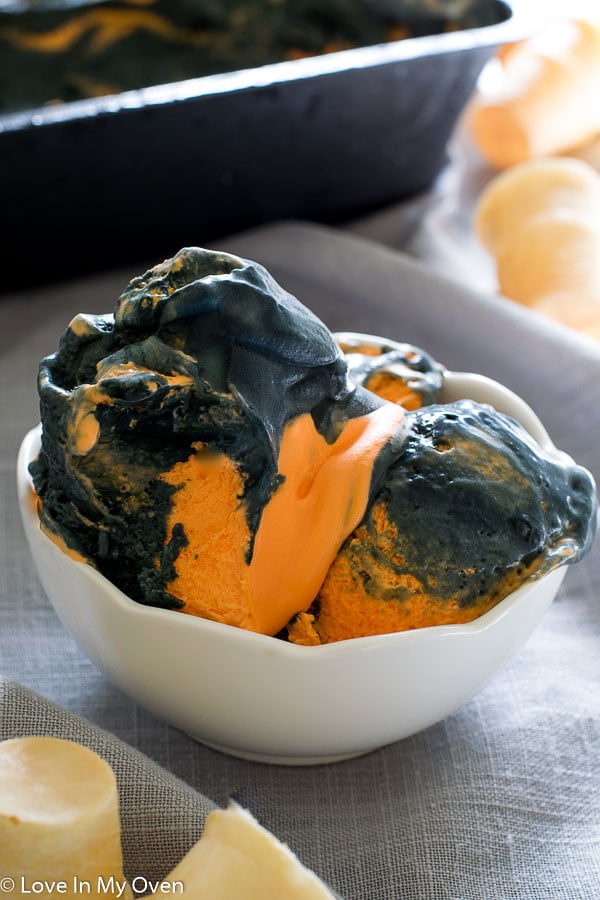 If you're as big of a fan of no-churn recipes as me, then you HAVE to try these other ice cream flavors:
Print
Tiger-Tail No Churn Ice Cream
---
Author:

Prep Time:

30 minutes

Total Time:

6 hours 30 minutes

Yield:

1 pint

1

x
Description
That classic Canadian orange and black ice cream with an easy no-churn recipe! Have your tiger tail without an ice cream maker and only 4 simple ingredients.
---
Scale
Ingredients
2 cups

heavy cream, cold

1

–

300

mL can sweetened condensed milk

2 tsp

pure orange extract

2

–

3

drops orange gel food colouring*

4 tsp

pure star anise extract

3

–

4

drops black gel food colouring
---
Instructions
In the bowl of a stand mixer fitted with the whisk attachment, or using an electric handheld mixer, whip the heavy cream on high speed until stiff peaks begin to form, about 5 minutes. Using a spatula, fold in the sweetened condensed milk until incorporated.
Pour half of the mixture into another large bowl. In one of the bowls, add the orange food colouring and orange flavouring, using a spatula to combine until the mixture is fully saturated with orange. Do the same with the other bowl, using the black colouring and anise extract.
Pour half of the orange mixture into the bottom of a freezer-safe container, such as a standard loaf pan. Drop half of the black mixture in spoonfuls on top of the orange. Using a spoon or a knife, create gentle swirls between the two colours. Repeat with the remaining orange and remaining black mixture.
If using a loaf pan, gently press a piece of parchment paper on top of the ice cream. Freeze the ice cream for 5-6 hours. The longer the ice cream is in the freezer, the harder it will become.
Ice cream will last in the freezer for up to 2 weeks.
---
Notes
I strongly, strongly recommend using gel food colourings for this recipe, rather than the liquid bottles you can buy at any grocery store. The gel won't add additional liquid to the recipe and you need much less of it than the liquid version.
Keywords: tiger tail ice cream, tiger tail recipe, orange ice cream, no churn ice cream
Recipe Card powered by