Take a bite out of decadence with this chocolate caramel cheesecake featuring a chocolate cookie crust, caramel bottom and chocolate filling.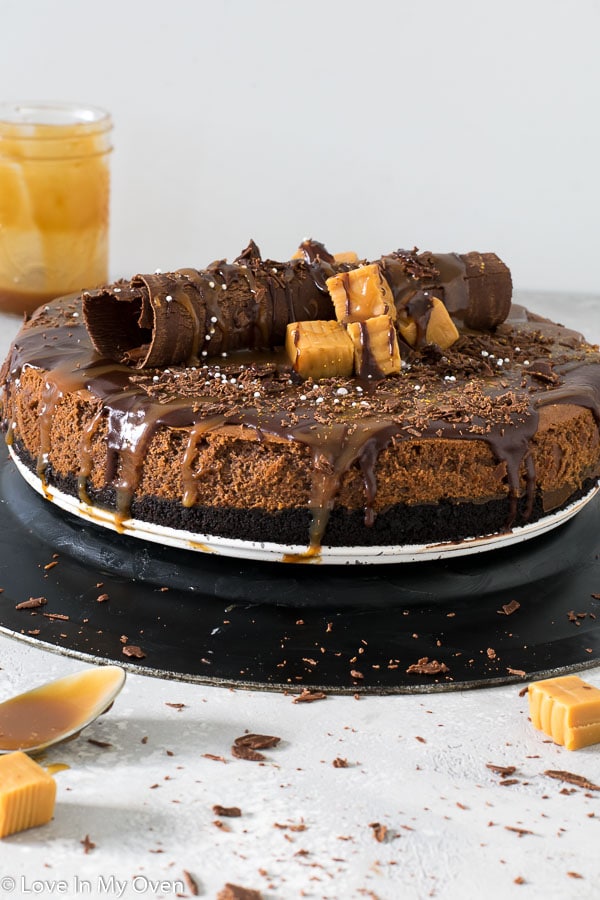 Time for something decadent!!! Actually, I have quite a few sugary treats lined up for you from now until Christmas. I like to tote myself as a fairly healthy food blog, but I DEFINITELY slack a little on that during the holidays. So, I'm starting things off with a bang.
When I play the game of "what do I feel like eating right now" in dessert form, something chocolate always comes to mind, and something chocolate AND caramel often comes to mind. Cheesecake is also up there in terms of cravability. I usually end up at a chocolate lava cake, but there's times that nothing will beat cheesecake!
This chocolate caramel cheesecake was born out of one of those nights of daydreaming about what sweets I would eat in that moment.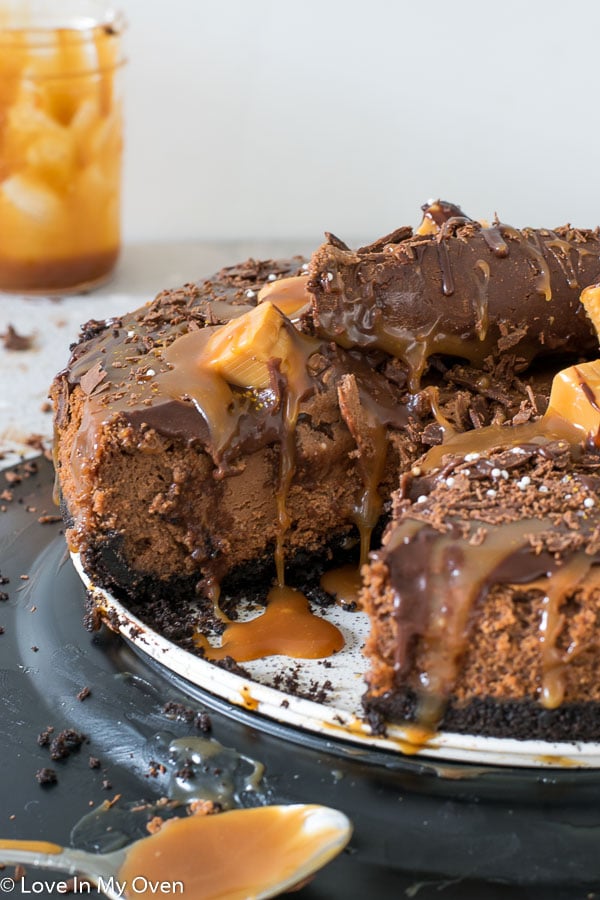 How do you make this chocolate caramel cheesecake?
Start with the chocolate cookie crust!
I like to use crushed Oreo cookies, but I know a lot of people don't love their flavor, so you could absolutely substitute with a different crushed chocolate cookie. You'll need 2 cups worth! Mix the crumbs up with 1/4 cup melted butter, and press the crust firmly into the bottom of your cheesecake pan, creating a bit of an edge up the sides of the pan.
You only have to bake the crust for 10 minutes. Add 1/3 of caramel sauce all over the bottom of the crust when it's cooled. The caramel sauce here isn't absolutely necessary, but highly recommended!!
You can use your favorite caramel sauce recipe, or a store-bought sauce, OR you can use my famous salted caramel sauce recipe!
What goes into the cheesecake filling?
Well, duh. Cream cheese. Lots of it! I used 3 bricks of full fat cream cheese in recipe, along with some melted chocolate, sugar and eggs. I told you, not the healthiest dessert 😉
Do you have to use the water bath technique with cheesecake?
There are lot of tricks out there on the Internet for baking your cheesecake without cracks. You can (if you're comfortable with it) use a water bath technique with this cheesecake, like this one from my friend Kelsie; however, you don't have to! Since we're covering the entire cheesecake with chocolate ganache and caramel sauce, a few cracks in the cheesecake won't hurt.
Here's a couple of things that I do when I'm not using the water bath technique to minimize cracks:
Place a cookie sheet filled with about an inch of water on the rack below the one with the cheesecake
When the cheesecake is done baking, turn the oven off and open the oven door a crack. Leave the cheesecake in the oven for about 45 minutes, then remove it to the fridge to finish cooling.
What do you top a chocolate cheesecake with?
Um, chocolate and caramel?
I use a creamy chocolate ganache first, then finish it off with more salted caramel sauce.
To make the giant chocolate curl on top of the cheesecake, or smaller curls, melt roughly 1/2 cup of chocolate chips mixed with a teaspoon of butter, then spread it thinly over the back of a baking sheet. Pop it in the freezer for 1 – 2 minutes, then use a bench scraper (for large curls) or a thin, sharp spatula for small curls, and push it down against the chocolate, continuing to push until a "curl" is formed.
Top your cheesecake off with chocolate and caramels, then serve immediately, or store in the fridge for 1-2 days!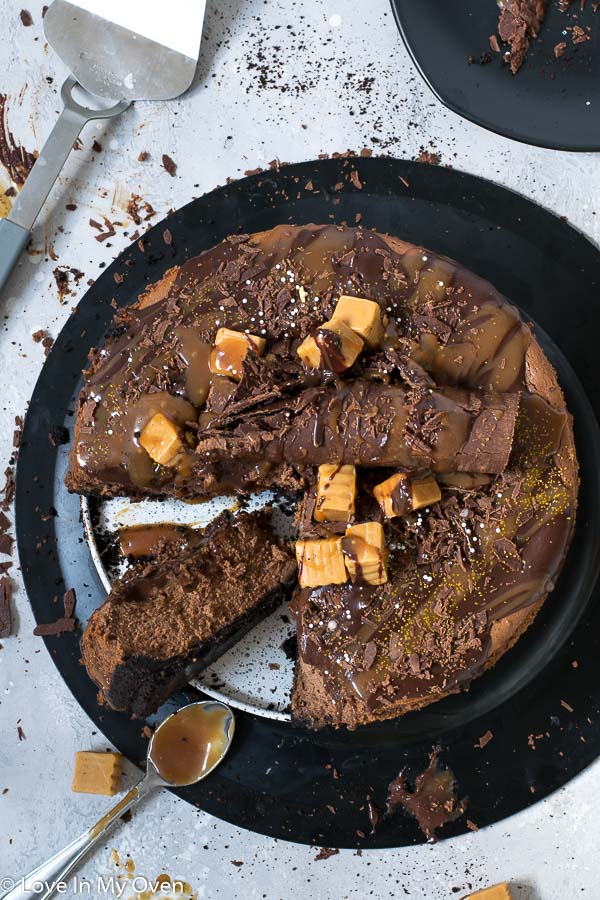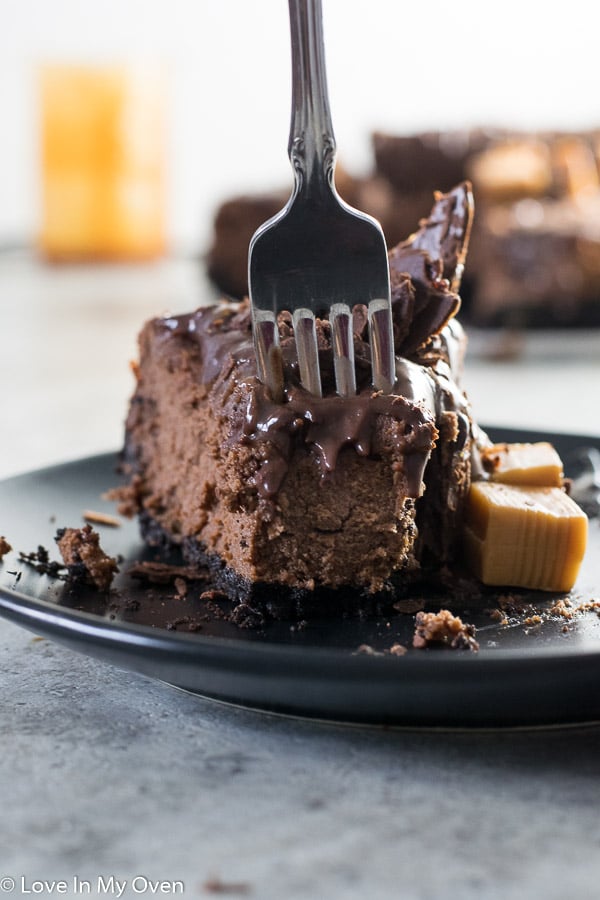 I looooooove cheesecake. You've got to try my coconut-lemon cheesecake next!
And here's a few other chocolate treats for ya:
Print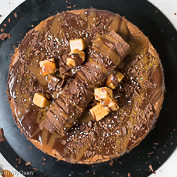 Chocolate Caramel Cheesecake
---
Description
Take a bite out of decadence with this chocolate caramel cheesecake featuring a chocolate cookie crust, caramel bottom and chocolate filling.
---
Chocolate Cookie Crust
2 cups

finely crushed chocolate cookies (I used Oreo)

1/4 cup

unsalted butter, melted
Cheesecake
24 oz

full-fat cream cheese, room temperature*

3/4 cup

granulated sugar

16 oz

dark chocolate, divided**

1 tsp

espresso powder

3

large eggs, room temperature

1 tbsp

pure vanilla extract

1/4 tsp

salt

1 cup

caramel sauce, divided***

3/4 cup

heavy cream
optional: additional chocolate, caramels, sprinkles for decorating****
---
Instructions
Preheat the oven to 350F and spray a 9″ springform pan with non-stick spray. Combine together the cookie crumbs with the melted butter, then press the mixture firmly into the bottom of the pan, leaving a 1″ border up and around the edges. Bake for 10 minutes, then remove to cool completely.
In the bowl of a stand mixer fitted with the paddle attachment, or using a handheld electric mixer, beat the cream cheese on medium-high until smooth and creamy, about 1 minute. Add the sugar then beat for an additional minute. In a heat-proof bowl, melt 8 oz of the chocolate in the microwave at medium heat, stirring every 30 seconds. Once melted and smooth, add the espresso powder and stir to combine. Pour the melted chocolate into the mixing bowl and beat for 1 minute until combined. With the mixer running on low, beat in the eggs, one at a time, followed by the vanilla extract and salt.
Pour 1/3 cup of the caramel sauce onto the chocolate crust, followed by the chocolate cheesecake mixture, using a spatula to smooth it out. Place a baking sheet filled with 1″ of water on the bottom rack of the oven. Place the cheesecake on the top rack, and bake for 45 minutes,  or until the center of the cheesecake is firm, yet slightly jiggly when you give the pan a slight shake Turn off the oven, and open the oven door a crack. Allow the cheesecake to cool down inside the oven for 45 minutes before removing it to the fridge to chill for at least 4 hours.
Prepare the ganache. Place the remaining 8 oz of chocolate in a heat-proof bowl. In a small saucepan over medium heat, heat the heavy cream until just prior to boiling. Pour the warm cream over the chocolate, then allow it to sit for 1 minute, before stirring to make it completely smooth. Pour the ganache over the top of the chilled cheesecake, using an offset spatula if necessary to smooth it out. Top it with the remaining caramel sauce, and any additional chocolate shavings, sprinkles, etc. Serve immediately, or store in the fridge until serving.
Leftover cheesecake can be kept in the fridge for 3-4 days, in an airtight container.
Notes
*Be sure to use the bricks, rather than the spreadable tubs
**You can use whatever brand chocolate you prefer. I used 70% dark chocolate chips
***I used my salted caramel sauce recipe, but you can use whatever caramel sauce you prefer, or a store-bought version.
****See the above blog post for ideas on creating chocolate curls
Keywords: chocolate drizzle for cheesecake // salted caramel chocolate cheesecake // oreo cheesecake crust
Recipe Card powered by