Think a healthy ice cream pie is too good to be true? Guess again! This chocolate nice cream pie combines chocolate nice cream with a gluten-free chocolate almond pie crust for an amazing dessert without the guilt!
The best part of my job? The food. Obviously. I really, really like food. The second best part? The photos! I have so much fun photographing my food. I've always liked making things pretty, so making my food pretty is just a no-brainer.
So, let me tell you, I definitely started out food blogging thinking that's really all it was. Make food. Take photos of food. Write about food. LITTLE did I know, it's so, so much more than that; however, that's another post for another time. I don't want to bore you 😉
Let me dive right into this chocolate nice cream pie instead!!
I'm so excited to share this one with you guys for a couple of reasons. One, it's my first new post in over a week (cue gasps), and two, it's something that I've been experimenting with for over a year! I wanted to post it last year but I ran out of time in the summer and it just seems like such a summer dessert. I mean, it is a frozen pie!
So, what is nice cream?
Nice cream is a REALLY awesome alternative to ice cream. Trust me, I like my ice cream (I have a whole category dedicated to it) but sometimes you want something a little nicer on your waistline, and with a little less sugar for the munchkins. Nice cream is essentially just frozen bananas, blended until smooth and creamy. Once blended, the frozen bananas have a very similar texture to ice cream, and you can eat it just the way it is, or add a little sweetener or other fixings to make it what you want!
In this case, I made CHOCOLATE nice cream with the help of some cocoa powder and a touch of maple syrup. As tempting as it was to just eat it all after blending it up, I slathered it onto a grain-free chocolate crust instead! (Patting self on back).
Oh, and then I topped it with whipped cream. Woop!
Is this a healthy ice cream pie?
Yes, yes! I mean, healthy is always a subjective concept, but I consider this a healthy ice cream pie for a couple of reasons:
The crust is gluten-free, grain-free and free of refined sugars. In fact, it only has a touch of maple syrup to sweeten it.
The filling is BANANAS. No, but really. Actual bananas.
You can add as little or as much sweetener (maple syrup) as you want. In this whole pie, I only used 3 tablespoons of syrup!
Convinced yet?
Let me help you with this picture…
I do have a few tips for you if you make this pie (and you really should):
Before running your frozen bananas in the blender/food processor, chop them into smaller chunks. This will help everything blend together smoothly. Alternatively, chop your bananas BEFORE freezing!
Take the pie out of the freezer about 10 minutes before cutting and serving. This will make it MUCH easier to slice, and the texture is a bit softer and creamier too.
I think that's it. The easiest, healthiest dessert this summer. Chocolate nice cream pie! Woop!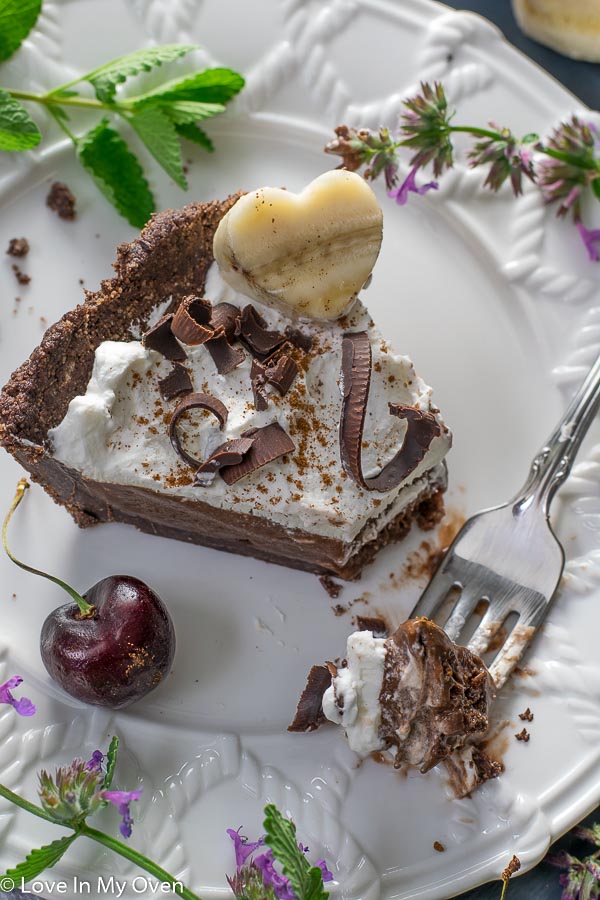 If you like this healthy ice cream pie, you'll love the other desserts I've got stashed away in my lighter side of things category!
And if you decide that nice cream is pretty much the best thing ever, check out these nice cream pops from my friend, Leanne over at Crumb Top Baking!
Print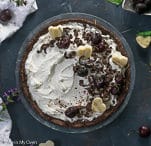 Chocolate Nice Cream Pie
---
Author:

Total Time:

30 minutes

Yield:

6

-

8

servings

1

x
Description
Think a healthy ice cream pie is too good to be true? Guess again! This chocolate nice cream pie combines chocolate nice cream with a gluten-free chocolate almond pie crust for an amazing dessert without the guilt!
---
Crust
1 1/2 cups

ground almond flour

1/4 cup

dark cocoa powder

1/3 cup

coconut oil, melted (sub melted butter)

2 tbsp

maple syrup
pinch of salt
Pie Filling
4

–

5

frozen bananas, chopped into large slices

1

–

3

tbsp almond milk (sub coconut milk)

1/4 cup

dark cocoa powder

1 tbsp

maple syrup*
Topping
1/2 cup

whipping cream**

1 tbsp

maple syrup
chocolate shavings, cinnamon, for garnish
---
Instructions
Prepare the crust. Preheat the oven to 350 F and lightly grease a 9″ pie pan with butter or coconut oil, and set aside. In a large bowl, sift, and then whisk together the almond flour and cocoa powder. Pour in the melted coconut oil and syrup and stir until the entire mixture is slightly dampened. Empty the mixture into the pie pan, and press down firmly into the pan, creating a 1″ crust along the sides. Bake the crust for 10 minutes, then allow it to cool completely before adding the filling.
Prepare the filling. In a high powered blender or food processor, add the chopped bananas, and 1 tbsp of almond milk. Pulse or blend briefly to break up the bananas into small pieces. Add the cocoa powder and maple syrup, and continue to pulse or blend on low until the bananas become smooth and combined with the other ingredients. Add more almond milk, as necessary (about a tablespoon at a time) to smooth things out. Once the mixture is completely smooth and looks like ice cream, scrape it all into the baked crust. Smooth it out, and freeze for 10-15 minutes before adding the whipped cream topping.
Prepare the topping. In a stand mixer fitted with the whisk attachment or a handheld mixer, beat the whipping cream on high, along with the tbsp of maple syrup until stiff peaks begin to form. Scrape the whipped cream on top of the frozen filling and smooth out. Decorate cinnamon and chocolate shavings, if desired. Freeze the pie for at least 1 hour before serving.
Leftover pie should remain in the freezer. It will keep for 1 week in an airtight container!
Notes
*The amount and type of sweetener is entirely up to you. You could make the pie much sweeter with an additional 2 tbsp maple syrup (or honey, or agave)
**To keep this pie vegan, sub the whipped cream for coconut whipped cream
***Before serving, let the pie rest for 10 minutes prior to slicing and serving to make the filling a bit softer and easier to slice!
Prep Time:

20 minutes

Cook Time:

10 minutes
Keywords: chocolate nice cream // chocolate nice cream pie // healthy ice cream pie
Recipe Card powered by