If pumpkin pie pancakes sound delightful to you, these buttermilk pumpkin pancakes will not disappoint! Made healthier with no refined sugars, your whole family will love these easy pumpkin pancakes!
Ok, before I tell you all of the reasons why this pumpkin pancakes recipe is the BEST, you need to first understand one thing. Trust me, it'll put it ALL into perspective. Etienne (husband) does not like pumpkin. Or, so he claims. If I tell him I made cookies, you should see the look of excitement on his face quickly fade when he then hears the next part – pumpkin cookies.
Personally, I love all things pumpkin. ESPECIALLY in baked goods. I mean, one of my favourite cupcakes ever is the pumpkin cupcake from Crave, a local cupcake shop. In fact, replicating that cupcake is on my to-do list for the blog. I digress.
The reason I am starting this post off with some knowledge about my husband's tastes and distastes is because, you guys. HE LIKES THESE PANCAKES! In fact, he likes them a lot. So happy! He started off with complete distrust of these pancakes, but it didn't take him long to change his tune!
So, now you know why you really have to try them!
And if that wasn't enough, just know that they're fluffy (thanks buttermilk), EASY, and fairly healthy (before all the maple syrup and whipped cream 😉).
So, how do you make buttermilk pumpkin pancakes?
There's a few ingredients in this recipe that make it great. One, buttermilk (duh). Now, if you're in a pinch you can absolutely make your own buttermilk, but I HIGHLY recommend buying the regular buttermilk from the store. It really makes a difference with these in terms of fluffiness.
Second, you need pure pumpkin puree. Not pumpkin pie filling (although that would probably work), but the pure pumpkin you can buy in a can. Or, if you're really Martha Stewarting around the kitchen, make your own. You'll need 1 cup.
The other ingredients are standard pancake ingredients. I haven't used any refined sugars, as I chose to sweeten these with maple syrup instead. Honestly, the maple flavor is so perfect with the pumpkin!!
Oh, and butter. Can't forget the butter!! I just love butter in my pancakes! It gives the pancake that perfectly um, buttery, restaurant pancake taste. You really need to butter your griddle too, before cooking the pancakes, and it'll give you those nice golden, crispy edges!! YUM!!
One BIG tip.
After you mix the wet ingredients into the dry and stir it all together, LET YOUR BATTER REST. Even just 5 minutes. It makes a huge difference! It gives the batter a chance to let all the magical chemical reactions in the ingredients to do their thing. You'll visibly notice the batter puff up a bit. This puffiness results in – you got – puffy pancakes!!
Are these pumpkin pancakes healthy?
Again, you have to understand that "healthy" is subjective, but I'll give you the reasons why I consider these pancakes healthyish:
There are zero refined sugars! The pancakes themselves are sweetened with maple syrup
They contain pumpkin! Pureed pumpkin has so many nutritional benefits.
I make these with all-purpose flour, but you can definitely make them whole wheat too. You might just need to add a bit more buttermilk!
Need any more reasons to try these?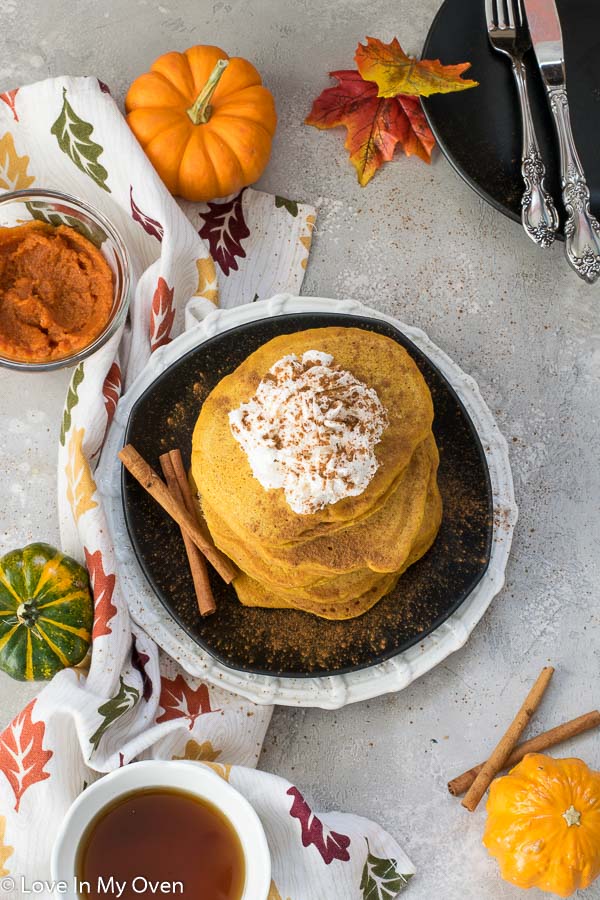 If you have any leftovers (which I doubt you will) they will keep very well on your counter for a day or two, or in the fridge for a couple of extra days. I actually have quite a few stored in my freezer for fast breakfasts on those school mornings!
My family has been eating these pancakes quite a lot the past few weeks while I make sure I get the recipe right, but no one is complaining. Not even Hattie – she gets pretty excited when I plop another one of these in front of her to destroy. Especially with some whipped cream on top!
Jump on the pumpkin bandwagon and give these pancakes a try!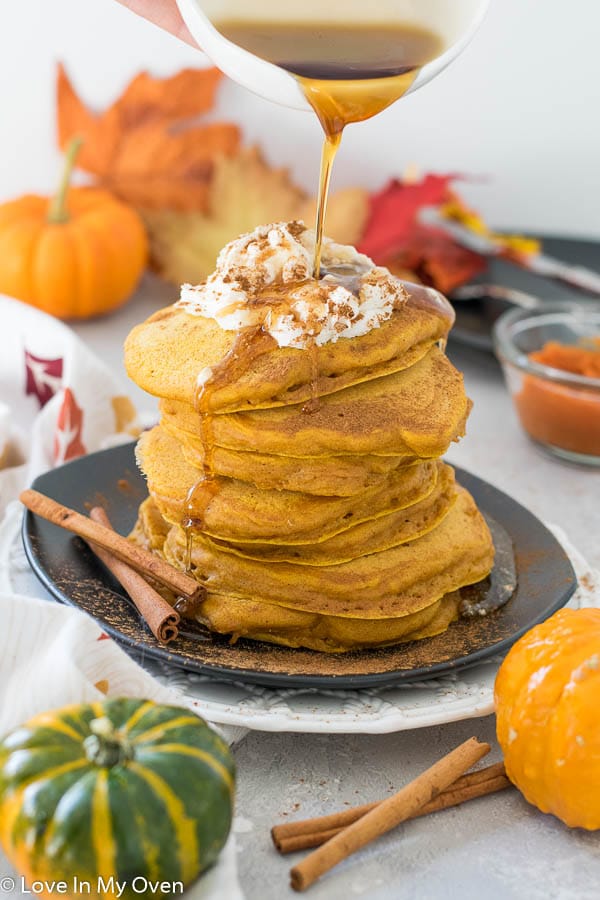 Pancakes!! If you love them as much as I do, you should try my go-to recipe for buttermilk pancakes.
Also, one of my top recipes is this one for healthy banana waffles (also made with buttermilk).
Print
Buttermilk Pumpkin Pancakes
---
Author:

Total Time:

45 minutes

Yield:

4

servings

1

x
Description
If pumpkin pie pancakes sound delightful to you, these buttermilk pumpkin pancakes will not disappoint! Made healthier with no refined sugars, your whole family will love these easy pumpkin pancakes!
---
2 cups

all-purpose flour

2 tsp

baking powder

1 tsp

baking soda

2 tsp

pumpkin pie spice*

1/4 tsp

salt

3 tbsp

unsalted butter

1 cup

pure pumpkin puree**

1

egg

1/3 cup

pure maple syrup

1 tsp

pure vanilla extract

1 3/4 cup

buttermilk, room temperature***
---
Instructions
Start by melting the butter in large, heat-proof bowl. Set it aside while you prepare the dry ingredients.
In a large mixing bowl, whisk together the flour, baking powder, baking soda, pumpkin pie spice and salt. In the other heat-proof bowl, add the pumpkin puree to the melted butter and whisk. Add the egg, maple syrup and vanilla extract and whisk thoroughly. Slowly pour in the buttermilk, continuing to whisk. Pour the wet ingredients into the dry and use a mixing spoon to gently incorporate the two. Mix just until there are no streaks of flour left.
Heat a griddle or skillet over medium-high heat. Melt some butter in the middle (highly recommended) or spray the skillet with non-stick spray. When the butter is sizzling, drop 1/3 cup of batter onto the grill and cook until the edges are done and there are bubbles on top of the pancake. Flip, and cook for an additional minute. Remove the pancakes to serving dish, and keep in an oven preheated to 200 F. Add additional to the griddle for each additional pancake, until the batter is finished. Serve with LOTS of maple syrup and whipped cream!
Leftover pancakes can be stored in an airtight container for 1 day on the counter or 2-3 days in the fridge. They can also be kept in the freezer for up to 2 months.
Notes
*If you don't have pumpkin spice, you can sub: 1 tsp cinnamon, 1/2 tsp ground ginger, 1/4 tsp nutmeg, 1/4 tsp all-spice. You can also try this recipe from my friend, Dawn.
**Be sure to use PURE pumpkin rather than pumpkin pie filling
***You'll get the best results with store-bought buttermilk. You can make your own using milk and 1 1/2 tbsp lemon juice or vinegar but they won't be quite as fluffy!
Prep Time:

15 minutes

Cook Time:

30 minutes
Keywords: pumpkin pancakes // easy pumpkin pancakes // buttermilk pumpkin pancakes
Recipe Card powered by