Sweet, sticky and full of crunch. This 20-minute trail mix popcorn combines peanut butter and honey and your favorite trail mix ingredients to make the best no bake popcorn snack mix!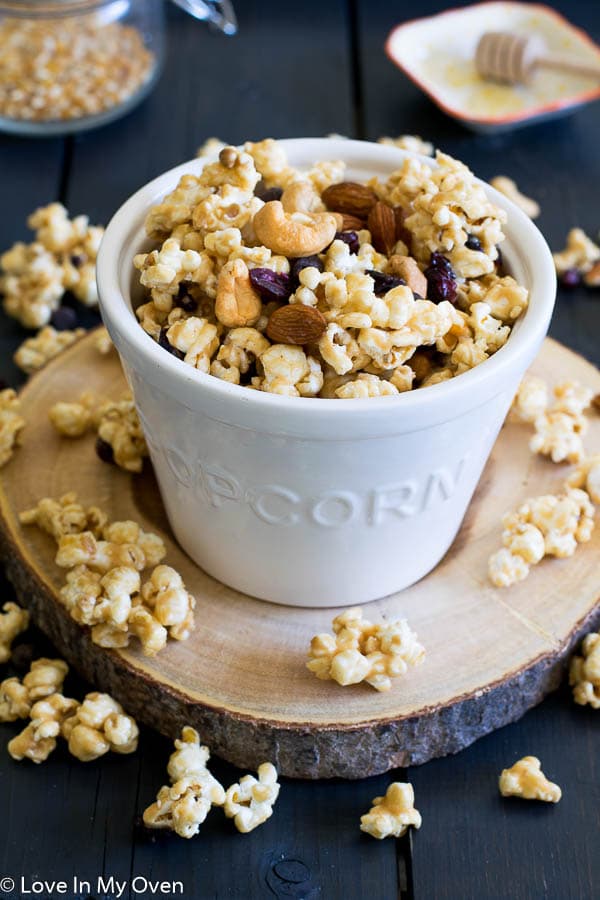 *Please note* this post was originally published in 2017 but I've since redone the text. The recipe remains the same.
I really should have called this trail mix popcorn recipe "road trip popcorn", because that is the purpose it was created for. This morning, my friends, I embark on a solo-parenting journey with both boys, a 3 1/2 to 4 hour trip to beautiful Kimberly, BC. I was feeling mighty confident when I agreed to the trip with a couple of my friends, but now that I'm about to actually pack up and drive away I'm a bit nervous.
Wally is far from a good traveler, so I'm bracing myself for what might be a few hours of crying. Please, wish me luck that all goes smoothly! Regardless of the number of tears that will be shed (quite possibly, from all three of us), I am comforted by the fact that I will have this popcorn by my side. It's the perfect road trip snack. It's grab-able, shareable, sweet and slightly sticky, and oh, so delicious.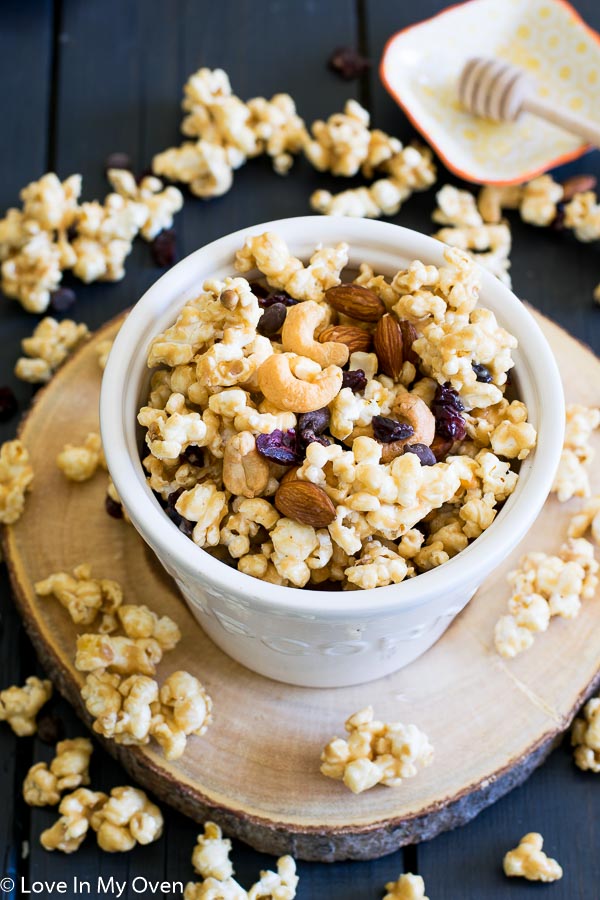 What is trail mix popcorn?
I am a big fan of popcorn as a snack, especially when it's been coated with something extra special, like my domino popcorn. I have had a vision of this trail mix popcorn in my head for quite a while, but I didn't really have a good reason to start experimenting until I was faced with this impending road trip. Basically, I wanted something healthyISH and full of add-ins like nuts, cranberries, etc.
So, let's talk about the experimenting. I wanted to coat popcorn in peanut butter, this much I knew; however, I don't love using corn syrup so I wanted to try different sweeteners. For the first batch I used agave syrup with peanut butter – it tasted delicious, but the final result wasn't quite as smooth as I wanted it to be, and the coating was too thick to coat all of the popcorn. Next up, I tried adding some water to the agave/peanut butter mixture. This definitely made everything smoother but it made the popcorn much too sticky. Finally, I went a different direction and tried my trusty little honey bear bottle. Success!! Winner winner, popcorn dinner. Literally.
What kind of popcorn do you use for this recipe?
I always use my whirley-pop
to make our popcorn. It's what I grew up with, and it makes perfect popcorn without that slightly air-popped styrofoam texture, and you don't get any weird chemicals like you would from microwaved popcorn. You'll want to pop about 12-13 cups (about 1/2 cup of kernels) for this recipe.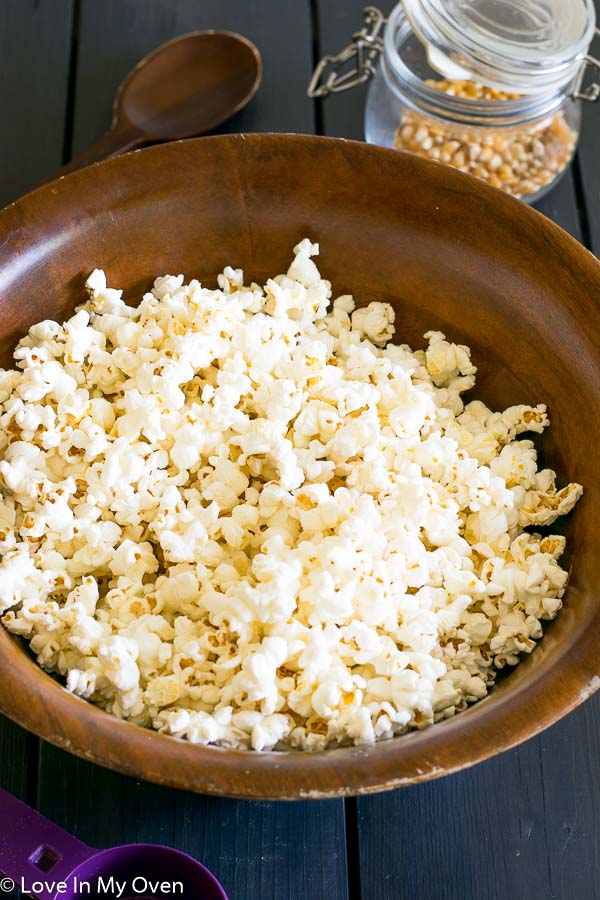 How do you make trail mix popcorn?
Combine the sugar and honey on the stove until boiling, then allow it to simmer a few minutes. Add in your peanut butter and vanilla, and stir until it's smooth. Quickly coat all of your popcorn – I found it easiest to pour it over the popcorn and use a large wooden spoon to stir it together. You could also get in there with your hands and massage it throughout.
You'll want to add your nuts and other mix-ins right away while the popcorn is still sticky so that it all holds together. If you're using chocolate chips (is that even an option?) don't add them until everything is cool to prevent meltage. Yes, that's a word.
You can really have a lot of fun with this popcorn, adding whatever trail mix ingredients you'd like. Try coconut flakes, butterscotch chips, raisins, you name it! Once you've combined everything together, spread the popcorn out onto a large pan lined with a silicone sheet or parchment. I used my half sheet. Lightly sprinkle some salt all over.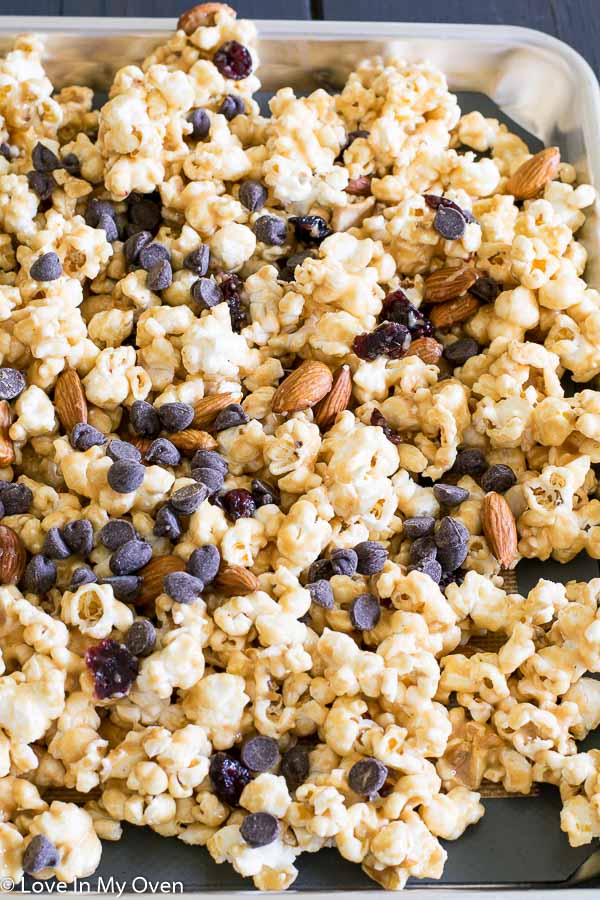 This stuff is so good, you guys. It's terribly addicting. The nuts add just the right amount of crunch and texture. You will be taking this for your next road trip, or camping adventure, or….Netflix night. It seriously makes everything better. Even screaming babies. Actually, don't quote me on that.
If you don't eat it all one sitting, the popcorn can be stored in a large container for up to a week at room temperature.
Now go. Make it. It only takes 20 minutes! And wish me luck on my road trip!! XO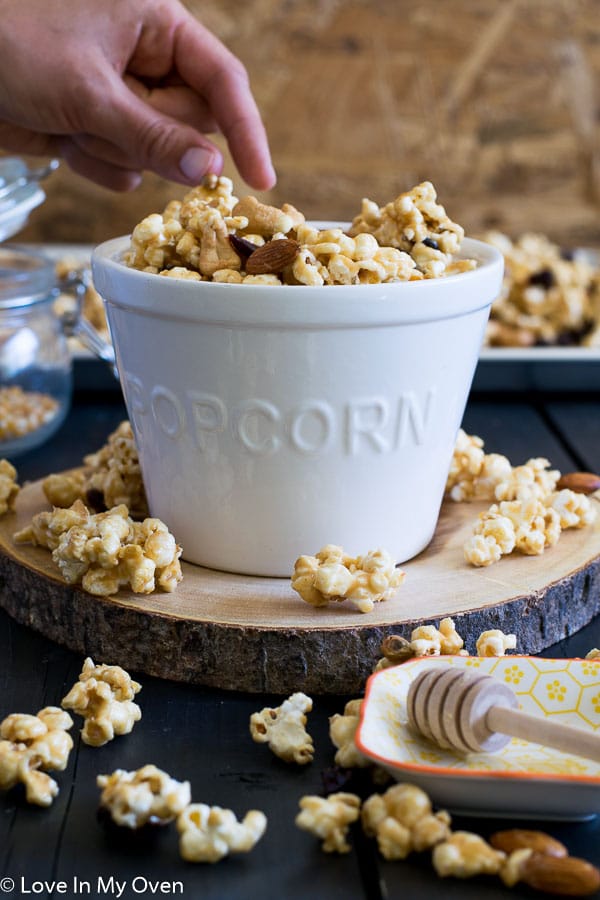 Some other fun popcorn recipes from the blog:
Print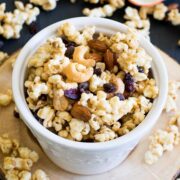 Trail Mix Popcorn
---
Author:

Total Time:

20 minutes

Yield:

12

-

13

cups

1

x
Description
Sweet, sticky and full of crunch. This 20-minute trail mix popcorn combines peanut butter and honey and your favorite trail mix ingredients to make the best no bake popcorn snack mix!
---
12

–

13

cups popcorn (about

1/2 cup

kernels)

2/3 cup

honey

1/4 cup

granulated sugar

3/4 cup

creamy peanut butter

1/2 tsp

vanilla extract
pinch of salt

1/2 cup

each of: chocolate chips, dried cranberries, almonds and cashews
---
Instructions
Place popped corn in a large bowl, and line a large baking sheet with parchment paper or a silicone mat. Set aside.
In a medium saucepan on the stove over medium-high heat, combine the honey and sugar. Bring the mixture to a gentle boil and simmer for 3-4 minutes.
While still over medium heat, add and stir in the peanut butter until creamy, and then stir in the vanilla.
Quickly pour the mixture over the popcorn, using a large wooden spoon and/or your hands to distribute the sauce evenly. Add the mix-ins, except for the chocolate chips, and stir to combine.
Spread the mixture over the baking sheet, and sprinkle with salt. After 10 minutes, add the chocolate chips.
Popcorn will keep in an airtight container for up to 1 week, at room temperature
Prep Time:

20 minutes

Cook Time:

10 minutes

Category:

snack

Method:

no-bake

Cuisine:

american
Keywords: trail mix popcorn // no-bake popcorn snack mix / popcorn snack recipes // healthy popcorn trail mix
Recipe Card powered by
Want to get your hands on the tools I used?
Need more popcorn in your life? Try my domino popcorn next!