This roundup of romantic desserts is just what you've been looking for! 30 easy Valentine's Day desserts that you can throw together in no time to impress your loved ones!
Valentine's Day is the perfect time to express your love, even if it's just some love to yourself! This roundup of easy Valentine's Day desserts will help answer that question of "what do I make"? From brownies, to a hot chocolate bar, to a classic chocolate molten lava cake, there's something here for everyone!
Recipes are from the blog as well as a few from some blogging friends!
Have you ever baked with beets? When you try this vegan chocolate beet cake, you'll agree that this is the BEST, moist chocolate cake recipe ever! This is a simple vegan chocolate cake recipe with a creamy, naturally colored pink frosting!
2. Mini Skillet Lava Cakes for 2
The cutest little mini molten lava cakes for your next date night! Cakey on the outside, warm and gooey on the inside. Top these molten lava cakes for two with a dollop of whipped cream or ice cream!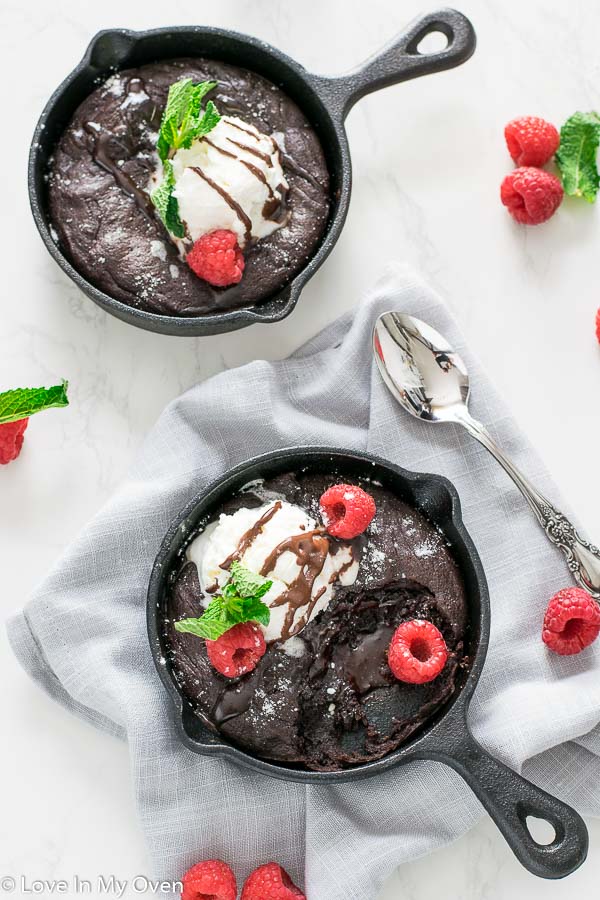 3. Chocolate Berry Cups from The Food Blog
These sweet and pretty little chocolate berry cups are super easy to make and they will be sure to delight your Valentine.
4. Valentine's Day Fudge by Simply Stacie
This vanilla "fudge" is made with a secret ingredient – a boxed white cake mix! This versatile sweet treat can be "changed up" by using different flavours of cake mix! It's guaranteed to satisfy your sweet tooth.
5. Easy Chocolate & Raspberry Mousse (Vegan and Sugar-Free Options)
The easiest dessert you ever did see! This easy chocolate raspberry mousse is light and fluffy, dairy-free and refined-sugar free! Your new favorite chocolate and raspberry dessert! If you're following a keto/low-carb diet you'll still be able to enjoy this one!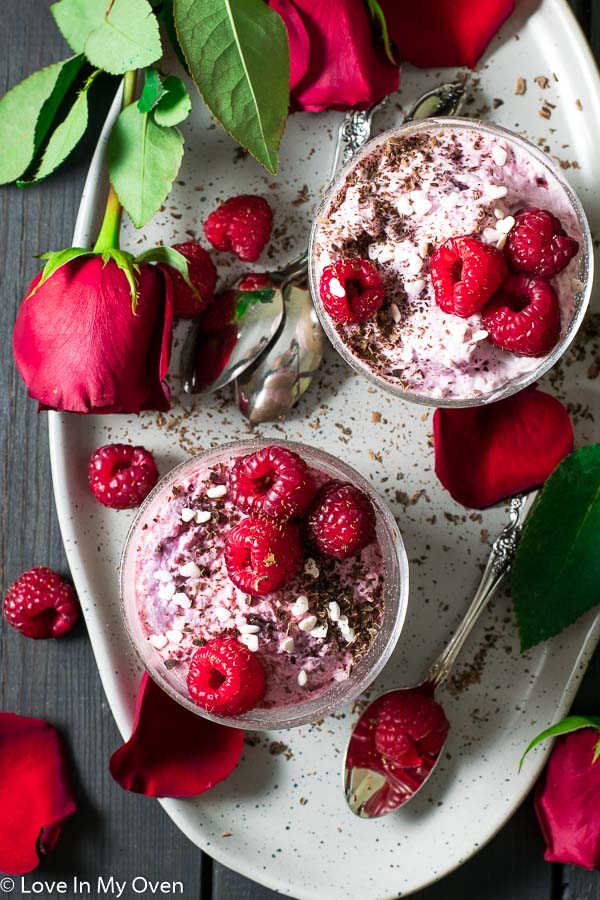 6. Homemade Chocolate & Strawberry Marshmallows
Think homemade chocolate marshmallows are too hard? Think again! This is a strawberry marshmallow recipe and chocolate marshmallow recipe all in one!
7. Classic Brownies by Tidbits by Taylor
Everyone loves a good brownie, and these classic brownies are sweet, fudgy, and chewy. Sprinkled with chocolate chips and chopped nuts, these are sure to impress.
8. Pink Chocolate Covered Strawberries by The Gay Globetrotter
Pink chocolate covered strawberries are an easy, make ahead treat that's perfect for Valentine's Day dessert. Bright strawberries are dipped in decadent pink chocolate, then chilled until set. How pretty is that pink!?
9. Decadent Hot Chocolate Bar by Cooking in my Genes
Get cozy with your loved ones with this Hot Chocolate Bar! Decadent hot chocolate plus a delicious board of toppings makes it fun for kids & adults alike.
You will LOVE these baked strawberry donuts made with buttermilk and fresh strawberries. The strawberry glaze icing recipe is so easy and the perfect topping to strawberry donuts! These light and fluffy donuts are a terrific treat without any of the deep frying.
11. Strawberry S'mores Cupcakes
If you love the idea of chocolate strawberry cupcakes, and you're a fan of creative cupcake recipes, you'll LOVE these strawberry s'mores cupcakes with the BEST marshmallow meringue! They're so delicious!
12. Grain-Free Crepes with Strawberry Cream Cheese Frosting
You won't believe how easy it is to make these flourless crepes! They're 5-ingredient gluten-free, grain-free crepes, filled with a heavenly fresh strawberry cream cheese crepe filling! If you are looking for a romantic breakfast for Valentine's or just a cute family breakfast idea, this is it!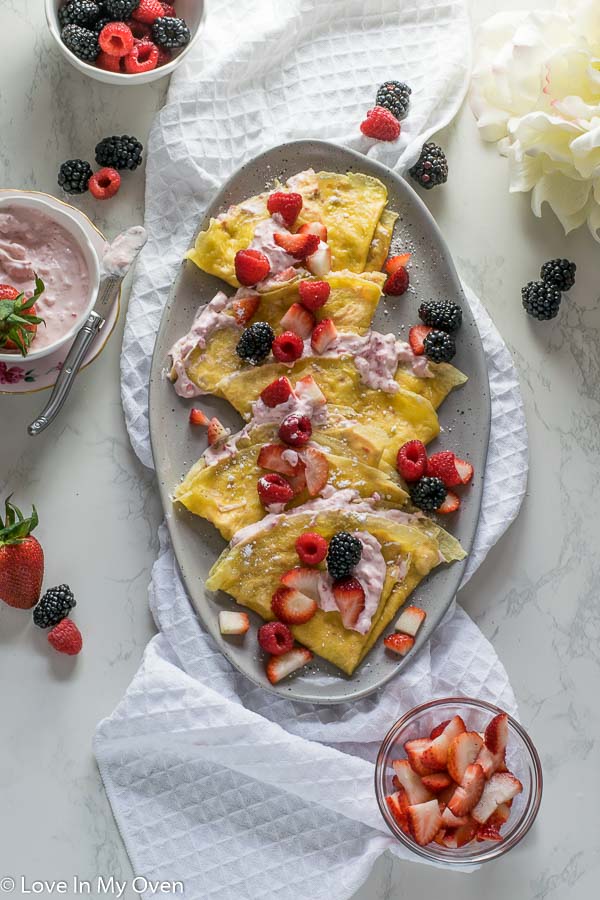 13. Roasted Strawberry Rhubarb No-Churn Ice Cream
Take your strawberry rhubarb ice cream to another level by roasting strawberries with rhubarb for an easy strawberry rhubarb compote, swirled into a vanilla no-churn ice cream! It's smooth, creamy and delicious!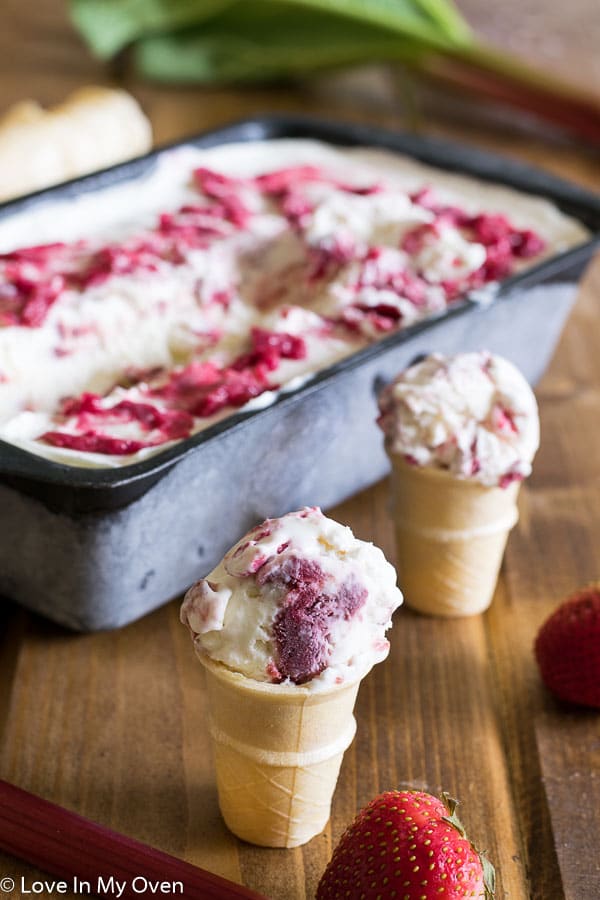 14. Chocolate Truffle Hearts with Fleur de Sel by Satori Design for Living
Make these Valentine's Day chocolate truffle hearts with sea salt to share with family and friends. Easy with only 4 ingredients. Spread the love!
15. Double Chocolate Beet Cupcakes
These double chocolate beet cupcakes are moist, fluffy and full of chocolate chips! Double chocolate cupcakes with naturally colored, vibrant pink buttercream frosting!
16. Grain-Free Chocolate Chia Pudding Pie
You won't be able to stop at one slice once you taste this chocolate chia pudding pie! A thick, creamy, chocolate filling made with plump chia seeds and honey sits atop a grain-free pie crust. You've got to try this grain-free, guilt-free, delicious chocolate pie!
All made from scratch, these strawberry cake pops are truly delicious! This cake pops recipe is full of flavor and super easy to make. It's a great treat for a Valentine's Day party or just for your family!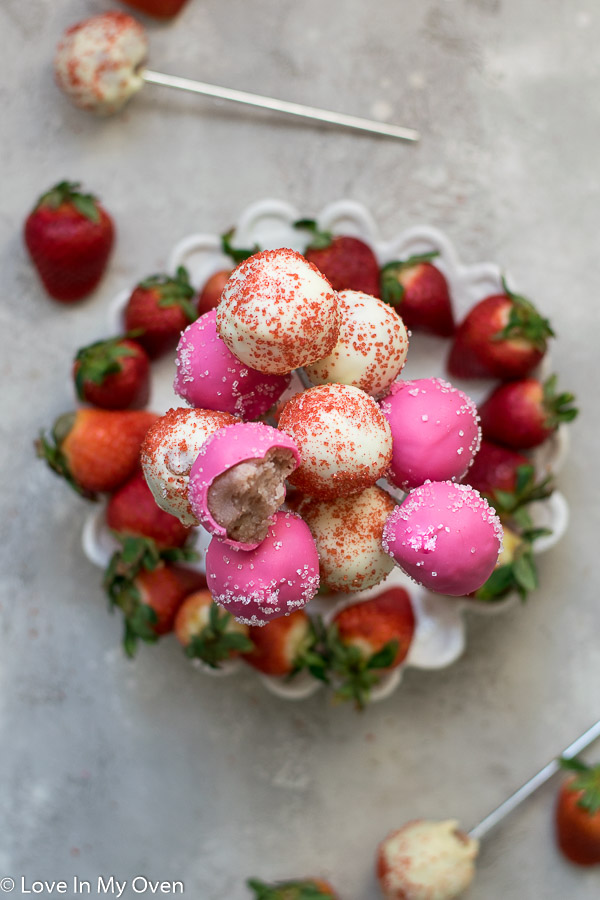 18. Raspberry Filled Sugar Cookies
Raspberry filled sugar cookies! The softest, most melt in your mouth cookie that you've ever tasted. These raspberry filled cookies are perfect for any time of year but especially perfect for Valentine's Day!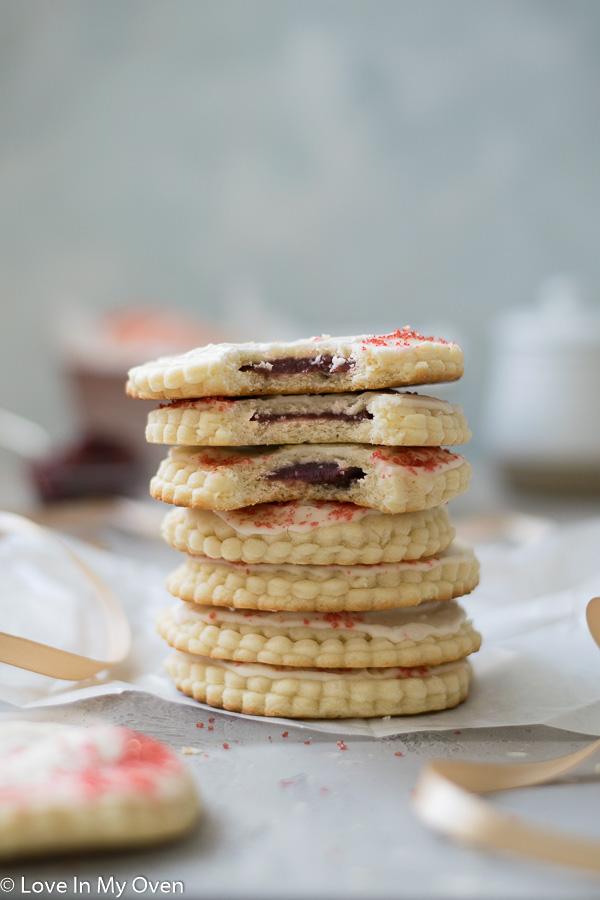 19. Gluten-Free Chocolate Chip Cookie Cake by Cathy's Gluten-Free
A big, thick cookie for dessert! Think of a cross between a chocolate chip cookie and a brownie, or in this case, a blondie. Coconut sugar adds nice, rich caramel undertones. It's decadent served warm with a scoop of vanilla ice cream on top and you can even bake it in a heart-shaped pan!
20. Chocolate Coconut Cream Stuffed Strawberries by Maple and Mango
These chocolate coconut cream stuffed strawberries are deliciously decadent and easy to make. The perfect treat for date nights, parties or special occasions like Valentine's Day!
21. 3-Ingredient Flourless Chocolate Cake
This simple flourless chocolate cake is the easiest cake you'll ever make! And guess what? It's a 3 INGREDIENT flourless chocolate cake! It'll be a new favorite!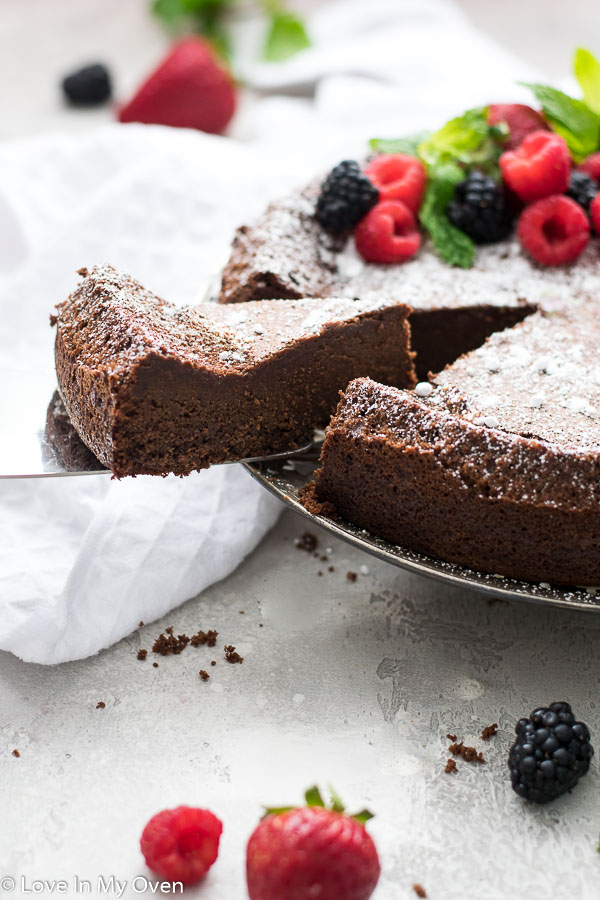 22. Crispy Strawberry Chocolate Bark
This crispy strawberry chocolate bark is one of the best easy Valentine's treats! It's an easy dark chocolate bark recipe made with freeze-fried strawberries and crispy rice cereal! The white chocolate chips are the perfect touch!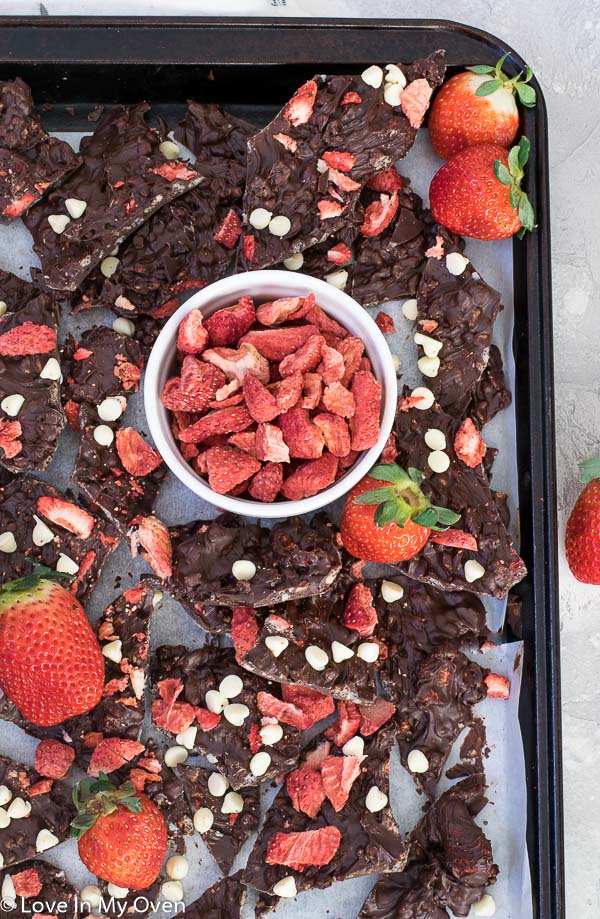 23. Vegan Chocolate No-Churn Ice Cream
A no-churn vegan ice cream? It sounds almost too good to be true, but this easy vegan chocolate ice cream is the REAL DEAL! This is a silky smooth chocolate ice cream made with coconut milk, and cocoa.
24. 3-Ingredient Nutella Brownies
Satisfy those chocolate cravings with fudgy Nutella brownies! You won't find a brownie recipe any easier than this one for 3 ingredient Nutella brownies!
25. Salted Chewy Brownie Cookies
Salted chewy brownie cookies that are SO soft, gooey and delicious! These chocolate brownie cookies require no chill time and can be yours for the eating in under 30 minutes!
26. Slow-Cooker Chocolate Raspberry Brownies by Marisa's Italian Kitchen
Moist and fudgy, Slow Cooker Chocolate Raspberry Brownies are ridiculously easy to put together with a mere 15 minutes of prep time and your slow cooker does the rest! What's more perfect for Valentine's Day than chocolate and raspberry!?
27. Vegan Gluten-Free Chocolate Cupcakes by Delightful Adventures
Rich and delicious chocolate cupcakes make the perfect dessert for Valentine's Day, plus, they're quick and easy to make. A perfect option if you're looking for something gluten-free!
28. Strawberry Nutella Galette
Decadence in the form of strawberry Nutella pie! This easy galette recipe is great as a Valentine's day dessert, especially when you shape it into a heart!
29. 3-Ingredient Chocolate Mug Cake
This 3 ingredient chocolate mug cake recipe is going to your new fave quick and easy healthier dessert! All you need is 3 ingredients and 3 minutes! The perfect treat for a Valentine's Day night in with your sweet or for a party of one 😉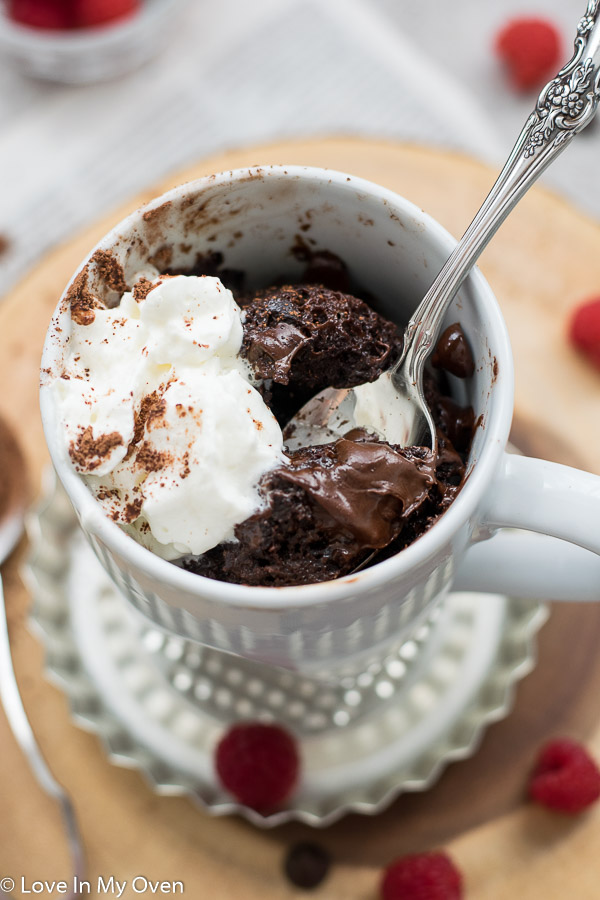 30. Strawberry Cheesecake Ice Cream Cake
With fresh strawberries, smooth cream cheese and vanilla ice cream, this strawberry cheesecake ice cream cake is the perfect Valentine's dessert. Naturally pink and beautiful and full of flavor!