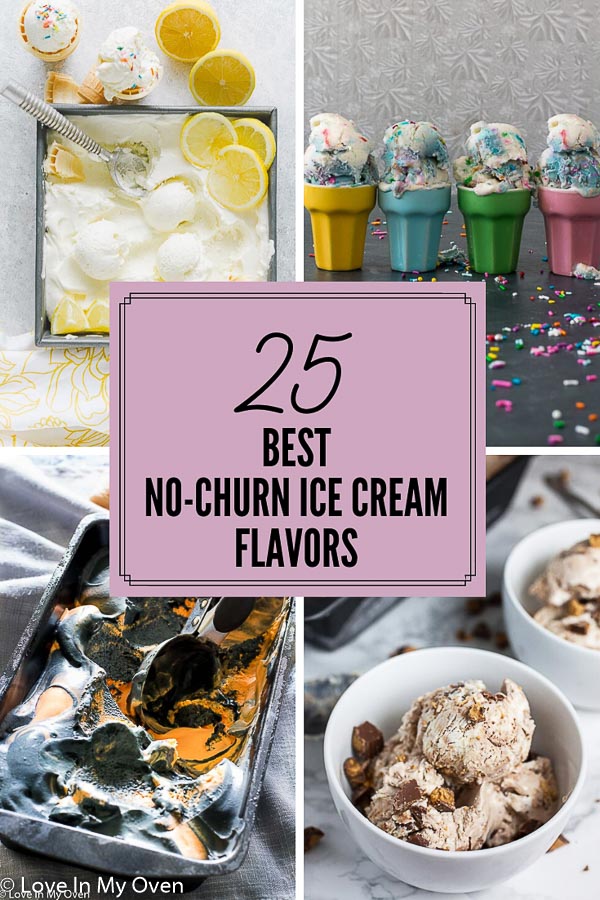 Are you a big fan of ice cream? If you aren't, why are you even here? 😉 Just kidding. But I truthfully don't know all that many people who AREN'T fans of ice cream! Since discovering the wonder of no-churn ice cream a few years ago, I've been mildly obsessed. It's so fun to come up with different combinations and flavors, and it is the EASIEST thing to make. 2 ingredients for the base and a total of 5 minutes. It really doesn't get easier than that! And I find no-churn ice cream tastes like an amazing soft serve treat.
So, I thought it was time to round up some of the most delicious no-churn flavors from the web.
I've included my own favorites from the blog as well as a bunch from some other great bloggers.
Get your cones ready!
25 Best No-Churn Ice Cream Flavors
1. No-Churn Birthday Cake Ice Cream – Love In My Oven
This no-churn cake batter ice cream is SO easy to make, naturally colored and never fails to bring a smile. Sprinkles for everyone!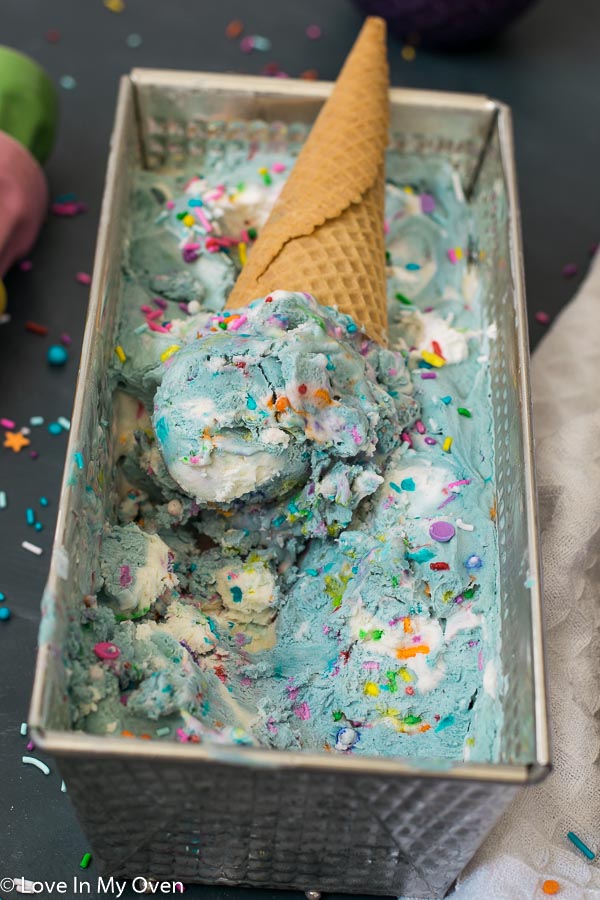 2. Peanut Butter Jam Ice Cream (Vegan) – The Vegan Harvest
This vegan, no-churn Peanut-Butter Jam Ice cream combines everyone's favourite flavor combination for a perfectly creamy summer treat!
3. No-Churn Peach Ice Cream – Delicious on a Dime
This sweet, creamy HOMEMADE peach ice cream can be in your bowl in just a few hours! No ice cream maker. No eggs. No cooking. Just 5 ingredients, and it's so fast and easy – you'll be obsessed with it all summer long!
4. No Churn Lemon Ice Cream – Imagelicious
No-churn lemon ice cream is refreshing, smooth, and creamy. It takes only a few minutes to make and just a few ingredients. Super easy and delicious dessert!
5. Roasted Strawberry-Rhubarb No-Churn Ice Cream – Love In My Oven
Take your strawberry rhubarb ice cream to another level by roasting strawberries with rhubarb for an easy strawberry rhubarb compote, swirled into a vanilla no-churn ice cream!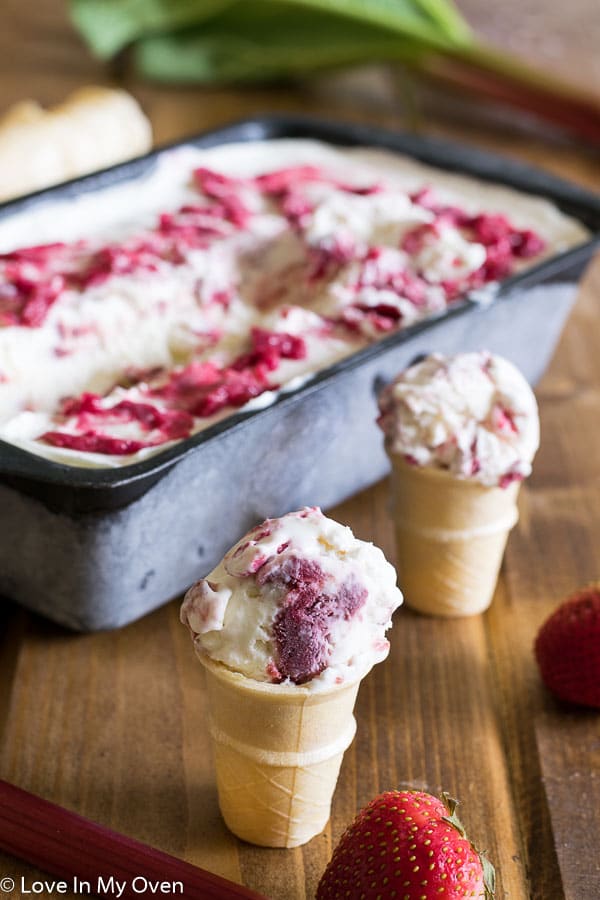 6. Cherry Chocolate Chip Nice Cream – Crumb Top Baking
You need just 6 ingredients to make this no-churn Vegan Cherry Chip Ice Cream! It's made with a creamy banana and cashew butter base, and loaded with sweet cherries and dark chocolate chips!
7. Dark Chocolate Raspberry No Churn Ice Cream – My Kitchen Love
Dark Chocolate Raspberry No Churn Ice Cream is smooth, creamy and packed full of dark chocolate. 5 ingredients and no churn (no machine required!).
8. Tiger Tail No-Churn Ice Cream – Love In My Oven
This iconic Canadian tiger tail ice cream recipe is NO-CHURN so it can be made without an ice cream machine! You'll love the orange ice cream mixed with black licorice.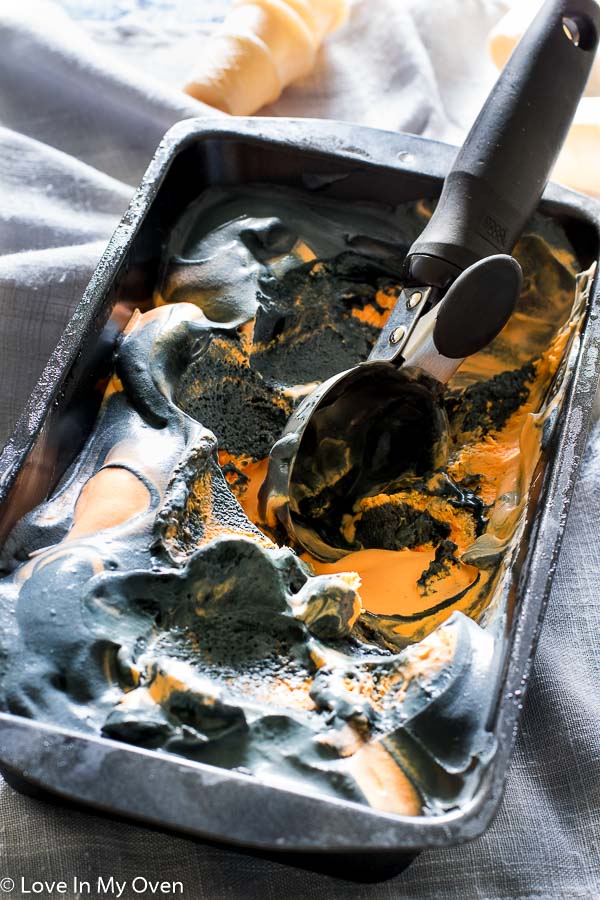 9. No-Churn Cereal Milk Ice Cream – This Silly Girl's Kitchen
Cereal milk ice cream! You know that yummy milk that's left over after you've eaten all the cereal out of the bowl? Sweet sugary yumminess!
10. No-Churn Peanut Butter Cup Ice Cream – The Rustic Foodie
This No Churn Peanut Butter Cup Ice Cream is made with heavy cream and sweetened condensed milk. It's so easy to make at home without an ice cream machine!
11. Lemonade No-Churn Ice Cream – Cooking with Carlee
Creamy and cool, this lemonade no churn ice cream is simple to make and is the epitome of summer!
12. No-Churn Guinness Brownie Ice Cream – The Speckled Palate
Whether you're celebrating St. Patrick's Day, a birthday or any day, rich No Churn Guinness Brownie Ice Cream is sure to become a new favorite! Studded with homemade Guinness brownie chunks, this easy ice cream that doesn't require an ice cream maker is perfect for sharing.
13. Best Mint Chocolate Chip Ice Cream – Love In My Oven
This is the BEST mint chocolate chip ice cream! It's a fresh mint ice cream recipe made without an ice cream maker, with REAL mint and chunks of chocolate!
14. No-Churn Matcha Ice Cream – Love In My Oven
This no-churn matcha ice cream recipe is only 3 ingredients and made with real matcha powder. You will love this easy green tea ice cream recipe!
15. No-Churn Peach Vanilla-Bean Ice Cream – Pinch and Swirl
A quick and delicious version of summers most quintessential dessert!
16. Chocolate Chip Cookie Dough Ice Cream – Yellow Bliss Road
Cookie Dough Ice Cream is a sweet, creamy treat with chunks of real chocolate chip cookie dough and a no churn ice cream base – no ice cream maker required!
17. Circus Animal Cookie Ice Cream – Bake Me Some Sugar
A circus ice cream that will have you reminiscing of childhood! A pink and white animal cookies recipe you have to try.
18. Blue Moon Ice Cream – Cheese Curd in Paradise
Blue Moon Ice Cream is a staple in Midwest. Distinctive blue coloring and one of the most mystifying flavors around making people ask, "what is that flavor?".
19. Rolo No-Churn Ice Cream – Love In My Oven
Your favorite flavor from the ice cream aisle, in an easy no-churn version! The best part? You get to control the amount of caramel and Rolo pieces!
20. London Fog Ice Cream – Wanderlust and Wellness
This London Fog ice cream has all your favorite earl grey tea latte flavors. It's so easy to make; no churn required!
21. Vegan Chocolate Ice Cream – Love In My Oven
It sounds almost too good to be true, but this easy vegan chocolate ice cream is the REAL DEAL! This is a silky smooth chocolate ice cream made with coconut milk, and cocoa.
22. 2 Ingredient Sorbet – Love In My Oven
The easiest, healthiest, coolest treat you'll make this summer! This 2-ingredient sorbet whips up in no time at all and contains no added sugar! The perfect family friendly dessert.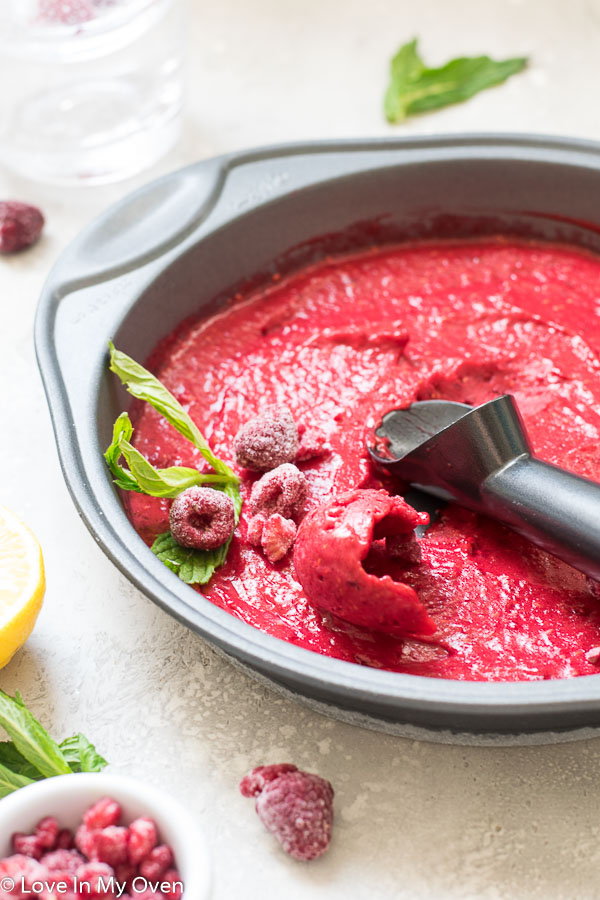 23. No-Churn Red Velvet Cake Ice Cream – 4 Sons R' Us
This easy ice cream recipe combines the lusciously rich, slightly cocoa flavor of red velvet cake with everyone's favorite frozen treat.
24. Banana Nice Cream (3 flavors) – This Healthy Kitchen
This simply delicious and super easy no-churn recipe for dairy free ice cream will keep you happy all summer long. It's sweet, it's creamy, it's refreshing, and it comes in three flavour options!
25. No-Churn Coffee Ice Cream – Love In My Oven
Acceptable even in the morning, this no-churn coffee ice cream is an EASY coffee ice cream recipe! There's only 3 ingredients between you and a creamy scoop of bliss.