What's better than a soft and chewy snickerdoodle? Caramel snickerdoodles!! This stuffed snickerdoodle recipe is easy and impressive, and very delicious!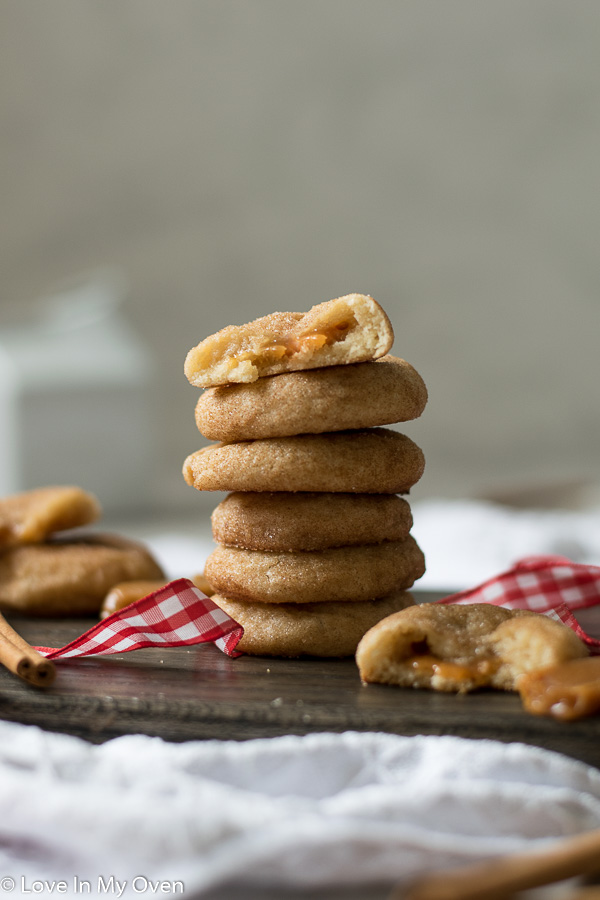 Aaah these cookies! Please don't mistake my yell for a triumphant yell; however, it SHOULD be triumphant after ALL OF THE TESTING I DID. The aaah is more out of the fact that these cookies alluded me many, many times over and I nearly pulled out all of my hair over them. I swear, my freezer is full of pancaked caramel snickerdoodles. I made this recipe so many times! They all tasted delicious, don't get me wrong. But I just couldn't get the nice, puffy, chewy cookie that you see in these photos – until I did. I figured it out! Woop!
I'll get into the cookie drama a bit more later on in this post, but I also wanted to announce to you all that this is the last week of school for my kiddos! Well, technically it's just Oscar, but Wally's preschool is also done after tomorrow. I am part happy about it, part dreading it. Don't get me wrong, I love my kiddos, but with everything shut down here and outdoor gatherings banned…it's going to be a loooong few weeks! Got any ideas for me?
So, back to the snickerdoodles.
How do you make caramel snickerdoodles?
The method for these cookies is pretty much identical to the method used in my caramel-stuffed oatmeal chocolate chip cookies, except I've learned a few tips to keep the cookies nice and puffy that I'll share with you below.
Tip: The first bit of information you need to know is that you NEED to buy soft caramels. I recommend the extra soft Werther's original caramels. One of my recipe fails was from using caramels that were too hard. They ended up staying in a ball while the cookies were baking and created a very weird looking cookie! So – I stress – make sure your caramels are soft!
You'll cutting the caramels in half, to fit inside the cookie!
As with most cookie recipes, whisk together the dry ingredients in a mixing bowl while beating the butter, sugar and egg together, along with some vanilla extract. Add the dry ingredients in slowly, until a soft cookie dough forms.
Tip: CHILL THE DOUGH! For at least an hour.
Remove the dough from the fridge, and using a medium-sized cookie scoop (about 1 tablespoon), scoop out some dough, press your finger into the middle of it and insert one of the caramel halves.
Push the dough together over the caramel and roll the dough into a nice ball shape.
Tip: Be sure to keep the caramel in the middle of the dough ball as best as you can, otherwise the caramel might explode out the side of the cookie while it's baking.
Roll the ball of dough in a mixture of cinnamon and sugar, then roll it again. You want to do it twice to make sure they're super cinnamony, the way a snickerdoodle is meant to be!
Tip: After rolling the balls of dough out, place them on a parchment-lined cookie tray and then place the entire tray in the fridge, for 30 minutes. I know, I know. More chilling! I hate having to wait for cookie dough to chill but trust me, it's worth it to get that nice puffy cookie!
While the cookie dough balls are chilling in the fridge, preheat the oven to 350 F. Once the 30 minutes is up, place the tray directly into the oven and bake the cookies for about 10 minutes. They'll look slightly under-baked when you take them out of the oven but they will firm up as they sit on the cookie tray. Let them cool for 5 minutes before removing them to a wire rack to cool completely.
Tip: When the cookies first come out of the oven, sprinkle a little extra cinnamon and sugar on top. It'll settle into the cookie as it cools.
How long do caramel snickerdoodles last?
These cookies are best warm, but they're equally delicious and chewy at room temperature. In an airtight container at room temperature, they'll last for about a week before starting to become harder.
These cookies freeze well, up to 2 months in an airtight container.
I hope all of my little tips help you to get the BEST caramel snickerdoodles! Soft, puffy and chewy, with a delightful caramel center. They are a perfect holiday cookie for gifting!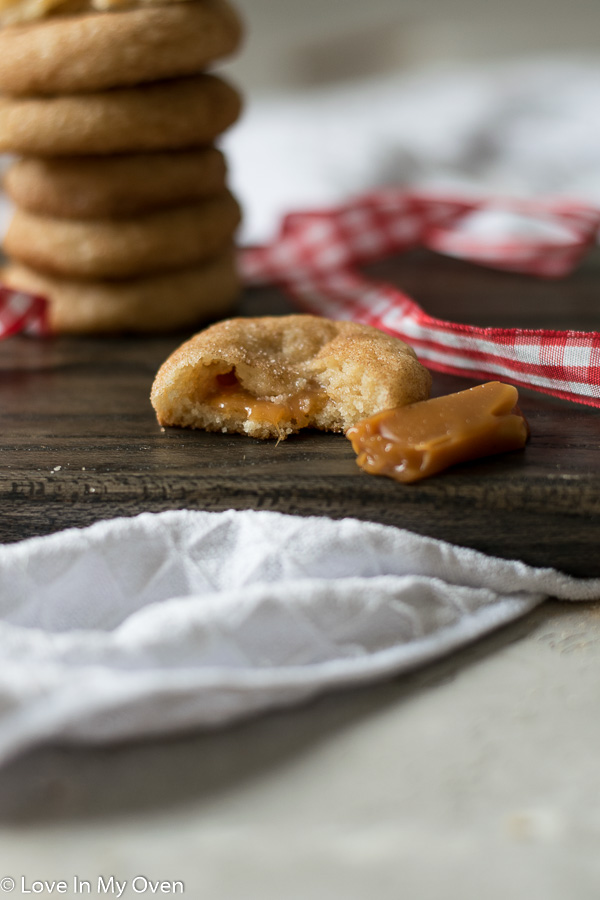 Some other cookies from the blog I think you'll love:
Print
Caramel Snickerdoodles
---
Author:

Total Time:

2 hours

Yield:

24

cookies

1

x
Description
What's better than a soft and chewy snickerdoodle? Caramel snickerdoodles!! This stuffed snickerdoodle recipe is easy and impressive, and very delicious!
---
2 3/4 cup

all-purpose flour

1 tsp

baking soda

2 tsp

cream of tartar

1/2 tsp

ground cinnamon

1/2 tsp

salt

1 cup

unsalted butter, softened to room temperature

1 cup

granulated sugar

1/3 cup

brown sugar

1

egg +

1

egg yolk

1 tsp

pure vanilla extract

12

SOFT caramels, cut in half*

1/4 cup

granulated sugar +

1 tbsp

ground cinnamon, for rolling
---
Instructions
In a large mixing bowl, whisk together the flour, baking soda, cream of tartar, cinnamon and salt. In the bowl of a stand mixer fitted with the paddle attachment, beat together the butter and both sugars on medium-high for 2 minutes, or until soft and fluffy. Add the egg and egg yolk and beat to combine, using a spatula to scrape down the sides as needed. Add the vanilla extract and combine.
With the mixer running on low, slowly add the dry ingredients until a soft cookie dough forms. Cover and refrigerate the dough for at least 1 hour**. Remove the dough from the fridge, and using a medium cookie scoop (about 1 tablespoon), scoop the dough out and using your finger, create an indent. Place one caramel half in the middle, then push the dough up and over the caramel to cover it. Roll the dough in your hands to form a ball, then roll the ball in the cinnamon sugar mixture, rolling twice to ensure the dough is completely covered. Place the balls of dough on a baking sheet prepared with parchment paper, about 2 inches apart. Place the entire tray in the fridge for 30 minutes to chill.
Preheat the oven to 350 F. After chilling for 30 minutes, remove the dough from the fridge and place it directly into the oven to bake for 10-11 minutes. Cookies are done when the outsides are firm but the middle looks slightly under-baked. Remove the cookies and let them cool for 5 minutes on the tray. Sprinkle extra cinnamon sugar on top. Use a spatula to remove the cookies to a wire rack to cool completely.
Cookies can be stored at room temperature in an airtight container for up to 1 week, or in the freezer for up to 2 months.
Notes
*I like to use Werther's extra soft caramels but the Kraft caramels will also work, as long as they're SOFT!
**Cookie dough can be refrigerated for up to 3 days. If refrigerating longer than a few hours, leave the dough out on the counter at room temperature to soften up before scooping the dough.
Prep Time:

25 minutes

Cook Time:

25 minutes

Category:

cookies

Method:

oven bake

Cuisine:

american
Keywords: caramel snickerdoodles // snickerdoodle recipe // snickerdoodle toffee cookies
Recipe Card powered by